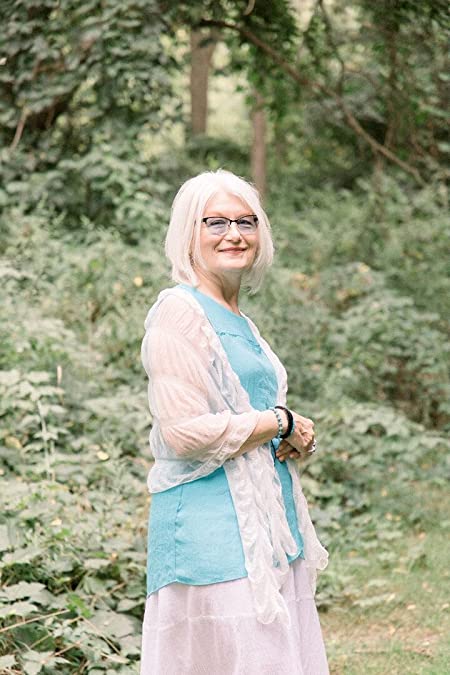 Award-winning Canadian author Miranda J. Chivers writes about faith, mental health and authentic living. As a second generation Canadian of Russian Mennnonite refugees, she grew up surrounded by poverty and trauma. As a former social worker, avid researcher, and student of the Bible, her writing reflects her fascination with cultural diversity and social differences through a Biblical lens. Her goal is to heal hurting souls through both nonfiction and fiction. Her NEW historical fiction series takes place during the Russian revolution. This coming-of-age story portrays the true heroic struggle of the German Mennonites during one of the most tragic times of early twentieth century history. This series will be released under the pen name of M.J. Krause-Chivers, the fictional stream for Miranda J. Chivers.
KATRINA'S DARK SHADOW: 1915-1917
The Early Years In Ukraine
Gene: Historical Fiction

Historical fiction with a twisted mystery. This coming-of-age series portrays the true heroic struggle of the German Mennonites before Ukraine became a country, during one of the most tragic times of the early twentieth century. First Came the Horses. Book One: Katarina's Dark Shadow: As the civil war erupts in the shadow of the Great War. Katarina discovers that faith is more than a badge and a belief system. During war-time, it requires resilience.
1915-1917: Ukraine territory, Russia, WW1. Life is changing in southern Ukraine and the winds of war are warning of impending doom.
When Katarina is injured during a rebel attack on the family farm during her sister's wedding, her dreams of leaving the Land of the Mennonites are upended. Under the mentorship of a newspaper man, she learns about the Russian crisis and the emerging power of the independence-seeking Black Army and the Ukraine separatists.
Traditional values constrain Katarina's daily life. When conscription calls the men to service, the women are left to fend for themselves. Life becomes increasingly difficult as regional conflict grows. As poor rise up against the rich,Katarina's wealthy German-speaking Mennonite family find themselves in harm's way.Does their mysterious Russian servant hold the key to their survival?
As the solid foundations of faith and family are threatened, Katarina's world unravels. She faces the ultimate decision that will determine her future. Will she depend on her passive faith to fight the forthcoming evil? Or, will she abandon all hope and emigrate with the others?
Is life a journey or a destination?

1951: Peter stumbles on Katarina's diaries from the Russian Revolution. What happened during those early years that prompted Katarina to go back to Ukraine during WW2? What secrets lie behind the Iron Curtain?

Set during the darkest days of Ukraine's history, Katarina's Dark Shadow portrays the courageous human struggle inside a distinct faith during violent political times. Like the book of Job in the Bible, the story portrays the quest for meaning during troubling times.
If you like intrigue, complex characters, and strong women of faith, you'll enjoy this spine-chilling Christian historical fiction series.
Inspired by true stories and actual events based on the harrowing tales of the author's ancestors, this book will particularly interest those with German-Prussian, Ukrainian, or Russian Mennonite ancestry.
If you enjoyed Tears of Amber and The Girl with the Silver Star, you'll enjoy stepping into this intriguing and unusual world with its unique cultural dynamics. Witness the Russian revolution from an entirely different perspective.

***** "A chillingly realistic, yet fictional account of what happened to ordinary people in Russian Ukraine when their world was overthrown by social unrest, war, and then a revolution. I couldn't put it down." *****Author P.C. James.
***** "A gripping historical fiction and true to its time. Highly recommended for those interested in a different viewpoint from WWI." ***** Author Nola Li Barr.