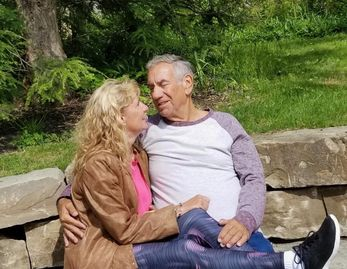 Rick has lived in Florida for the last 33 years. He's originally from the Boston area (Revere Beach), and now married to the delightful author Cindy. She has just got him involved with co-authoring the Rick and Cindy series of non-fiction books. Rick has a passion for the beach, reading, and traveling. A connoisseur of coffee. We were just recently married at Dow Gardens in Michigan. When not traveling, you can find us most days at the beach. Or in the evening listening to a local band while the sun goes down.
Cindy is the author of 22 mysteries and romantic suspense novels, and several non-fiction books. She's a 20-year veteran free-lance editor, and a recent transplant to the land of sunshine where she can be outdoors twelve months of the year rather than the four or five in New England. Cindy and her new husband Rick do a lot of hiking and swimming. They like to travel—next on the bucket list is Italy. The last trip to Rome produced a novel Lethal Dose of Revenge (being marketed now) which made it TAX DEDUCTIBLE!
Personally, she's addicted to coffee—particularly chocolate raspberry flavor. And don't anyone dare get between her and her life-loves: Ben & Jerry. Other than that, she's pretty laid back.
WHY IS LOSING WEIGHT SO HARD?:
It's Not
Genre: Motivational Self-Help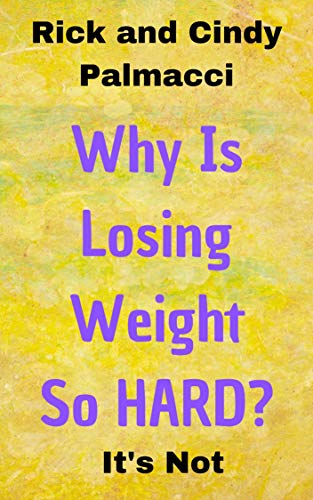 This book is not a diet book; it is a way to change your relationship with food.
You've been there before, maybe many times. And you're tired of failing. Let failure be a word you eliminate from your vocabulary. It's time to SUCCEED. Learn how to make food work for you.  "Your diet is a bank account.
Good food choices are good investments."
~ Bethenny Frankel
Like many of you I have struggled with weight my entire life. I have been a perpetual dieter…forever. In that time I have lost hundreds of pounds. Most of you understand what I am talking about. Gain a few lose a few on and off the never ending roller coaster of weight loss. In short, I was a professional dieter.
It took me many tears of frustration and disappointment to learn that losing weight IS NOT HARD.
Yes you just read that right, I said WEIGHT LOSS IS NOT HARD.
The biggest problem we perpetual dieters have is that we get discouraged and give up. Usually after anywhere from two weeks to two months. The world is in a perpetual search for quick weight loss programs. But, be realistic. How can there be any such thing—outside of chopping the fat from your body? How could you expect the weight to come off overnight? Was it gained with a snap of the fingers? Or the twitch of a nose? The goal should be consistent weight reduction over a period of time. You must be prepared to develop a whole new outlook on food and what it does to your body. But it can be done, and it can be done in an enjoyable way that makes the journey easier.
NOW IS THE TIME.
Get your copy today.
YOU CAN DO IT
HOW TO RESUME YOUR LIFE
After the Death of a Spouse
Genre: How To
​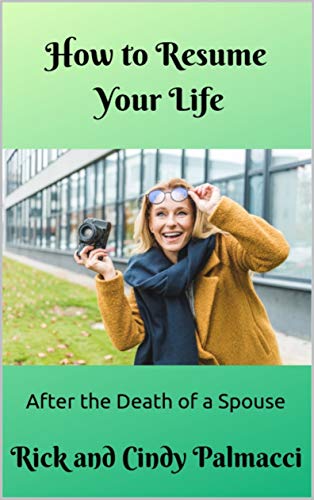 Losing a loved one, whether from death or divorce, is both physically and emotionally debilitating. But as people are so fond of saying, life is short. It's time to get back into the world. This uplifting and informative book will inspire you to get off the couch and back into circulation. Authors Rick and Cindy Palmacci have both been in your position. They dug out from under the quagmire of emotion and found life…and love. Although this book is geared toward inspiring you to recover lost hobbies, find new ones, and just get off your keister, there are also some chapters about finding a new love. To be read, or skipped over—your choice. What are you waiting for? To repeat inspirational speaker and self-help guru Wayne Dyer's words, "Excuses be gone!" Go back and purchase this book.
MAKE MONEY BREEDING SMALL DOGS
Genre: How To
​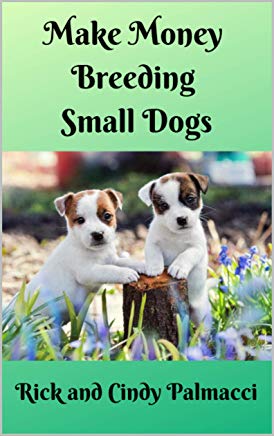 Dogs are family members. They play with our children, keep us warm on cold winter nights, and cuddle when we're feeling blue. They travel with us or greet us when we arrive home. Everyone is always looking for ways to make a few dollars. Why not make money with your family pet?

No, this isn't a get-rich-quick scheme or a way to populate-the-world with a million puppies.

This is simply a responsible way for your household pet to be productive. And who doesn't like cuddly puppies? Your children will learn how to handle delicate creatures; they will learn responsibility. Most of all they will learn about unconditional love.

IF YOU FALL OFF THE HORSE…
Dating After Divorce
​Genre: Self-Help / Adult Relationships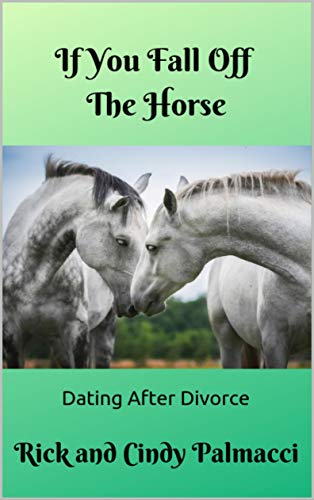 Okay, so the divorce is final. You're ready to get back to life. To the dating world. But you haven't dated since Reagan was president and you have no idea how to begin. This book is a step-by-step guide on how-to date again. It begins with erasing the fear that keeps you from moving forward. Then continues with chapters on navigating bar scenes, acting quickly on chance meetings, or establishing a relationship with someone you already know. And finally, there's a chapter on online dating. The authors use their humorous back and forth style to give their perspectives on the dating world. Fresh from the dating scene, Rick and Cindy's experiences can often be used as examples of what NOT to do when looking for a mate, or just a long-term friend.
BUT HONEY, HE HAS PURPLE HAIR
Raising Kids with Sarcasm,
Humor & Grit
Genre: Non-Fiction / Parenting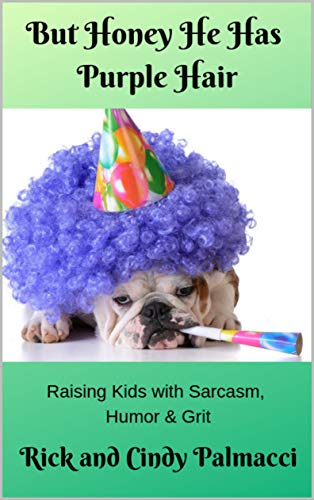 Every parent has stories about their kids' antics.
The kind of stories that result in fall-on-the-floor laughter. The vignettes in this book will appeal to anyone who has had, or is planning to have, children.
It's a compilation of the best of the authors' child-rearing experiences from topics like toilet training and selective deafness to traveling with our cherubs. But Honey, He Has Purple Hair is written in Erma Bombeck's tongue-in-cheek style with sometimes differing perspectives from the authors.
Sure, raising kids is a challenge. But what's to stop you from doing it with laughter and enthusiasm? There's nothing like laughter to take away the sting of a bad situation.
ONLINE DATING SUCCESS
Genre: Self Help / Marriage & Adult Relationships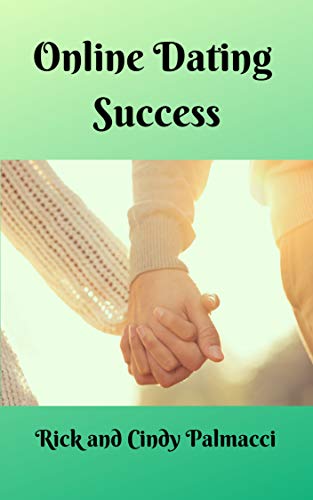 Almost everyone will find themself back in the dating world at some point. Whether married and divorced, whether widowed or ending a long-term relationship—and it doesn't matter the age—almost everyone will find themself back in the dating world at some point. The idea of returning to the dating scene is frightening enough to keep some people from trying at all. The reasons are many: what family might think, the fear of getting hurt, being set in our ways, and the one we've heard most of all from older people—not letting someone see what time has done to their body. Online dating is gaining in popularity. It's increased three-fold in popularity through the years. Years ago, internet dating sites were called impersonal and a place for losers, but it's important to remember, the impersonal-ness is gone after that first meeting. Dating sites are merely a place to meet a larger, more diversified number of the opposite sex. The New York Daily News stated that in a poll of 19,000 people married between 2005-2012, one third met on a dating site. Consumer Reports, in 2017: 44% of respondents to their poll said online dating led to a serious long-term relationship. Identify Scammers and Internet Trolls.
This book contains an entire chapter on identifying and avoiding the scam artists that patrol our world. Learn to write your profile so it catches attention. Special instructions on how to make your profile pop, which photos to use, and how to weed through the available profiles. Learn the step-by-step method of contact. So you are safe at all times, beginning with simple, low-stress coffee dates. Learn how to follow through and what to do if you fail. And how not to settle for second best. The authors met on a dating site.
No, it didn't happen overnight—for Rick the journey was years; for Cindy six months. In this book, they provide both the male and female perspectives to help others successfully navigate the world of online dating. To avoid the scammers. To become one of the success stories.
HOW TO MAKE MONEY
BREEDING MINIATURE DACHSHUNDS
Genre: How To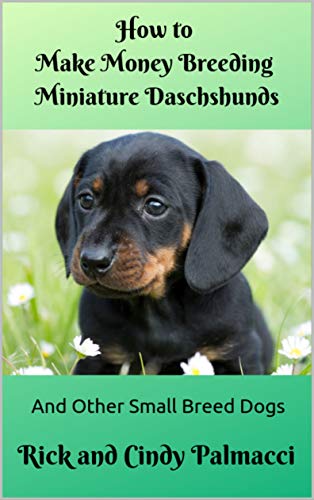 You CAN make money breeding dogs. The author did just that with miniature dachshunds for over 16 years. This book will outline everything need from purchasing the original breeding stock, to training, and how often to breed your females.
Financial planning to keep your money where it's supposed to be.
How NOT to become known as a puppy mill.
Step by step lessons from the moment the puppies are born until 8 weeks of age when they are ready to go to their new homes. How to Make Money Breeding Miniature Dachshunds will take you step by step on starting a breeding business.
We will teach you to be a successful breeder.