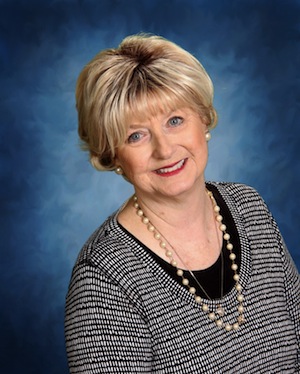 Linda Pirtle is a retired educator who taught the art of writing and understanding literature for years as an English teacher at St. John High School, Lancaster High School, and Ennis High School as well as Business Communications at Navarro College in Waxahachie, Texas. She also served as principal of Ennis High School and Program Director/Grant Writer for EISD. Linda is a member of several professional writing associations – East Texas Writers' Guild; Silver Leos (Texas A&M, Commerce); Holly Lake Book Club; and Keller Writers' Association. As a public speaker, Linda talks about writing techniques and works with beginning authors. She served as President of the East Texas Writer's Guild. Linda serves as a beta reader for her author friends whose works include a variety of genres – historical fiction, nonfiction, fantasy, mystery, romance – all of which are presently in the marketplace. She and her husband Caleb Pirtle III are devoted to connecting readers with today's growing population of authors throughout the world. They post blogs and promote Indie authors on their website calebandlindapirtle.com. Linda Pirtle's cozy mystery series The Games We Play features the "lady next door" and includes four novels:Book One, The Mah Jongg Murders (earned a five-star Readers Favorite Award); Book Two, Deadly Dominoes (Best Cozy Mystery Texas Authors 2018); Book Three, Tarot Terrors (Best Cozy Mystery Texas Authors 2019); and Book Four, Scrabbled Secrets (2020). The Christian series reveals how people bent on evil can ruin a game. Linda lives in Fort Worth, Texas, with her author husband Caleb Pirtle III and their Standard Poodle named Piper.
THE DOG GONE DIAMOND DILEMMA
Magnolia Bluff Crime Chronicles (Book 10)
Genre: Cozy Mystery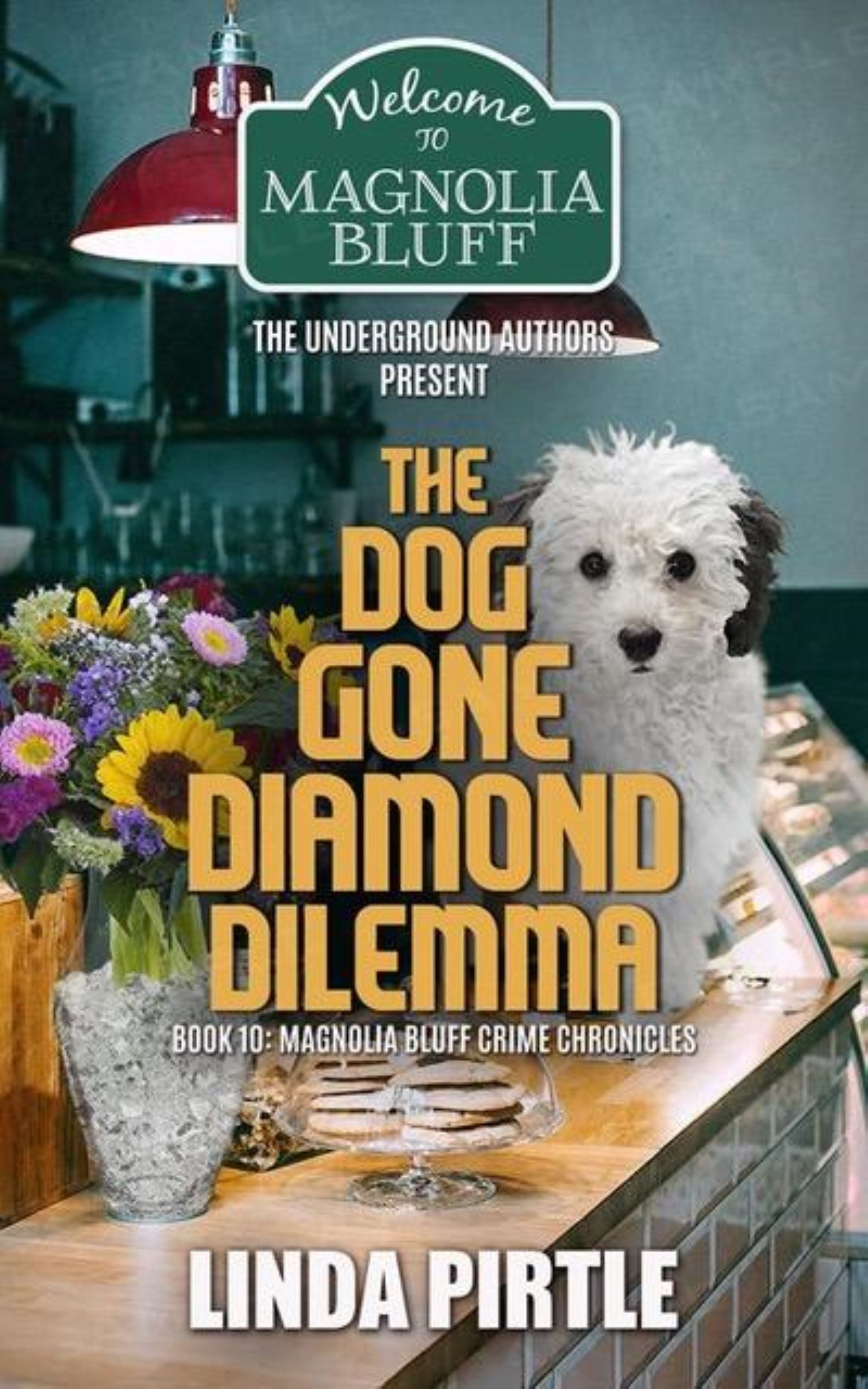 Lately, Magnolia Bluff, a quiet little community in the Texas Hill Country near the Burnet Reservoir, has seen too many gruesome murders. In Linda Pirtle's The Dewey Decimal Dilemma, Caroline, the town's librarian, found the body of her friend Terresa Brown in the alley which separated their Victorian homes. Terresa was only the first to be targeted.
Six months have passed since Caroline McCluskey's friend, neighbor, and fellow Standard Poodle owner, Esther, disappeared while visiting the Magnolia Bluff Public Library. Left behind were her new crimson hat and her dog named Adam. Neither the local police nor the FBI have been able to find her. Caroline temporarily adopts Adam. She plans on reuniting him with his owner.
In Pirtle's The Dog Gone Diamond Dilemma, Caroline, sleuth extraordinaire, has grown weary of waiting for the authorities to solve the disappearance of her friend Esther. She organizes a group of friends and creates a mystery club called The Round Table. Caroline, along with Magnolia Nadine, LouEllen Mueller, and Daphne Leigh, are determined to find their missing friend.
Looking for clues, the women become cat burglars when they break and enter Esther's house. Their search is interrupted when they hear voices of two men who have also entered the house. The words diamond stock certificates and the words she still won't talk even though we stole her dog for her tells the members of the Round Table that Esther is still alive.
However, where is she being held and by whom? Why would anyone think that Esther, a retired school teacher, could own stock certificates in a diamond mine? Daphne, owner of the Head Case Salon, gathers an important clue. Alas, someone finds out about it, and Daphne becomes another victim. Will the Round Table members be able to rescue Esther from her captors before they, too, become the next victims?
DEWEY DECIMAL DILEMMA
Magnolia Bluff Crime Chronicles (Book 7)
Genre: Cozy Mystery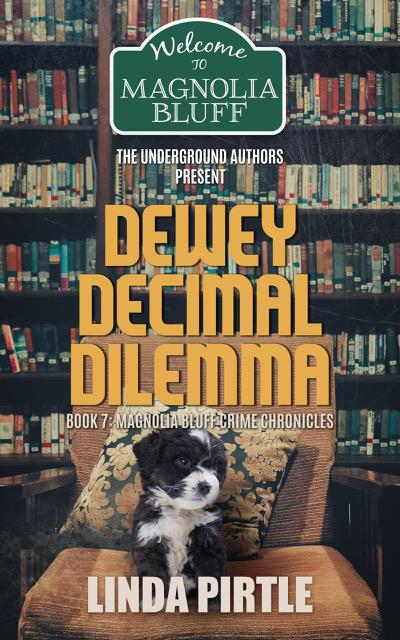 Magnolia Bluff, Texas, is a typical small town in the heart of the Hill Country.
Just because it is small and everybody knows everyone's business, the town isn't insulated from murder and mayhem. Which begs the questions: Who's responsible for breaking into houses? How are poodles, ghosts, drug cartels, and Ponzi schemes connected with a serial killer? Caroline McCluskey, the town's librarian, routinely catalogues books using the Dewey Decimal system. When a black and white poodle puppy arrives unannounced, she calls him Dewey. His arrival creates a challenge for Caroline. Now, she must catalogue events to identify a serial killer in her town. No matter how many murders occur, no matter what kinds of mischief the town experiences, some traditions never vary. Come Monday morning, the early-morning group sits at the coffee shop's round table to solve the world's problems. Come Thursday, ladies sit in dim lights with their husbands and/or escorts in LouEllen's Lounge and listen to romantic melodies. Come Sunday, all good Christians sit in their pews at either the Presbyterian, Baptist, Methodist, or Catholic sanctuaries to hear the Gospels. The killer may be among them, singing the loudest. Praying the hardest. In Magnolia Bluff, you never can tell.
THE MAH JONGG MURDERS
Genre: Cozy Mystery
Lillian Prestridge and her husband Bill are introduced to Eli, a standard Poodle when he leads them to the scene of a heinous murder in their normally quiet, gated community in the heart of East Texas. Lillian lends her investigative instincts to her son Jake, County Sheriff, and his best friend, Grant Perryman, Chief of Security at Leisure Lake as they try to solve not one murder, but two, in the first of Linda Pirtle's Christian novels: The Mah Jongg Murders.
DEADLY DOMINOES
Genre: Cozy Mystery
BEST OF TEXAS BOOK AWARD WINNER for Cozy Mystery!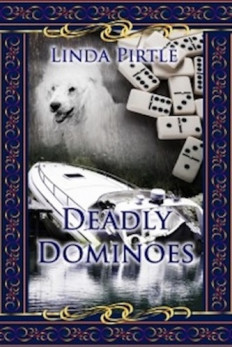 In Book One of The Games We Play Series: The Mah Jongg Murders, Lillian Prestridge, an amateur sleuth, depends on her pragmatic logic and woman's intuition to solve four murders at Leisure Lake, a small gated community deep in the heart of East Texas where Lillian lives with her husband Bill. The murder of Lillian's Mah Jongg partner, prompts Lillian to seek refuge in a new environment. Leisure Lake is no longer the retirement community she wanted.
Bill knows his wife likes to travel. He also knows she won't leave her white Standard Poodle named Eli behind, so for their fiftieth anniversary, he surprises Lillian with a brown and tan Forester RV. In late August, they drive away from Leisure Lake in their new RV and plan to visit Caddo Lake and nearby historic Jefferson, Texas. Lillian looks forward to a peaceful vacation, one not involving any kind of death. Fate, though, does honor her desire.
The setting for Deadly Dominoes is Caddo Lake. Situated in the Cypress basin of northeast Texas, Caddo Lake, with its cypress and ancient oaks dripping with Spanish moss, provides the perfect backdrop for mystery, murder, and militia mayhem. Lillian's curiosity is peeked right from the start. She meets Brandon, a young man who sacks groceries at a convenience store and service station. He gives her a warning.
"You'd better be careful. Crazy things have been happening out at that RV Park at Caddo."
Of course, Lillian questions him and learns that people have been disappearing.
Always the mother figure, Lillian adopts Brandon and invites him to dinner.
The Caddo camp director invites Lillian and Bill to the Friday night domino games held at the camp's Pavilion. Lillian sees the camp's maintenance man. He reminds her of someone. But who?
During a break in the domino games, a loud explosion is heard. Thus, begins a string of murders, mysterious curses with an attached domino, and attempts on the lives of other campers. Lillian is determined to answer the following questions:
Who is the person or persons leaving dominoes and notes on the bodies of one victim after the next? Everyone is a suspect.
Does the explosion have any connection to the game of dominoes or with the murders or attempted murders? Lillian must connect the dots.
And puts them together, she does.
TAROT TERRORS
Genre: Cozy Mystery
*BEST OF TEXAS BOOK AWARD WINNER FOR COZY MYSTERY*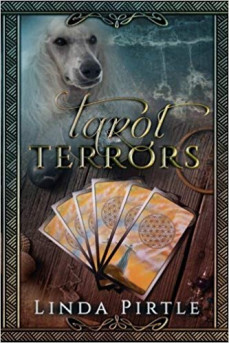 In a crowded Santa Fe Plaza, Lillian meets an elderly Navajo chieftain whose booth displays the most brilliant silver/turquoise jewelry she has ever seen. She suddenly hears a commotion and turns to see tourists running frantically. What's wrong? When she looks back to the chieftain, he has vanished, but lying on the table is a small box addressed to "Miss Curiosity." How did he know the nickname her husband gave her? Her old college friend Simon Townsend, a government agent, has surreptitiously slipped an object to her husband, and now Bill lies dead on the sidewalk. It's the beginning of one tragic moment after another. Warnings. Threats. Kidnapping. And death. Lillian does not believe in coincidences or predictions. But with the help of her standard poodle, Eli, and her son, Grant, an FBI agent, Lillian begins her own quest and faces the biggest challenge of her life: Bringing to justice those responsible for the death of her beloved Bill. Award-winning Cozy Mystery author, Linda Pirtle introduces three new characters in Tarot Terrors: Madame Sophia, who reads tarot cards and predicts Lillian will find Bill's killer in Pagosa Springs, Colorado; Sammie Nightingale, a young red-haired Navajo woman who has just completed a vision quest; and Sammie's Uncle Jack Darling O'Toole, who runs the Pagosa Springs Trading Post. Who's guilty? Who's innocent? And what secrets do they have to hide?
SCRABBLED SECRETS
Genre: Cozy Mystery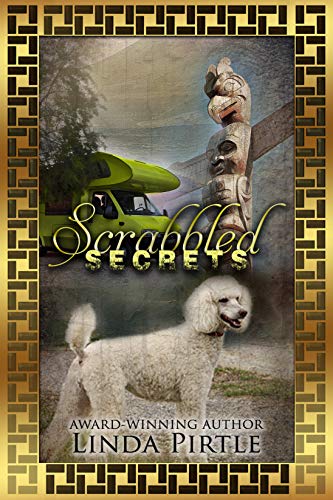 Lillian Prestridge and Sammie Nightingale travel in a motorhome to Canada to rescue Sammie's Aunt Sophia and bring her home. Lillian soon learns that a well-intentioned mission of mercy can become a dangerous escapade. Whom can they trust? The semi-truck driver who gives advice about where to spend the night?The lead councilman of a Canadian Indian Reserve whose agents are assign to drive them home via the Native-American Underground Railroad? Who else is familiar with the route? Their journey presents one hazard after another – vandalism to Lillian's new motorhome, kidnapping, gunshots, wrestling with an old enemy of Sophia, not to mention a blinding blizzard and icy highways.