EMAIL CONTACT: [email protected]
ABOUT THE AUTHORS…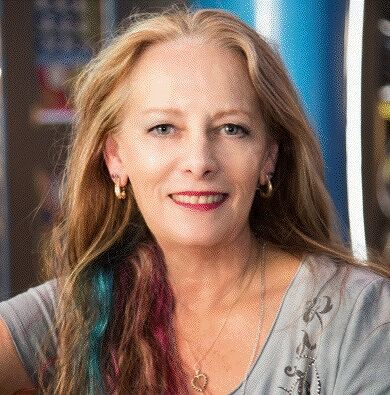 About Rox Burkey –
Rox Burkey aka Roxanne Burkey honestly prefers the shortened version. Known for helping business customers modernize and optimize customer experience (CX) with processes, technology shifts, and building roadmaps to success. Nothing makes her workday go better than for a customer to indicate she helped reach their business goals. She is adept at learning the drivers for customers and helping to measure their success as well as adjust their journey using CX principles. Rox loves writing fiction as much if not more than her professional job. More than once she has been a featured speaker, workshop leaders, subject matter expert, interviewer, podcaster, book reviewer through RoxBurkey.com. Her favorite is writing the novels and short stories of the Enigma Series. She convinced her co-author Charles Breakfield that writing fiction is a lot more fun than white papers or documentation. As a child, Rox jumped at the chance to lead the other kids with exciting new adventures built on make believe characters. As a Girl Scout until high school, she contributed to the community and went on to support the local Head Start program. Rox enjoys her family, cross country travel (okay international too) listening to people, outdoors activities, sewing, cooking, baking, and imagining the possibilities. Recently Rox indicated that her humor was lousy, and Charles was helping her.
About Charles V. Breakfield –
Charles Breakfield is a renowned technology solutions architect with years of experience in security, cloud computer, hybrid data/telecom environments, artificial intelligence, and unified communications. He finds it intriguing to leverage his professional skills in writing the contemporary award-winning stories of the Enigma Series and the short stories he creates with his co-author. Never one to sit still, he uses his spare time to explore books on World War II his¬tory, travel with his family, and cultural exchanges everywhere. Charles' love of wine tastings, cooking creations on the grill like individual pizzas, and Harley riding are sometimes sprinkled throughout the Enigma Series. Recently, Charles commented that being a part of his father's military career stationed at various outposts, has positively contributed to the many characters in the stories. He enjoys exploring the various character perspectives and interactions pulling from real people. He accepted the challenge to try to teach Burkey humor which is also incorporated into many of the stories in an unexpected manner. Burkey commented that If Charles is not creating a new story he paces like a caged tiger. So yes there is another story in the works.
THE KILLER ENIGMA
Genre: Cozy Mystery

Enough is Enough – JJ rumbled when the Paparazzi invaded dinner
When JJ and Jo recognize privacy doesn't exist for them, they head back to Magnolia Bluff to check on their friends and recapture the small-town anonymity. They reject the status of urban legends in favor of acceptance and a quiet, peaceful life. A supermodel needs time and space to recharge herself between jobs, and he needs time to adore his wife. Does Magnolia Bluff hold the answers to their prayers, or will a dark past overtake them? Past, present, and future collide in a perfect storm no one expected. JJ and Jo need to take action. Chief Tommy Jager states he likes them, but he can't wait for them to get back to their day jobs. Who will live or die to prevent the truth from being exposed? The answers may be in the graveyard with the fresh flowers. Their friends are targets – Their dreams are broken – They must fight
THE FLOWER ENIGMA
Genre: Cozy Mystery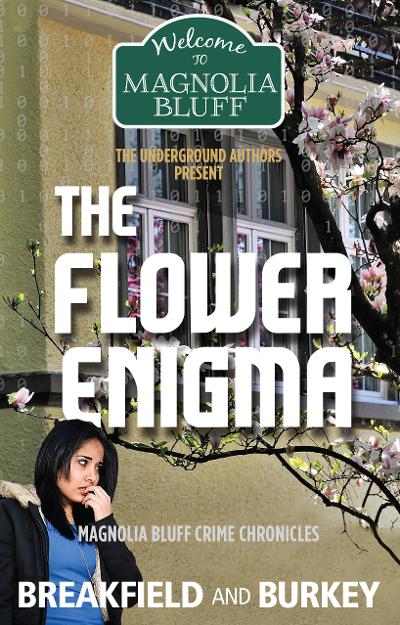 JJ and Jo find the ideal spot to get away from their busy work lives—Magnolia Bluff offers Flower Bed & Breakfast, a quaint country destination within the beautiful Texas Hill Country. They pull up to the picturesque building only to discover a crowd of citizens anxiously awaiting a special podcast, created by a group of local women, to start. Flower B&B is the sponsor of today's show in this multi-day series. The couple works through the human log jam. As they check in, they learn that a cyber-attack may prevent the show from airing. JJ, a technology guru, is convinced by Jo to help the group meet their broadcast promise. While he's working on the issue, Jo spots a girl in the crowd with fear in her eyes who flashes the international help sign. The teenager vanishes into the throng. Fearful young people signaling for help strikes too close to home for Jo. Their romantic vacation becomes a journey from one crisis to the next as these vacationers help the evangelizing ladies even as risks are multiplying. Threats expand to include all the podcasters, the show location owners, and suspected missing teens. Authorities discount the gossipy group's allegations that Mateo Hernandez built a wall around his property for more than privacy. JJ and Jo work to assemble the necessary clues to convince Chief Jager that Hernandez is a bigger menace. Their nosing around places them both in harm's way. When Jo is attacked it becomes personal. This romantic getaway isn't even close to plan. Lives are at stake, and the young couple won't accept failure.
ENIGMA TRACER
Genre: Suspense/Techno-Thriller
The clock is ticking … can Gracie uncover the truth?
Phillip Pliant is the wealthy opportunist plastics dealer, and CEO of Pliant Industries. He's also a master thief—creating a pervasive threat to the manufacturing infrastructure in the Caribbean islands markets. With the cartel as his stealth client, the naïve city leaders have been seduced, enabling the production of more than 3-dimentional building materials.
And set the stage for massive chaos and destruction.
Pliant has locked up contracts, assets, and control of any future expansion. His contacts and clients salivate over their probable financial reward—the expected profits are monstrous. Is the R-Group, now led by Gracie and the family heirs, strong enough to win against this predator? Can JJ's CATS (Cyber Assassin Technology Services) act on the root-cause analysis in time?
Will the R-Group and CATS sabotage Pliant's plan before it's too late?
Can Jeff and Keith use their covert skills to put the bad guys away for good?
Will Gracie be able to squash Pliant and the cartels?
Can the chain of islands survive the underhanded tactics and threats? Gracie never considered their lives would hang in the balance between winning and losing. Will the devious plot be uncovered in time? The clock is ticking. Five … four … three …
CARIBBEAN DREAM
Genre: Women's Fiction/Short Read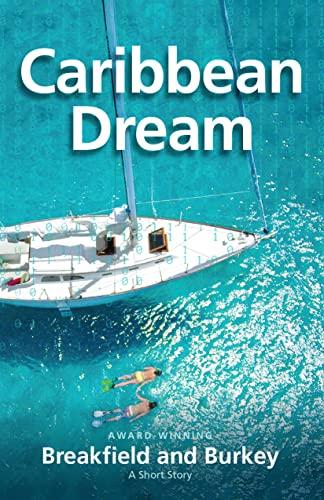 Xiamara and Judith work multiple jobs saving for university tuition for entry into the high paying tech jobs available everywhere. They have a sponsor for the fall semester at the university, less than a year away. They must pay to play.
Frustrated with their frugal hand-to-mouth existence, Xiamara finds a short cut believing it will work. She takes their savings and buys a boat, convinced it's a sailboat in the rough.
Judith believes her partner's either fleeced or stealing her funds like everyone else. She demands to either see the magic beans or go to Jack and the Beanstalk to get their money back. Xiamara must convince Judith to show her the viability of the project.
Judith reluctantly accepts the challenge and becomes the front person to hustle day tourists coming off the big cruise ships. Their business grows in fits and starts but some day tourists simply can't help but like these two feisty girls working to earn their fall tuition. With a couple of lucky breaks things seem to be rolling their way and their dream is nearly in reach.
Jealous hostility from an unlikeable competitor presents a risk the girls hadn't anticipated. They align with fallen competitors and save the best for last. Fortune might smile upon them when the storm clears.
FEARS, TEARS OR CHEERS
Genre: Young Adult/Short Read
Jo Wagner, JoW, the young Brazilian International supermodel, experiences a horrible flashback to her previous life in captivity. Although she thought the trauma buried and forgotten, it hits her like an unexpected sledgehammer. Her outburst freezes the film crew, fellow models, and JJ, her heart's desire, who get stunned by her emotional meltdown. Her career and future survival are at stake. She must come to terms with her past and create her empowered path forward. Her adopted family unite to provide the safe framework for JoW overcome her emotional fears. JJ's tender words of encouragement steel her nerves and catapult her to an inner solution. JoW seeks help from her adoptive father Carlos for an unorthodox method to not only conquer the past, but jump to the next phase of life on her terms.
OUT OF POLAND: Novella
Genre: Suspense/Thriller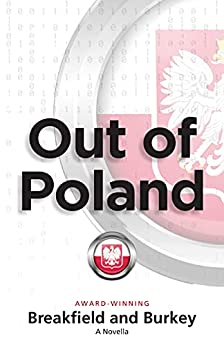 Beneath the storm clouds of a deadly war, three men need to unlock the secrets to redeem the world.
The setting is Poland—1939. Germans are marching toward Warsaw, crushing everything in their path. The Polish people feel the crush of their defensives and their brave cavalry. Fighting against the Nazi military machine is a death wish realized all too clearly. Death, destructions, pillage, and woman brutalized at the hands of soldiers with no honor marks the invaders' path. As much as the citizens of Poland pray for a different outcome, everything they have known, loved, and grown up with is gone. Three young men take on the task of finding and extracting the German military communications device, Baby, kept under heavy guard. Polish patriots die to aid the three in getting the information and then fleeing with the prize. The race is on as the Germans try to match wits with the clever patriots who risk detection at every turn. Ambassador Ferdek Watcowski insists that his son Ferdek with Wolfgang and Tavius, flee with the families while there is still time to reach a border. Their goal—escape with Baby intact. Hitler's forces so outclass Poland's military that survival is key to fighting another day. Facing great peril and odds against their survival, the men resolve to make a difference so those who died helping them would not have sacrificed in vain. They vow to undertake a lifetime of fighting tyranny. Successful survivors must look ahead.
THE ENIGMA FACTOR
Genre: Suspense/Techno-Thriller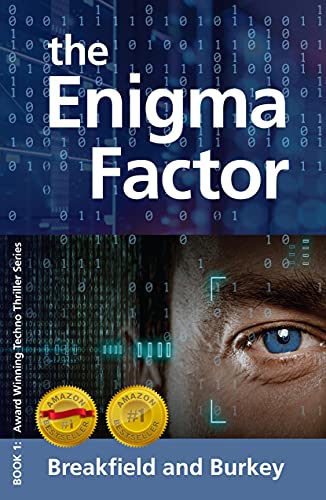 A brilliant programmer is targeted by cyber predators!
Jacob Michaels, computer network security-tester extraordinaire, tries to settle into a quiet life of work to polish his cyber security skills after the death of his mother. Jacob is unaware that his growing reputation makes him a person of interest. Cyber-criminals are hunting for new recruits. They target this brilliant programmer to seduce him into joining their cause. More people are hunting him than just the Russian cyber kingpin. Jacob sets off to find those who are targeting him. He discovers he's in the crosshairs of previously unknown global experts. Of course, having his identity erased puts him front and center above anything else. Buzz, when looking for the easy way, makes a ghastly judgement error and inadvertently crosses the line to the darknet. He pleads to his best friend Jacob for help. Jacob, brilliant as he is, doesn't have enough experience to help Buzz on his own. Jacob battles against global cyber masterminds using his knowledge of programming, identity theft, and hacking. He is pulled up short when his security knowledge is dwarfed following his introduction to the distractingly beautiful encryptionist Petra. Jacob's challenge is how to keep ahead of the criminals and learn who to trust. In their debut TechnoThriller, The Enigma Factor, award-winning authors Breakfield and Burkey weave a complex tale of danger, intrigue, and international cyber combat. They use a relevant technology foundation, then layer on travel, romance, humor and mystery. Like rust, the cat and mouse game of the new cyber warfare age never sleeps.
THE ENIGMA SOURCE
Genre: Suspense/Techno-Thriller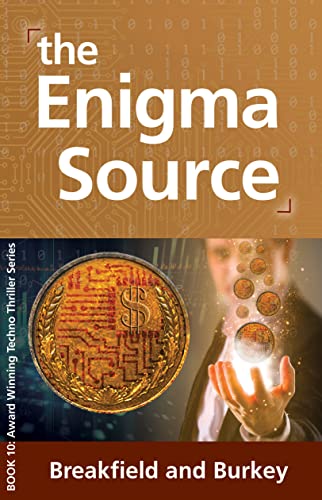 Darknet vultures are preying on governments with cryptocurrency promises. The world is almost ready for fiat currency to be replaced by a superior digital currency. The trouble is, which one and who owns it? The R-Group is back and guiding players to a safe landing pad in the complex world of cryptocurrency. Global Bank wants to lead the race to blockchain adoption, but inhouse resources lack the expertise. Tonya is assigned by Global Bank leaders to hire a cryptologist to design the new global replacement for fiat currency. The cynical hack-and-slash digital currency swindlers, Matthias and Dutch, are jumping from country to country, peddling their new cryptocurrency as a savior for economically failing countries. Next on their shopping list is Venezuela, where the failing economy is desperate for a solution. Watch these new pirates do their coupon-clipping straight out of your digital wallet. Early cryptocurrency pioneer, Su Lin, is threatened by a dark figure from her past at her home. The evil henchman has his orders to bring her and her early prototype of digital currency back to China. Formerly Master Po, the Chinese Cyber Warfare College founder, Su Lin is forced to help those in power to jump start their race to the top of the cryptocurrency market. You will wonder which side she is on. Jacob, Petra, and Quip, R-Group experts, keep tabs on the opportunistic cryptocurrency swindlers as well as other digital currency players. Digital currency battles have the cyber good guys engaged in cyber combat with bad actors from the Darknet traveling from Atlanta, Paris, Venezuela, and finally to China. Can they maintain economic balance across the world in lock step with the cryptocurrency wars of the 21st century? Award-winning authors Breakfield and Burkey explore the future of world commerce, cryptocurrency, and the complications that arise from creating an all-digital monetary system. In the digital currency gold rush of the 21st century, is there anyone looking out for the average citizen?
THE ENIGMA BEYOND
Genre: Suspense/Techno-Thriller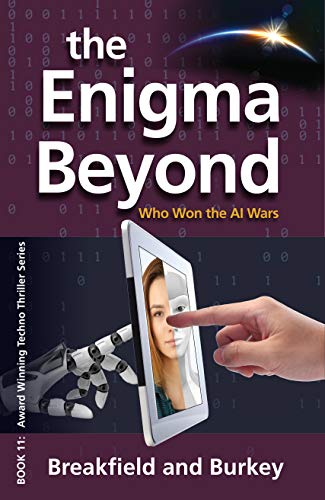 What happens when technology outruns our humanity?
Humans continue to give their decision making over to Artificial Intelligence. Or, was it simply confiscated? Algorithms are delivering manufactured choices to each person via their ever-pervasive personal devices. The seduction of mankind is eminent unless our champions stop them. R-Group, with their own next generation youth, are poised to take on one of their most complex adversaries, supercomputers run by greedy powerful technological geniuses. The training for the new members of the R-Group is live, in the form of a real-world cyber assault crisis. ICABOD, R-Group's digital family member, is their best weapon for this battle. With corporate self-discipline gone and the power of U.S. Congressional oversight crippled, the dominance of the technical oligopolies now dictates their terms of control. MAG, the consortium of global technology predators, have come together to bring their insidious plans to fruition using humans' desire for the easy and effortless lifestyles, even as it steals their freedoms. For groups caught in the cyber crosshairs, time has already run out. The social media noise blinds humanity to what is happening. MAG uses it to seize control of politics, healthcare, finances, and defense systems. Award winning authors Breakfield and Burkey take readers on a one-way trip to keeping or giving up their most precious human quality, the freedom to choose. No one saw it coming when they built computers to ease their work. Where are the guardrails to protect humans from giving up too much? Can humanity take back control? You determine who wins in the AI Wars.
THE ENIGMA THREAT
Genre: Suspense/Techno-Thriller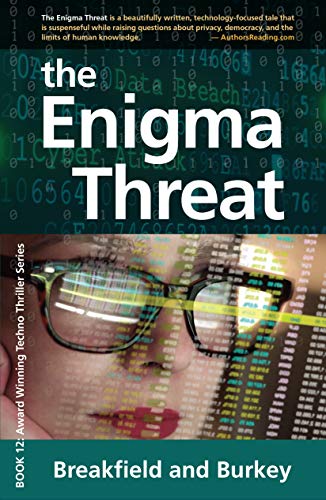 Cyber justice versus cyber peril, the way is filled with treachery.
In the new digital world, there is no tolerance for privately owned supercomputers. Globally, these mega AI-enhanced computers are hunted and destroyed for the greater good, by the new cyber police, CESPOOL. The information this group receives is manipulated by subversive hidden machine learning devices, the MAG running on the Darknet. Judith and Xiamara, freebooters who steal machine time for their porn as a service business, are creating a business. The machine they chose for delivery is the last untapped supercomputer not in the hands of a sovereign. Their activity is spotted by the MAG! The renegade R-Group steps in to alter the outcome. Leroy teams up with Zara to snatch these opportunists from prosecution and capture the machine to meet their goals. The geeky girls are drafted as reluctant participants in the fight for justice. Jacob and Quip are trapped in the Chihuahuan Desert trying to reconstruct ICABOD's logic core. The stress of their isolation is taking a toll. Their wives and children are safe in Brazil for the time being, but Interpol is prowling for answers. R-Group assembled a way to communicate with orphaned satellites. The younger members of that team plan the ultimate honey pot to trap their nemesis who is driving their global dominance agenda. The odds are against R-Group's success, but they have creative surprises on their side. The stakes have never been higher. R-Group young and old must rise to defeat MAG.
HOT CHOCOLATE
Genre: Romance/Women's Fiction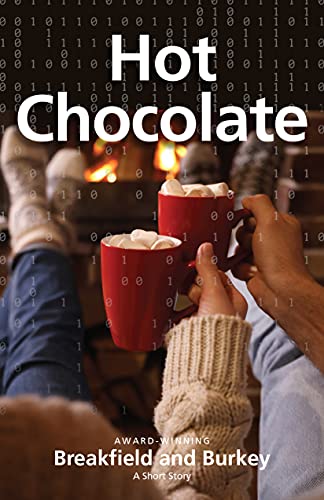 Watch the family dynamics of a young couple as they embrace the yuletide. Petra and Jacob do a mash up of their cultural heritages during the festivities with their family. Petra, raised in Europe, cherishes the older European traditions of candle lighted trees and real Swiss chocolate, piping hot with marshmallows and whipped cream. Jacob, raised in New York City, loves having his family close and sampling piping hot chocolate. He is particularity fond of selecting perfect gifts. John Wolfgang or JW his parents revel in each of his accomplishments and discoveries as he grows. They find it important to expose JW to the best of these winter wonderland activities of both worlds. Watching the delight in JW's eyes creates great memories for everyone. A part of their unabashed affection, they strive to get one another the perfect gift. This adds a layer of their personal teasing season that starts with the first display of St. Nicholas. Jacob smugly announces early this year he's found the perfect gift. As a result, with all the events and activities, Petra stresses over the selecting the right present for Jacob.
The clock is ticking to their gift exchange.
THE JEWEL
Genre: Teen/Young Adult Short Read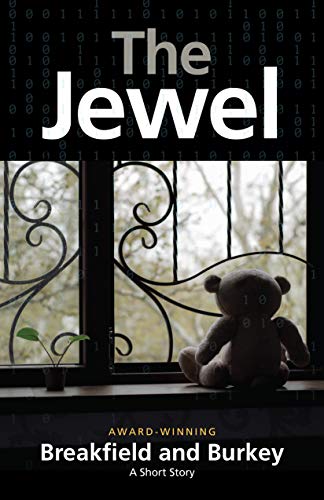 The Jewel takes the reader to witness the struggle of a young couple in post-World War II Europe. We believe people are defined by what they triumph over. Haddy and Otto are so in love. They started their family only to learn Haddy could have no more children. Haddy adores her daughter and helps her grow but, over time, slides down the slope of depression. Otto, refusing to lose the love of his heart, comes to an inflection point. He coaxes Haddy out for the evening to celebrate her birthday, the first time in four years. Using his charm and wit, he plans the evening to court her like before they married. They both dressed up in their finery for the night of celebration. Their evening progresses better than he hoped when Haddy behaves carefree as she laughs and gests with him. Walking through the alley to the theatre, they are confronted by two no accounts looking to rob them and more. Otto instantly shifts to the warrior to protect his bride in the blink of an eye. Can one man defeat two practiced thieves and protect his wife? Their destiny is about to change as silence descends into the alley.
DESTINY DREAMER
Genre: Teen/Young Adult Short Read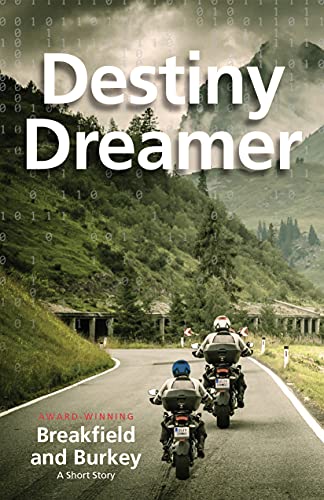 Jamie started life as a carefree lad in Ireland, living in a farm family. When his brother Ian was born, he vowed to show him all the best things as a big brother. They became best friends from the time Jamie taught Ian to drive a tractor. Their bonding exercises as young men was rebuilding a motorcycle from a box of greasy old parts. They traveled to learn their destiny together. Jamie met his love Frieda as he ventured into a new career in technology and their paths crossed on a bus. The relationship blossomed into a family. The future looked bright for the young lovers. Jamie faces emotional highs and lows as he travels. His one consistency is the bus rides to discover his future. Where will his future lead him?