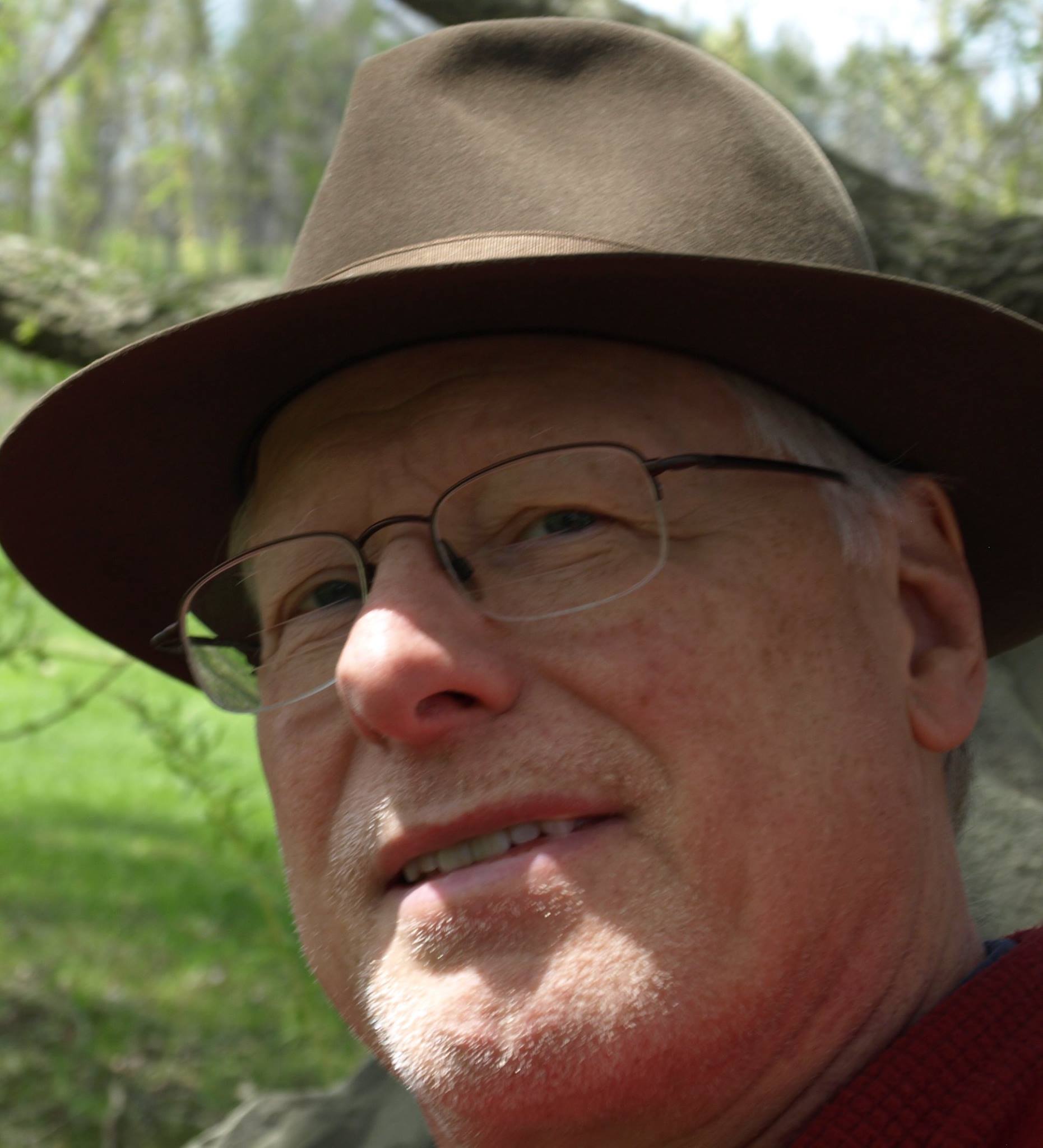 CW Hawes is a novelist and award winning poet. He's most known for his Justinia Wright Private Investigator Mysteries series, set in Minneapolis, Minnesota; The Rocheport Saga, a post-apocalyptic series set in America's Midwest; and the Pierce Mostyn Paranormal Investigations series, set wherever there be monsters. His love of fine food, interesting places, philosophy, music, art, books, and history can be seen in each of his tales. CW was born and raised in Cleveland, Ohio, and made his home in Minneapolis, Minnesota for 45 years. He now lives in Katy, Texas with his wife and cat.
DEATH WEARS A CRIMSON HAT
Genre: Mystery / Crime / Thriller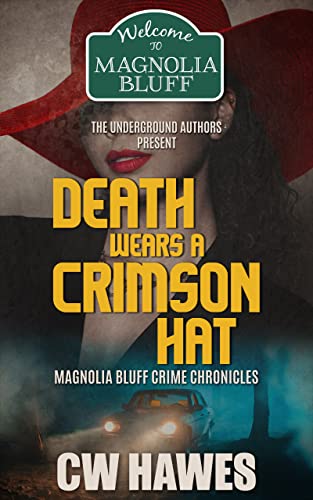 Harry Thurgood just wants a quiet life, and to leave his past in the past. And he thinks he's found the perfect place in sleepy Magnolia bluff, Texas. Until the murder of a prominent citizen threatens to let the skeletons out of his closet. Quiet and unassuming, the Reverend Ember Cole wants nothing more than to be a good pastor to her congregation. And when her friendship with Harry threatens her job, she has to choose between friendship and the church. However, when the murder is pinned on Ember, Harry decides he and Ember have to find the real killer to keep Ember out of jail and Harry's past in the past. But when Harry and Ember are almost killed in a hit and run, they realize the killer will stop at nothing to avoid being found. Even if he has to kill again. Death Wears a Crimson Hat by CW Hawes is the first book in the new multi-author crime series: The Magnolia Bluff Crime Chronicles. Each book in the series will be written by one of The Underground Authors and will feature action, suspense, humor, and, of course, murder.
NIGHTMARE IN AGATE BAY
A Pierce Mostyn Investigations Book 1
Genre: Paranormal/Occult/Horror Fiction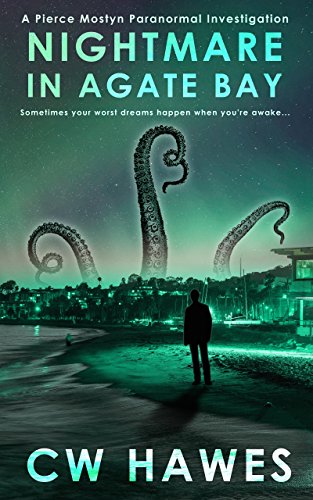 They're staging a comeback. And they want us out of the way. There are rumors that an ancient evil has resurfaced in the decaying Lake Superior town of Agate Bay. Pierce Mostyn, special agent with the ultra-secret Office of Unidentified Phenomena, is tasked with finding out if the rumors are true. If they are, Mostyn must take appropriate action to contain or eliminate the threat. When he and his team arrive in Agate Bay, they find a virtual ghost town. The few remaining inhabitants quickly show themselves to be hostile and threatening. And they appear to be suffering from some manner of strange disease. Or are they? However when Mostyn and his team finally discover the truth, can they get out of town in time to save the world? Or will they too become part of the hideous nightmare in Agate Bay? Nightmare in Agate Bay is the first installment in the new series that explores those secrets too secret for even the X-Files. If you're a fan of HP Lovecraft, Brian Lumley's Titus Crow, Charles Stross's The Laundry Files, and the Cthulhu Mythos, you're sure to like this new paranormal adventure series. Begin the adventure today — if you dare!
IN THE SHADOW OF THE MOUNTAINS OF MADNESS
A Pierce Mostyn Investigations Book 8
Genre: Paranormal/Occult/Horror Fiction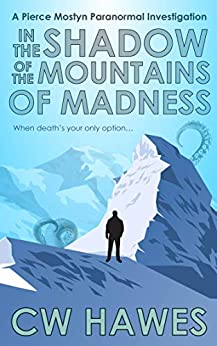 When death's your only option… Pierce Mostyn and his team are sent to Antarctica to find out what destroyed the Vostok Research Station. What they find doesn't bode well for humanity. And to find out if humanity can be saved, Mostyn and his team must bore through the ice cap to reach the sub-glacial Gamburtsev Mountains — the infamous Mountains of Madness. What Mostyn and his team discovers is a terror that may very well destroy all life on earth. Will Mostyn and his team be able to escape the horror and get back in time so countermeasures can be taken? In the Shadow of the Mountains of Madness is the eighth book in CW Hawes's Pierce Mostyn Paranormal Investigations series. If you love weird fiction, horror, monsters, humor, action, and the Cthulhu Mythos, then this series is for you!
Join Pierce Mostyn's team today — if you dare!
FESTIVAL OF DEATH
A Justinia Wright Private Investigator Mysteries Book 1
Genre: Cozy Mystery
A missing person. A mysterious cult. And a PI who'd rather play the piano.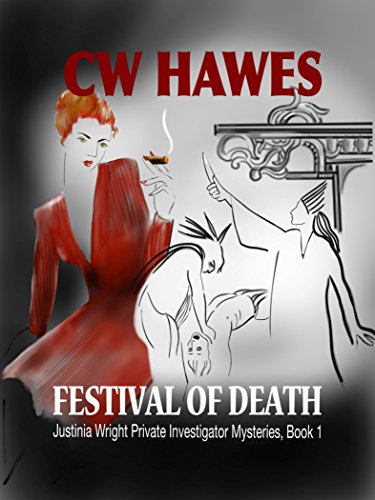 Justinia Wright – Minnesota's answer to Nero Wolfe! Private detective Justinia Wright hates missing person cases. But her "Watson" and brother has tricked her into taking this one. Only these kidnappers will do anything not to get caught — including kill her friends or the detective herself. Festival of Death is the first book in CW Hawes's Justinia Wright, Private Investigator Mysteries series. Justinia is a sassy and quirky detective with plenty of panache. If you like Sue Grafton, Sara Paretsky, Marcia Muller, and Rex Stout's Nero Wolfe you'll love this series that combines their best traits in a captivating whodunit that will keep you on the edge of your chair.
The game is afoot! Get in on the action today!
TO RIGHT A WRONG
A Justinia Wright Private Investigator Mysteries Book 8
Genre: Cozy Mystery
Gavin Gamble went to jail. But was he in fact innocent?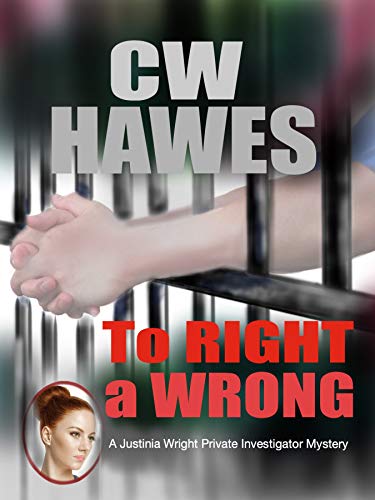 Ace Minneapolis private detective Justinia ("Tina") Wright thinks so. And she and her brother, Harry, pull out all the stops to right a wrong. Gavin Gamble, convicted of murdering his uncle, has gone to prison for 40 years. But Tina has a gut feeling something isn't right about the case. The circumstantial evidence just doesn't add up. But when the real evidence trail leads to cousin Martin Bowen, the question becomes: how could he do the deed when the witnesses placed him in Chicago instead of Minneapolis? Can Tina bust the alibis and right a wrong? To Right A Wrong is the eighth book in the Justinia Wright Private Investigator Mysteries series. If you like traditional mysteries, along the lines of Nero Wolfe or Hercule Poirot, with wise-cracking humor and enough thrills and spills to keep things interesting, then you'll love this latest installment in CW Hawes's page-turning series.
Get To Right A Wrong and uncover the mystery today! The game is afoot!
THE MORNING STAR
The Rocheport Saga Book 1
Genre: Steampunk Science Fiction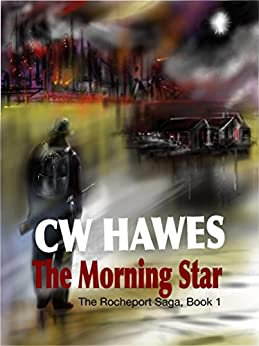 A Post-Apocalyptic Steam-Powered Future – It's happened. Billions went to bed and billions never woke up.
Overnight the world as we know it is gone. Those who remain are mostly lost. A few know what to do and are ruthless in doing it. To avoid being one of the dead, Bill Arthur leaves the city to find a place in the country he can call home. With a handful of friends, he draws on his knowledge and starts rebuilding a new world. A better world. Until he meets someone else who wants to be the boss. Filled with holy zeal, the Reverend Jedidiah Powers wants to make Rocheport a city of God and fights Bill every step of the way to get what he wants. Even if it means killing people to do so. The Morning Star is not your everyday zombie-filled post-apocalyptic novel. It's about working together, independence, freedom, and good old-fashioned know-how. Preppers, survivalists, homesteaders, libertarians will find inspiration in The Morning Star. The Morning Star is the initial book in CW Hawes's The Rocheport Saga. If you like post-apocalyptic classics such as Earth Abides, The Day of the Triffids, Death of Grass, and Terry Nation's Survivors, you'll enjoy this series that is thoughtful and captivating.
Begin the adventure today!
TAKE TO THE SKY
The Rocheport Saga Book 7
Genre: Steam Punk Science Fiction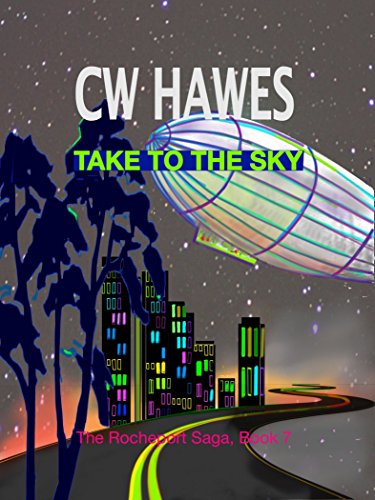 Rocheport, that little town on the Missouri River in post-apocalyptic America, has crushed another enemy. And now Bill Arthur, the small community's leader, feels confident to pursue his twin dreams of a libertarian utopia and a trade network joining all cities together. Yet even as Bill's giant zeppelin takes to the sky, laden with cargo, his enemies are plotting to overthrow his utopia. His chief rival being his own daughter, Zibby. Take to the Sky is the seventh book in The Rocheport Saga, a future history of post-apocalyptic America which begins with The Morning Star. It is a story of hope and a picture of what we can achieve against impossible odds.
Get in on the adventure today!
ANCIENT HISTORY
A Modern Ghost Story
Genre: Paranormal Ghost Fiction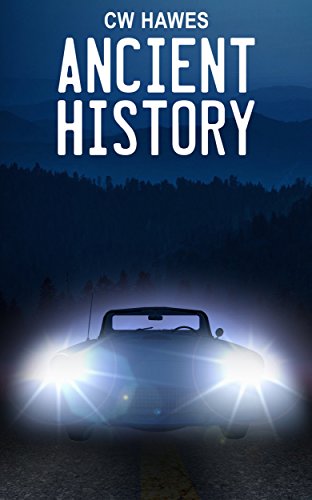 Two brothers. Estranged for years. An attempted reconciliation. And a ghost hellbent on giving everyone a taste of its own private hell. Ancient History is a story of what can happen when nursing a grudge becomes more important than caring for those who should be closest to you.
RAND HART AND THE PAJAMA PUTSCH
Genre: Diesel Punk Action Adventure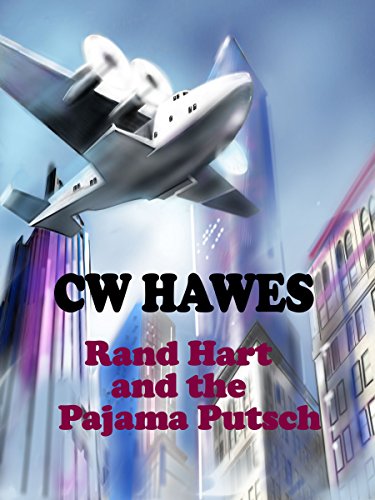 Rand Hart is flying back to the United States on the Hindenburg after a very profitable winter touring the casinos of Europe. His plans for rest and relaxation are put on hold when a wealthy German industrialist offers him a deal he can't refuse. With the promise of easy money, Hart finds himself in possession of a mysterious box that needs to be delivered to Rio de Janeiro in 6 days. Nothing, though, is ever as simple as it seems. There are others who have an interest in the little box and are determined to stop him from making his delivery. Hart discovers he has entered a high stakes political game where the players are shadowed and more than his delivery money is on the line. He may have unknowingly just gambled away his life. Rand Hart and the Pajama Putsch is a 22,500 word Dieselpunk alternative history action/adventure novella with a healthy dollop of romance and a little bit of luck.