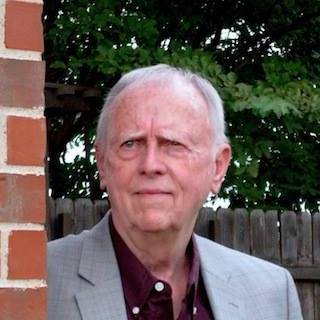 Caleb Pirtle III lives in the present but prefers the past. He is the author of more than eighty books, including four noir thrillers in the Ambrose Lincoln series: Secrets of the Dead, Conspiracy of Lies, Night Side of Dark, and Place of Skulls. Secrets and Conspiracy are also audiobooks on audible.com. All of the novels are set against the haunting backdrop of World War II. His Lonely Night to Die features three noir thrillers in one book, following the exploits of the Quiet Assassin, a rogue agent who has fled the CIA. He takes the missions no one else wants. He is expendable, and he knows it.
His award-winning Boom Town Saga includes Back Side of a Blue Moon, the story of a con man who comes to a dying East Texas town during the Great Depression, promises to drill for oil, and falls in love with a beautiful woman who just may have killed her husband. In Bad Side of a Wicked Moon, the lawless have come to the oil patch, and justice has left town. Pirtle also wrote Friday Nights Don't Last Forever, the story of a high school quarterback whose life spins into turmoil during his entanglements with illegal college recruiting, and Last Deadly Lie is the chilling story of the gossip and scandal that threatens to break a church apart in the midst of greed, jealousy and murder.
Pirtle is a graduate of The University of Texas in Austin and became the first student at the university to win the National William Randolph Hearst Award for feature writing. Several of his books and his magazine writing have received national and regional awards.
Pirtle has written two teleplays: Gambler V: Playing for Keeps, a mini-series for CBS television starring Kenny Rogers, Loni Anderson, Dixie Carter, and Mariska Hargitay, and The Texas Rangers, a TV movie for John Milius and TNT television. He wrote two novels for Berkeley based on the Gambler series: Dead Man's Hand and Jokers Are Wild. He wrote the screenplay for one motion picture, Hot Wire, starring George Kennedy, Strother Martin, and John Terry.
Pirtle's narrative nonfiction, Gamble in the Devil's Chalk is a true-life book about the fights and feuds during the founding of the controversial Giddings oilfield and From the Dark Side of the Rainbow, the story of a woman's escape from the Nazis in Poland during World War II. His coffee-table quality book, XIT: The American Cowboy, became the publishing industry's third bestselling art book of all time.
Pirtle was a newspaper reporter for the Fort Worth Star-Telegram and served ten years as the travel editor for Southern Living Magazine. He was editorial director for a Dallas custom publisher for more than twenty-five years.
He and his wife, Linda, live in the rolling, timbered hills of East Texas. She is the author of four cozy mysteries.
EULOGY IN BLACK AND WHITE
Genre: Mystery / Thriller / Crime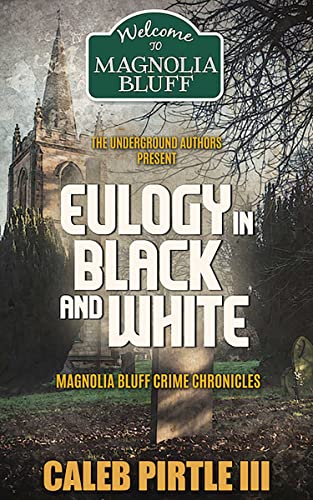 Death Stalks a Small Town.

Magnolia Bluff waits.
With apprehension.
With dread.
With terror.
May twenty-third is coming.
Somebody always dies on May twenty-third.
Why?
No one knows.
A killer walks in the shadows.
The killer is ready to strike again.
SECRETS OF THE DEAD
Genre: Mystery/Thriller/Espionage/Suspense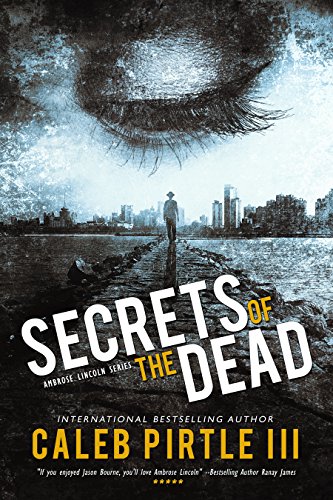 Ambrose Lincoln is one of the government's prized operatives, a trained assassin, a man whose past is continually erased by mind control tactics and shock treatments. His days have no meaning. He no longer fears death. As far as he is concerned, a man without a memory is a man who's already dead. From Germany come rumors of a mad man threatening to rule Europe and maybe the world. On the Night of Broken Glass, his brown shirts and storm troopers move into Baden-Baden and begin their methodical termination of the Jews. In America, so far away, the violence is nothing more than a protest over a Jewish boy who murdered a German diplomat because the Third Reich had removed and maybe killed his family. It was simply a case of vandalism that got out of hand. No one is concerned, and the American government wants to keep it that way. No one in Washington wants to go to war with Hitler, and President Roosevelt continues to preach neutrality. But word is leaked that one Jewish photographer took pictures of the rampage of brutality and murder that night. He was killed, but his daughter is in hiding with the film. Ambrose Lincoln is dispatched to Baden-Baden with one charge. Find the film and bring it back. It will tell the truth. It will uncover the lies. The photographs will reveal to the world the sadistic threat that exists for everyone if Hitler's mad march isn't stopped. His mission is to uncover the deadly secrets that his own government doesn't want him to find, secrets that can change history.
NIGHT SIDE OF DARK
Genre: Mystery/Espionage/Thriller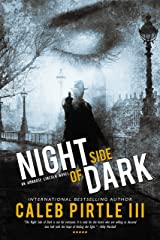 American operative Ambrose Lincoln has no idea where he is or has been or where he's going. He believes he has been to the night side of dark, a place of the first death, from which no one can return. So why does he find himself on the bomb-ruined landscape of Poland, or has he been exiled to the second death? Lincoln only realizes, if the man in the shadows has not lied to him, he must find an ancient religious painting that has been missing for centuries. The German Gestapo will pay a fortune to buy it, or take a man's life to get it. The painting, if legend holds true, is the German hierarchy's final and only chance to escape the onslaught of the war that is crumbling around their feet.
BACK SIDE OF A BLUE MOON
Genre: Mystery/Historical Fiction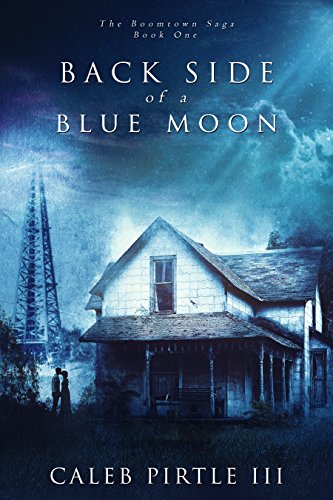 2018 BEVERLY HILLS AWARD WINNER for Historical Fiction!
BEST OF TEXAS BOOK AWARDS for Historical Fiction!
Times are hard along the Sabine River, and the little East Texas town of Ashland is crumbling under the weight of the Great Depression. Families are broke and hungry. For many, their last meal may well have been their last meal. Families are giving up and leaving town. Everyone knows the fate that awaits the scattered farms. No one can save Ashland. It is as isolated as the back side of a blue moon. Into town comes Doc Bannister wearing a straw boater and a white suit. He is the miracle man. He has a homemade doodlebug machine that, he says, can find oil and make them all rich. Oil, he swears, lies beneath the blistered farmstead of Eudora Durant. She thinks Doc is a flim flam man. The Sheriff believes he is a con artist. Both are convinced that Doc has come to town to swindle every dime he can get before hitting the road again. Ashland knows Doc may be crooked, but he has brought hope to a town that had no hope. Eudora has everything Doc wants. She is a beautiful woman who owns cheap land. In Ashland, she is known as the scarlet woman. Whispers say she murdered her husband. No one has seen him since the night they heard a shotgun blast on her farm. The town wants oil. Doc wants Eudora. But Eudora is too independent and stubborn to fall for the charms of a silver-tongued charlatan. She holds the fate of Ashland in her hands. Will she let Doc drill? Is there really oil lying deep beneath her sunbaked land? Can Doc find it? Or is he more interested in finding love than oil? What happens when a man with a checkered past comes face to face with a woman whose past is as mysterious as his?
BAD SIDE OF A WICKED MOON
Genre: Mystery/Historical Fiction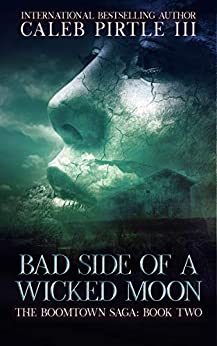 *BEST OF TEXAS BOOK AWARD WINNER FOR HISTORICAL MYSTERY*
Love, Law, and Justice comes to boom town Texas The discovery of oil has broken the stranglehold the Great Depression had on a dying East Texas town. Strangers are pouring into Ashland. Where there is oil, there are jobs, as well as con artists, thieves, scalawags, and at least one murderer. One stranger drives a hearse. But who is he, and why is he found hanging from the crown block of an oil derrick. The Sheriff might solve the mystery. It's his job. But he's discovered shot to death on his own drilling rig. No one in town is above suspicion. But who has a deadly motive? Eudora Durant is the most beautiful widow in town. She's also the richest. With the charming con man Doc Bannister at her side, she risks everything to bring law and justice to a struggling boom town even if she has to personally keep an innocent man from being sentenced to the electric chair. As one reviewer said about book one of the Boom Town saga series, Back Side of Blue Moon: This story set in a small town in East Texas in the Great Depression should go down as a classic in American literature."
LONELY NIGHT TO DIE
Genre: Horror/Short Stories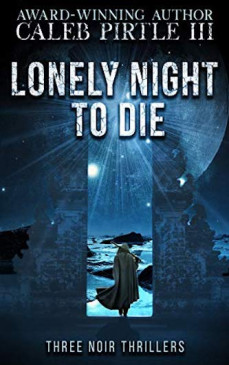 "The episodic nature of the story keeps the tale taut and dripping with suspense. Mr. Pirtle is a master storyteller." – Author CW Hawes
" If you want a feeling for Pirtle's writing style, imagine a combination of Lee Child and Raymond Chandler – imagine mean streets, tough guys, and lives sold cheaply. The author's prose is sparse, almost poetic." – Diogenes.
It's winter. It's cold. Roland Sand boards a train to Chicago. He awakens on a park bench in town he's never seen before. It's hot. It's sultry. How did he get there? He doesn't know. Who is the beautiful girl on the bench beside him? He doesn't know. But she's quite dead, and he has no idea who killed her. Or why? But he'll find out if it's the last thing he ever does. It might well be. For Roland Sand, it's a journey to a dark, mysterious place from which there is no escape. It's a noir thriller. It's a Short Read. It hits you with the impact of a pistol shot.