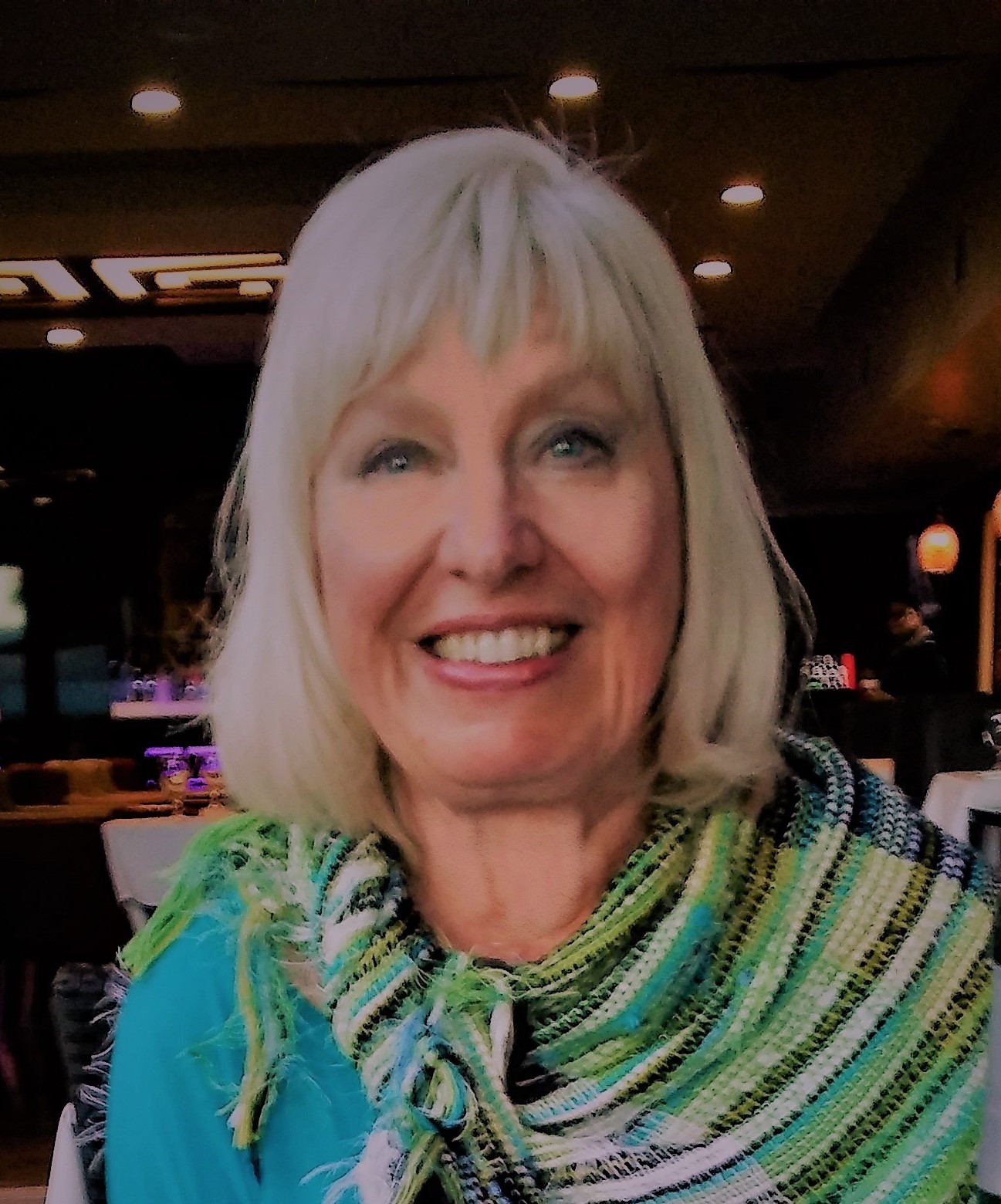 Cheryl was born and raised in Chicago, Illinois, living in various suburbs with her parents and older brother. As the daughter of a book editor and writer, when she was read to at bedtime it would be from a manuscript, and her mother would ask questions like, "Are these characters believable? Are you interested in the story? Can you picture where the action is taking place?" The experience gave Ms. Peyton an appreciation for the art of crafting a good story, even as she helped her mother with her work.
After moving to Tennessee several years ago, Ms. Peyton became interested in nearby Oak Ridge, having read about the town's connection with the Manhattan Project in high school. Getting to know one of the couriers transporting nuclear weapons, she was inspired to write her first book that was a thriller about the threat of nuclear weapons, should they fall the wrong hands.
As a storyteller, Ms. Peyton still ponders those same questions her mother asked her many years ago to help her create exciting tales, told through memorable characters, who move through a fully-imagined world of their own.
Ms. Peyton lives in Loudon, Tennessee, with her husband Jim, and their dog, Cody.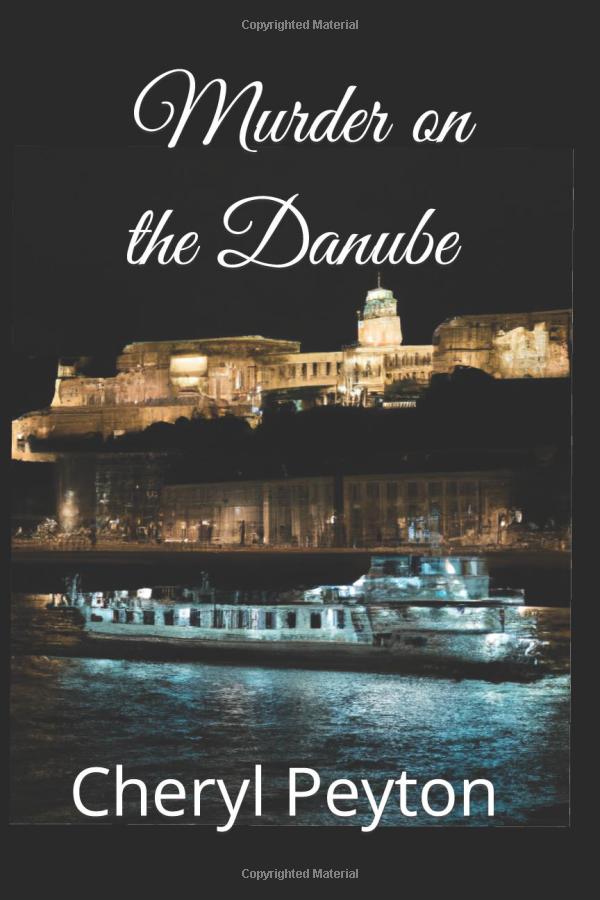 MURDER ON THE DANUBE Genre: Mystery/Thriller
This is the seventh book in the vacation mystery series featuring Alex Trotter, tour operator turned amateur sleuth. When Alex met the members of the Croatian American Club she planned to escort on a Danube River cruise, they appeared to be a happy group who enjoyed playing music and dancing. When she met with them again prior to embarking on the trip, she learned that several had been traumatized by wars in their home country. They all hoped that the cruise would replace bitter memories with positive experiences revisiting Eastern Europe. The question was, would they be able to truly enjoy themselves or would they only be reminded of the misery and aftermath of war?
MURDER IN MOBILE
Genre: Mystery/Thriller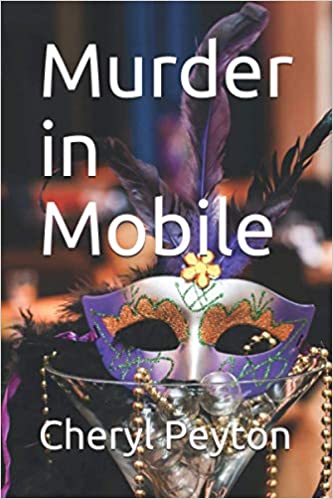 Tour Director Alex Trotter reunites with four college friends in Mobile, Alabama for Mardi Gras. Staying in a Civil-War era inn, there are ghostly reminders of its past, but when there's a murder at the Mystic Goddesses ball on Mardi Gras night, things get a lot scarier.
WIGGED OUT! :
Surviving chemo and other intrusions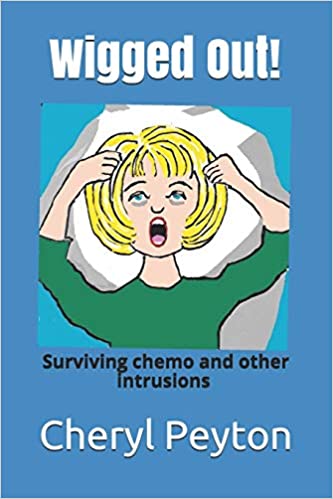 Two weeks before Christmas of 2018 the author felt a lump in her right breast. From past experience, she believed it was a cancerous tumor but due to holiday schedules, tests, and insurance claim delays, it would be weeks before it could be confirmed. From the end of January in the new year through Thanksgiving, the author was in and out of examining rooms, clinics, and hospitals on a bumpy road to recovery that would take several detours. Along the way, she found hope, heroes, and humor to come through the darkness into the light.
CONVERSATIONS WITH CODY
Genre: Humor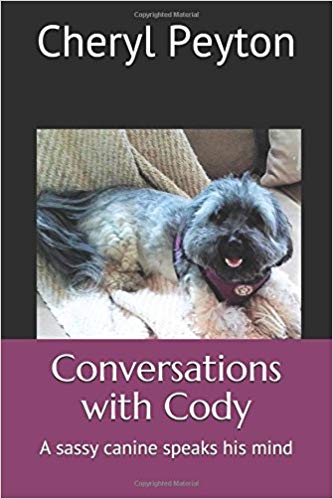 A collection of imagined conversations between the author and her Havanese dog Cody, a self-possessed, cocky little fellow who would undoubtedly express his attitude of superiority and disrespect if given a chance. The book covers many topics from obedience training, to his chagrin at being boarded at a kennel named Small Paws, to cyber security jeopardizing his privacy on social media. Included are some tips for those considering adopting a young dog such as: don't get a puppy that's the same color as your floors. You can easily lose sight of them and panic, or trip over them and hurt yourself. This book is recommended for anyone who has grown up loving and being entertained by dogs
MURDER ON THE RHINE
​Genre: Mystery/Thriller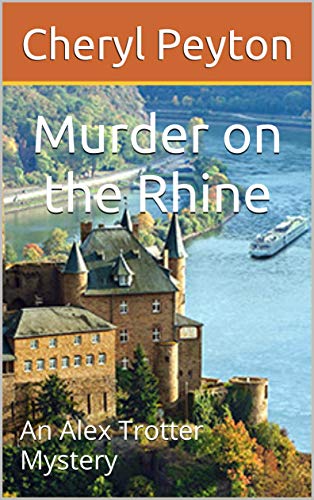 This is the fifth book in the author's travel mysteries series, featuring tour operator, Alex Trotter. Alex convinces her husband, Homicide Detective Arlie Tate, to come along on the Rhine River cruise when she'll escort a group of seniors from the Golden Agers Club.
Alex feels he can help her by looking after some who may get confused or even lost.
But what about murdered? Is he ready for that? Is Alex?
MURDER ON BEDFORD ISLAND
​Genre: Mystery/Thriller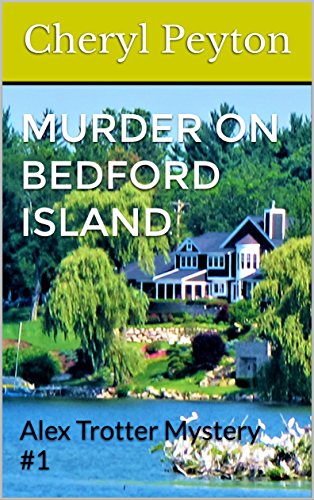 Alex Trotter, who owns and operates Globe Trotter Travels, has had misgivings about taking a group of thirteen tourists for a week's vacation to sparsely populated Bedford Island off the coast of Georgia. While discounting the Norse legend that "when thirteen eat together one will soon die," as being pure superstition, real concerns about the trip remain, including: the dangerous wildlife on the island, the lack of manmade resources, and the lack of electronic communication and physical access to the island.
Still, Alex couldn't have imagined the fireworks that would erupt as soon as the group gathers at the historic Grover Inn;or the inexplicable near-fatal "accidents: that occur soon afterwards.
When one of them is found murdered, everyone becomes a suspect, as hidden motives and shady pasts of the group members and the hotel employees begin to emerge. Is hedge-fund manager Lawrence Livermore operating a Ponzi scheme that he'd be willing to kill to keep secret? Do the nervous bird-like mannerisms of receptionist Tina Wrenn betray some guilty knowledge" Could the murderer be the reclusive night janitor/watchman Virgil Grimm who stays in the shadows but sees all? Or, could the murderer be one of several in the group who has been insulted, mistreated, or abused by the victim?
Although a suspect herself, Alex feels responsible to help out low-keyed Detective Arlie Tate to unravel the mystery, but is put in peril of losing her own life.
This is a whodunit in the classical tradition, with memorable characters in an isolated setting who are drawn into a multi-layered mystery, punctuated by murder. Written more in the style of P.G. Wodehouse than Dashielle Hammett, the story is meant to amuse, entertain and keep you in suspense.
This is the first in my "Vacation to Die For" series featuring tour director and sometimes sleuth, Alex Trotter.
MURDER ON THE BERMUDA QUEEN
​Genre: Mystery/Thriller
​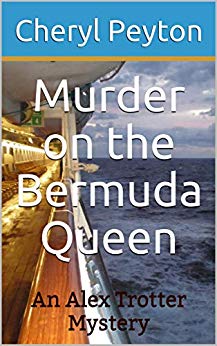 Tour operator Alex Trotter has been hired by a former schoolmate, the exotic Jasmine Keahu, to arrange for and oversee her wedding/honeymoon cruise to Bermuda.
Alex predicts a "sea of trouble" ahead when she learns that the groom is the notorious global art dealer Victor Garza, and that the guest list includes disapproving family members, a vengeful ex-partner, an acerbic art critic, and temperamental artists. Hoping for the best, Alex invites her new romantic interest, Detective Arlie Tate, to come along as her guest. Although their relationship has progressed, their engaging banter and misadventures continue as they encounter peculiar personnel and activities on The Bermuda Queen.
The cruise and the marriage get off to a turbulent start when fights erupt during the reception; but, when one of the party is found murdered, and other lives are threatened, Alex and Arlie must unearth secrets and lies to expose the evil on board before someone else is killed.
In the end, Alex will have to pull off her most courageous and daring feat ever to save her own life.
MURDER IN MARGARITAVILLE
Genre: Mystery/Thriller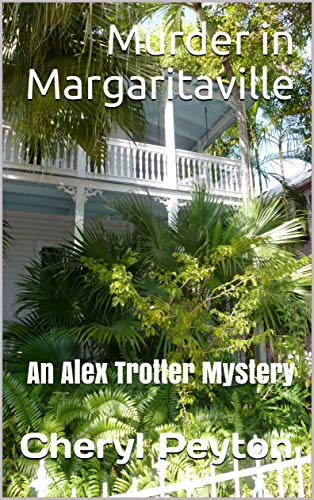 Tour operator Alex Trotter is back, escorting a few Chicago area writers to Key West to stay at the historic C'est La Vie hotel on famous Duval Street, while they attend the City's annual Literary Seminar. Her well-laid plans begin to unravel the first night when one of the authors is mocked by a female-impersonator at the adjoining "Some Like It Hot" lounge. When the entertainer dies of a heart attack, Alex suspects that he has been murdered, but must find the means, motive, and opportunity to prove it and identify the killer. Boyfriend Detective Arlie Tate joins her as her investigation reaches a shocking conclusion.
MURDER IN MONTMARTRE
Genre: Mystery/Thriller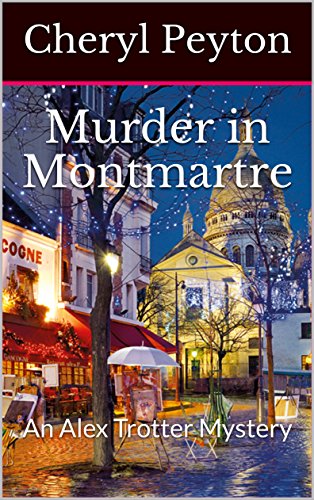 This is the fourth book in the series featuring tour operator/amateur detective Alex Trotter, owner of Globe-Trotter Travels. Alex and her fiancé, homicide detective Arlie Tate, are about to get married before leaving on their honeymoon in France when Alex gets a phone call that changes their plans for sightseeing and romance: Alex's father has been arrested for murdering his boss, Claudine Lyon, the notorious editor of Mode de Vie Français magazine in Paris. While Alex is convinced of her dad's innocence, investigator Gerard DuPree is just as convinced of his guilt. Arlie and Alex will have to team up to conduct their own investigation to find new evidence; but Alex will have to explore the world of haute couture on her own to uncover the jealousies and resentments that can reveal other suspects, which will put her own life in jeopardy.
SIX MINUTES TO MIDNIGHT
​Genre: Thriller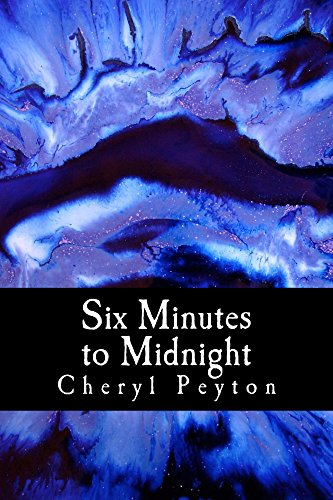 Dana Knowles is the only female nuclear weapons courier employed by the Department of Energy, working out of Y-12 in Oak Ridge, Tennessee. Having served in the Middle East in wartime, and losing her fiancé in the conflict, at first she had been grateful for the opportunity to move back to the United States, and to continue safeguarding the country. But she has become increasingly dissatisfied with being on the road so much, allowing little time for a home life, friends, or romance. She has also grown weary of the long hours of training to be prepared to subdue a terrorist attack when such an occurrence would be nearly impossible.
Albert Arnstein, named after the famed nuclear physicist, has had a difficult childhood: teased by classmates for his physical deformity, derided by his father for not excelling in school and left undefended by his mother. When a beautiful coed snubs him at a fraternity party, his pent-up frustration explodes into violence. Years later, when he crosses paths with Dana Knowles, who ignores him, his vengeance against those who would belittle him is rekindled. Banding together with other misfits involved in the nuclear weapons industry in Oak Ridge, Albert conceives of a plan to threaten the country with nuclear disaster and bring glorification to himself.
Dana is the only courier who is in the unique position to be able to unmask the unknown terrorists; but she will first have to save herself from the trap set for her by the madmen. As the clock ticks, all the action climaxes at six minutes to midnight, the same time setting of the Doomsday Clock that symbolizes the relative closeness we are to a global nuclear disaster.
WALK ON THROUGH THE RAIN
​Genre: Health/Fitness/Physical Impairments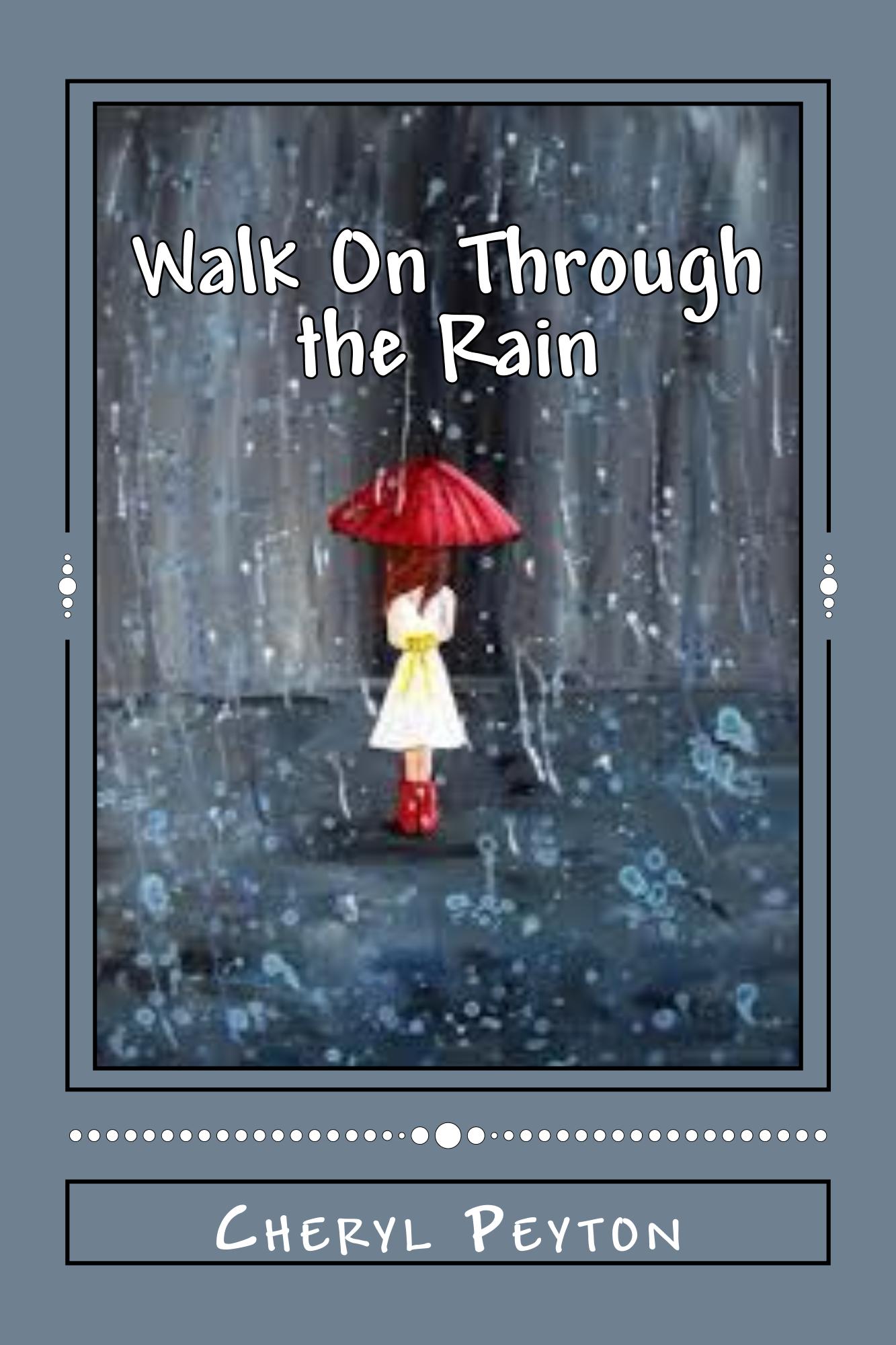 In August of 1946, the Minnesota State Fair in Minneapolis was canceled for only the fourth time in its nearly one-hundred-year history. The previous cancellations had been due to this country being engaged in war: the Civil War and World War II. The Fair's failure to open in the summer of 1946 was due to this country waging a different kind of war against an unseen, but deadly, enemy: poliomyelitis, a disease of the central nervous system which could cripple or even kill, mostly children. Polio had created a panic as its victims were so young, its transmission was unknown and there was no cure.
Four years earlier, a British nurse, known as "Sister" Kenny, had come to Minneapolis from Australia to open a clinic for the treatment of paralytic polio, as the area had a disproportionately high number of these cases. Elizabeth Kenny had developed her own techniques to treat unresponsive limbs, which had been shown to be effective in her work in the Outback. Even so, her techniques remained controversial and were not used elsewhere.
Jeannie Erickson was not yet two years' old in the summer of 1946 and living with her family in Minneapolis when she contracted the virulent strain of polio during an afternoon outing. Days later, when the symptoms emerged, Jeannie was rushed to the hospital and placed in an iron lung in the Kenny Institute. Two weeks later she was removed from the ventilator but faced the dire diagnosis of permanent paralysis of her legs, to never walk again.
This is the story of Jeannie's struggle against the disease, from her first hospitalization, through multiple surgeries and difficult treatments, to adulthood when she was able to live a full and satisfying life. In the telling, the book looks inside the children's polio wards of the 1940s and 1950s, where the young patients spent months at a time, only able to see their families for two hours a week. It is an inspiring tale of courage and dedication of Jeannie, her doctors, and her family.