Cindy's Website
The Fiction Doctor
mailto:[email protected]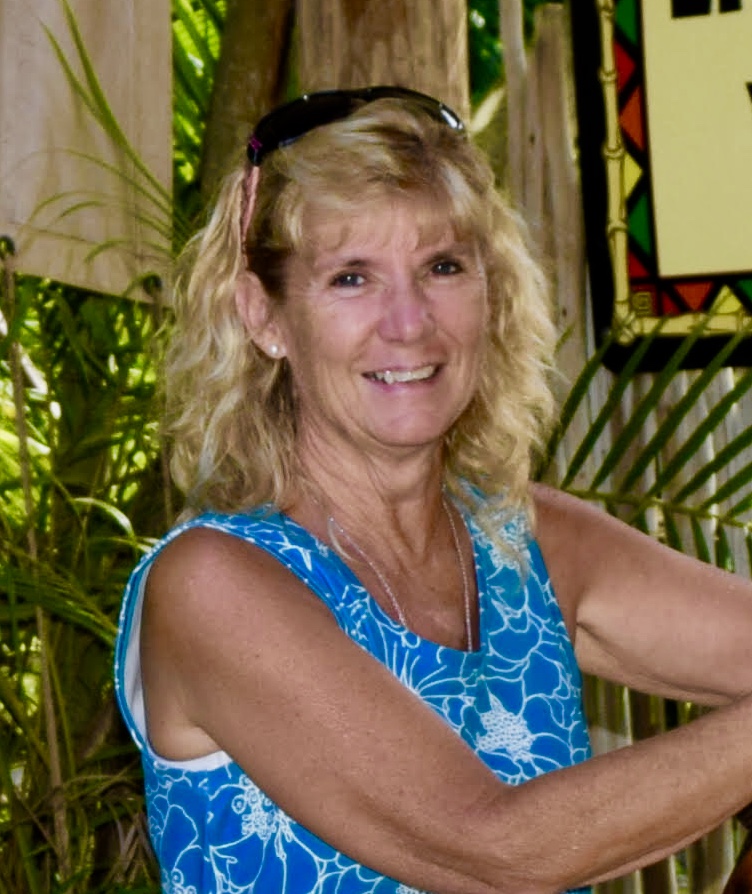 Cindy Davis is the author of 22 mysteries and romantic suspense novels, and several non-fiction books. She's a 20-year veteran free-lance editor, and a recent transplant to the land of sunshine where she can be outdoors twelve months of the year rather than the four or five in New England. Cindy and her new husband Rick do a lot of hiking and swimming. They like to travel—next on the bucket list is Italy. The last trip to Rome produced a novel Lethal Dose of Revenge (being marketed now) which made it TAX DEDUCTIBLE!
Personally, she's addicted to coffee—particularly chocolate raspberry flavor. And don't anyone dare get between her and her life-loves: Ben & Jerry. Other than that, she's pretty laid back.
THE GREAT PEANUT BUTTER CONSPIRACY
Magnolia Bluff Crime Chronicles – Book 3
Genre: Cozy Mystery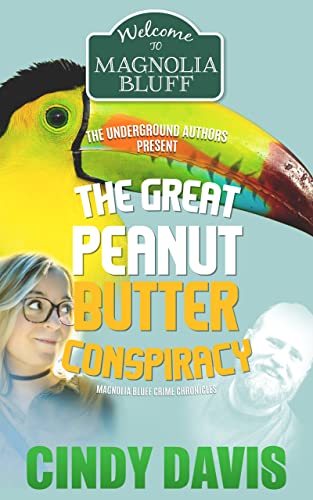 Can lyrics from Jimmy Buffett's songs help Bliss solve a month-old murder? The Texas hill town of Magnolia Bluff looms as a mere distraction for Bliss Jager when the new-to-her motorcycle breaks down under a banner publicizing the annual persimmon festival. Her other thought at the time: What in the world is a persimmon? Only in town an hour, she's offered pizza-for-life and a job at Doyle's General Store. The job comes with two perks: a yellow throat toucan, which is odd enough, but add to that the ghost of Merrick Doyle and life takes a vociferously strange turn. The fatherly man is friendly and much loved, and related to most everyone in town. Trouble is, he's been dead a month. Townspeople think he died of natural causes but he insists he was murdered. Can Bliss expose the killer before people find out she's been getting clues from a ghost, and um…a toucan? More important, can she find the killer before the killer finds her
THE EIGHTH DEADLY SIN IS PIZZA
Genre: Cozy Mystery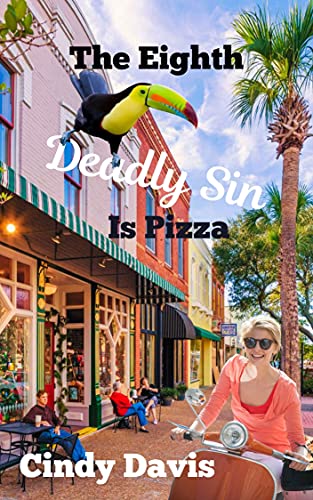 Can a yellow-throat toucan, and lyrics from Jimmy Buffett's songs help Joy solve a month-old murder?
The central Florida town of Uncertain looms as a mere distraction for Joy Wagner when the new-to-her motorcycle breaks down under a banner publicizing the annual mud festival. Why would anyone celebrate mud? Sounds disgusting, but she's stuck here till her bike's fixed. In less than an hour, her luck changes. She's offered pizza-for-life and a job at Moore's General Store. The job comes with two perks: a yellow-throated toucan, which is odd enough, but add to that the ghost of Merrick Moore and life takes a vociferously strange turn. The fatherly man is friendly and much loved, and related to most everyone in town. Trouble is, he's been dead a month. Townspeople believe he died of natural causes but he insists he was murdered. Can Joy expose the killer before anyone finds out she's been getting clues from a ghost…and a toucan? More important, can she find the killer before the killer finds her?
INTERVIEW WITH A SOUL
Genre: Metaphysical Fiction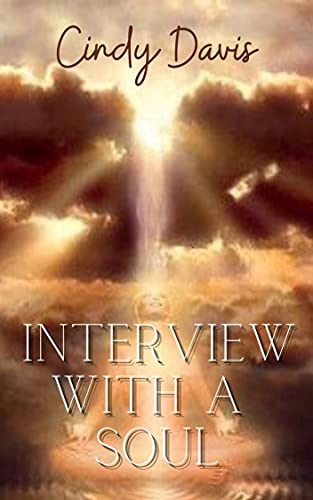 Why do we fear death?
Does reincarnation really exist?
Why were references of it removed from the bible?
Interview with a Soul is intended to answer these questions and more. In a sometimes lighthearted, sometimes serious fictional format, the author hopes to help people understand how the after-death 'process' works. Obsidian is funny and irreverent, and scared silly as he stands before the Council of Elders. They guide him gently through his recent life events, and help him decide which situations he could've improved, and which were a success. Afterward, he chooses the where, who, and when of his next life and is excited to move forward. But somehow, once back in human form, he is sucked into the quagmire of real life situations and cannot recall why he came. In spite of that, as the lifetimes pass, his soul finally achieves the sought-after perfection. Come on the journey with him and his soul family as they maneuver each life's emotional and physical obstacles. Written by two psychics who've 'been there', life between lives is shown in fictional format to help bring this 'other world' into clarity.
SEARCH FOR POWER
Genre: Metaphysical & Visionary Fiction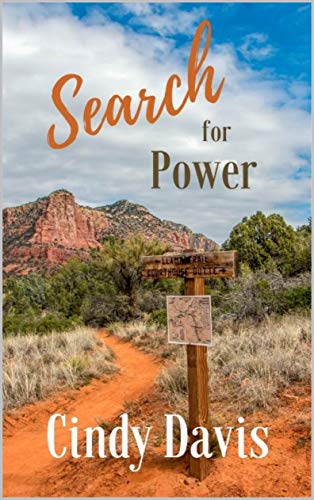 Chaahk has a plethora of deep-dark secrets. So deep and dark that he escapes his hometown of Chi'país, Mexico to hide amongst Native Americans in Sedona, Arizona. For twelve years, he avoids his past, memories of his half-brother Zipacna, and the shamanic abilities that made him feel like a freak. An energy vortex at Jade Martinez's school in Chi'país draws students from all over the world, so many that she seeks to open a second school for advanced spiritual education. What better location than Sedona with its famed vortexes? The Ocotillo Hotel is for sale. It has a vortex, and would make a perfect school, but it is haunted by a pair of spirits who cannot cross into the next world. Though they beg Jade and ten-year-old protégé Miguel to help, teacher and student have no idea how to accomplish this. Miguel is well into his shamanic training. Mature for his age, he is frustrated his healing ability is slow in developing. He knows without a doubt this trip will be the cure.
Chaahk has the answers Jade and Miguel seek but he refuses to relive anything from the past. Will Universe conspire to bring them together? Or will the alarm clock of Divine Timing fail to chime?
ZIPACNA'S LEGACY
Genre: Metaphysical & Visionary Fiction
Jade French is baffled when she inherits her grandfather Zipacna's home in Chi'país, Mexico. She's neither seen nor heard from him in twenty-five years. If he hadn't cared enough to keep in touch, what kind of place could it be? And why didn't he leave it to her father? Friend Mari urges her to at least check things out. Jade argues that a trip to Mexico is out of the question right now. She's too busy climbing the corporate ladder. Mari persists. No surprise: she didn't inherit a home; it's a rundown hotel. Big surprise: she decides to stay. More surprises are in store: Why will no carpenter take on the restoration project? Who is trying to scare her away? What is the strange energy emanating from the ginormous rock in the backyard? How did her severely broken ankle heal overnight? One thing does become clear, and it holds more of a mystery than the mountain of questions. The hotel is actually a school for advanced spiritual training. What! Why would Zipacna leave this to her? She has zero knowledge of the topic. Enter eight-year-old Miguel. Through his spiritual connection to Zipacna, he helps awaken a shocking asset: Jade's seer and healing ability, which, through Grandfather's lofty stack of journals, she comes to realize she had all along. A secret room imparts the knowledge she needs to embrace her spirituality and find a way to bring it to the world. She comes to terms with her legacy, repairs relationships thought long lost, and reopens the school.
THE PRESENT
Learning to Live Life Consciously
​Genre: Self Help / Motivational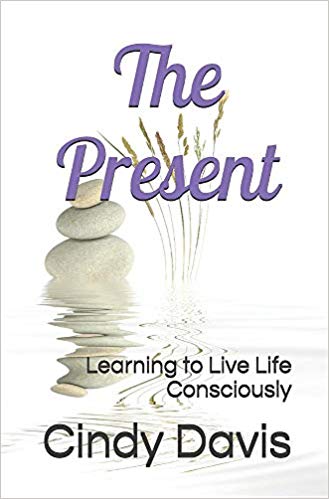 Many people in my over-55 community are, to quote one of my neighbors, "Waiting to go." Actually, they called Florida "God's waiting room." What! Is that what really happens? I asked around and found out it was. After some thought, I realized I had been too.
This book is about how my life changed when I learned to "live life consciously." Because, at the age of sixty-two, I learned I didn't need to lie down and wait for the end to come. It was my choice to go forward…or not.
So, I went forward…and joined a dating site and met someone who changed everything. Realize please, this isn't a dating book. It's how, through interactions with Rick, spiritual books, and journeys to places like Cassadaga, Florida, I learned about self-healing, and that I could literally change my thoughts, to be a more positive and empowering person. That with those changes, life took an entirely new path. How easily things come to you when you learn to let go. On our honeymoon, we visited Mexico's Yucatan villages and learned that in another life, I just might have been a Mayan.
FINAL MASQUERADE
Genre: Murder Mystery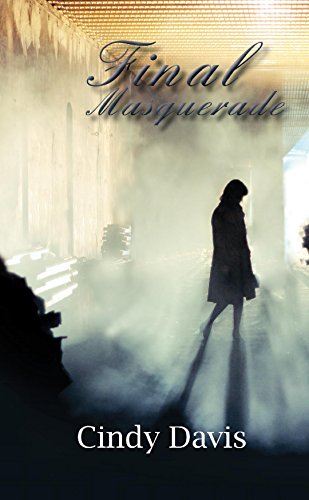 Paige Carmichael must've had a premonition that her life was about to take a turn for the worse. One of the books she'd just finished reading was How to Change your Identity and Hide from Anyone. That was when she saw her fiancé murder his best friend and associate. And call in one of his flunkies to remove the body. This wasn't what she signed up for when she agreed to marry Stefano Santangelo. Sure, she knew he was involved in organized crime , but he'd sworn it was numbers running and things like that.
She isn't about to leave the four-year relationship without something to show for it. Paige takes one of his precious antique coins and $750K from his safe, and runs. She changes her hair, her walk, the kinds of foods she eats.Then one day she meets Christian Charles Beauchamps.
He's driving a truck to make money to open a landscaping business. He's handsome and charming, and eventually convinces her to confide in him. Chris falls for her—or so he says. But when she sees him whispering to a suspicious bearded guy, she takes off again. Can Paige finally escape Stefano's grasp and have a normal life?
A LITTLE MURDER
Genre: Murder Mystery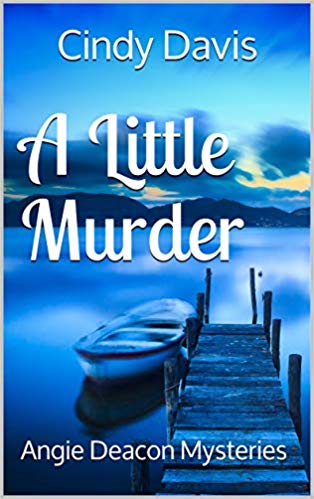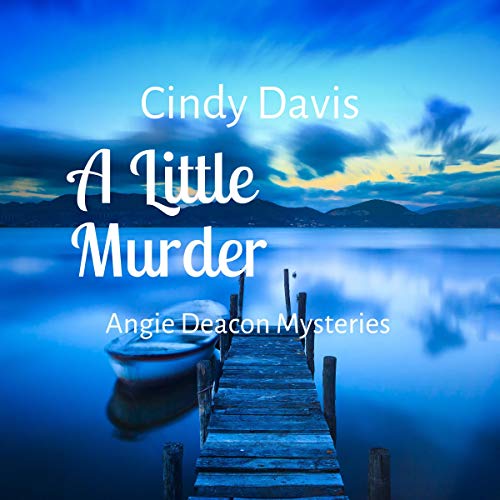 ​A day of fishing on Lake Winnipesaukee sounds like just the medicine for Angie's overworked husband's birthday. In spite of inherent seasickness, she happily goes on the tour with him. How is she to know that by the end of the day they'll both be suspects in the boat owner's death?
As police and the forensics team storm the boat, Angie comforts the distraught widow, who quickly becomes the chief suspect. Which makes sense; besides Valerie, why would any of the five strangers want the insensitive Nolan Little dead?
Fearful Val begs Angie to help clear her name. Angie says no, it's too dangerous. But Val's determined, and Angie goes along to keep her from getting killed—despite the fact that she just caught Will cheating; despite the fact that her brother-in-law has just run off with every penny of their money; despite the fact that black duffle bags are appearing and disappearing more often than Houdini.
She should, but doesn't ask herself, "Could any of these events be related?"
CHECKMATE: MURDER
Genre: Murder Mystery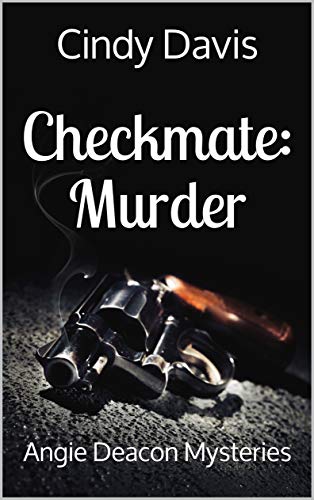 Angie Deacon has a new career, co-owner of Alton Bay, New Hampshire's community theater. And a new hobby—amateur sleuthing.
Things are going well at the theater…until opening night when the co-star, played by police detective Colby Jarvis, shoots the leading man. Who substituted Jarvis's real gun for the prop gun? How did they get it from his sock drawer?
As the days pass and Jarvis is put under tight scrutiny, more questions pop up for Angie and Jarvis. Why would anyone want the star dead? By day John is an unassuming nursery owner. Could his murder have anything to do with the fact that he's trying to breed an as-yet-undiscovered red iris?
HAIR OF THE DOG
Genre: Murder Mystery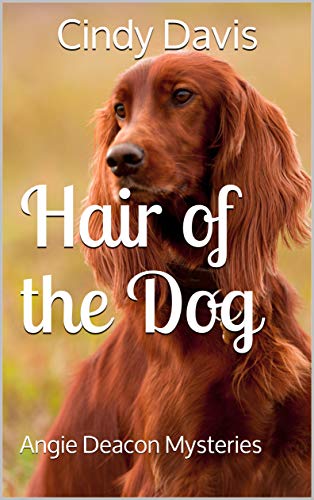 Angie Deacon thought her vacation in Weirs Beach, New Hampshire would be relaxing. But the dog next door would not stop barking. After two sleepless nights, she confronts the owner at the local diner. Their 'discussion' ended in a near knockdown drag-out. The following morning Simon York is found dead. And she's the main suspect.
Angie must seek out the real killer before they stuff her behind bars till her skin wrinkles and arthritis knobs her joints. Her search for the real killer leads to a cosmetics factory that's putting out some very questionable products. Now the owner of the factory—Simon's wife—is dead.
DYING TO TEACH
Genre: Murder Mystery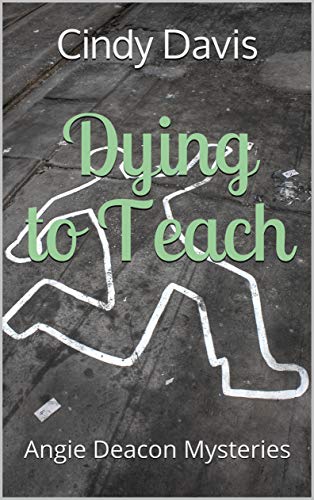 Angie Deacon always thought the gene that produced maternal instinct was missing from her DNA. Till she meets Kiana Smith: beautiful, personable, talented and…grieving, because her mentor, Gwen Forest, the drama teacher has been murdered.
The principal of Carlson South High School begs Angie to come supervise a production scheduled for that weekend. The play, written by Kiana and her friend Evan, is being put on to raise money to save the floundering drama program at the school. Although her own community theater is in the midst of its next production, Angie agrees to help out.
The trouble is, the principal has told everyone she's there to work on the case, and Angie is quickly buried in secrets and problems thrown at her from every angle. Since she and Detective Colby Jarvis' near-death experience in a recent case, she's sworn to leave investigating to the professionals. Unfortunately she can't convince the kids or the principal to stop bringing her clues
REST IN PIECES
Genre: Murder Mystery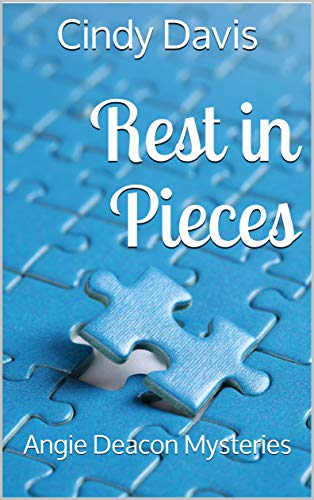 When a popular eighteen-year-old girl is murdered, it devastates residents of the tight-knit communities surrounding NH's Lake Winnipesaukee. But when the jury sets the accused man free, it shakes people to their very core. Detective Colby Jarvis blames himself—the witnesses were ineffective; his testimony was weak, the clues inadequate.
The next morning, jigsaw puzzles begin arriving in mailboxes belonging to people related to the trial. When, twelve hours later, the deaths begin, Jarvis promises to bring the guy to justice. Angie tries to help Jarvis through his troubles, but she's mired in her own set of problems. Her partner Tyson has just been offered his lifelong dream—a part in a Broadway show. Angie faces running the theater on her own, perhaps forever. But even that's not the worst of it: her clingy mom is back in town, and she's brought her a boy-toy—a twenty-something surfer from LA—who decides that he too wants to be a detective.
NO STONE UNTURNED
Genre: Murder Mystery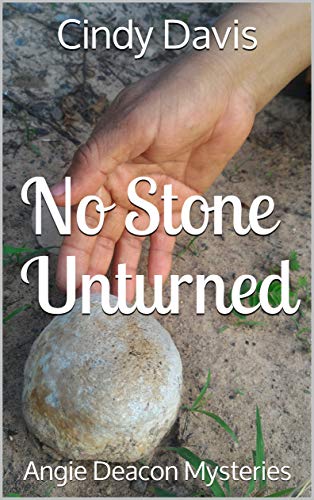 Angie Deacon's partner has gone to Broadway to follow his dream, and she's left alone to produce Prince & Pauper's first play of the new year. Proudly she narrows the group of leading-man applicants to pharmaceuticals salesman Stone Powers. His six-pack abs and charisma have the female cast practically swooning. Stone accepts the attention with cool professionalism, even as wives pop up like dandelions in a field.
When Stone arrives drunk at the theater two days in a row, Angie isn't surprised; keeping three wives from learning of each other would drive anyone to drink. A few days later, the local convenience store phones in a domestic dispute, the last thing Jarvis expects is for Stone to be dead. He suddenly finds himself overwhelmed with suspects of the female persuasion.
Did one of them do the unthinkable? Can he keep them from killing each other while he untangles the deluge of clues?
RUNNING FROM THE PAST
Genre: Murder Mystery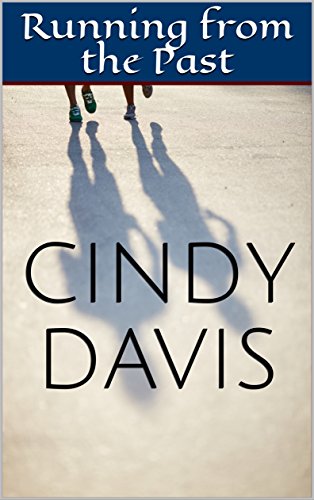 The first warning is swift and to the point, but bookstore owners Glenn and Lindsay Reade don't 'get it' until their lives are threatened a second time. All they've done is read a young girl's diary and attempt to locate the owner. Just because the journal describes the girl's rape and subsequent murder of the rapist is no reason for anyone to want them dead, is it? The book is obviously more than forty years old. Who in the tiny Berkshire town of Paris, Massachusetts could still care? But someone does. And that someone is willing to kidnap and murder to protect their long buried secret.
VOICE FROM THE ASHES
Genre: Murder Mystery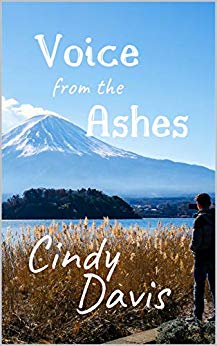 In 1979, Ian Merryweather's biggest dream is to be sheriff of a small town, but a disabling wound in Vietnam sidelines him.
While he's on the mend, his best friend Chief Clement Baker is murdered, and Ian inherits the job. His first inclination is to refuse the position. He feels guilty getting the cherished position this way. But who else will dedicate himself to finding the killer? Especially when the State Police have taken the chief's son Barney into custody, and there's a killer on the loose.
And what about the lovely Lucy? Ian's had a crush on her for years. But she's about to marry Eric Bremer. She deserves so much more than the sly womanizer.
When Mt. St. Helens roars to life, Ian's happiness and the murder investigation are put on hold while he's forced to use every instinct and talent to save his townspeople from the deluge of searing ash and lava.
ON THE HOOK
​Genre: Cozy Mystery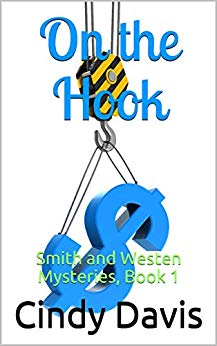 A Picasso painting, worth a hundred million dollars, disappears en route from Chicago to New Hampshire. Literally–en route. The painting goes missing while the truck is moving. The painting is there, then it's not. It's gone, but it can't be.
Kendra Jean Valentine, underwriting agent for the policy, is on the hook. She scrapes together enough to hire two women to work the case.
Westen Hughes owns a failing pet shop. With creditors phoning daily, she jumps at the chance to earn a bundle of easy money, even though the offer comes from her old nemesis KJ Valentine, who stole everything in high school: head cheerleader, homecoming queen and the star quarterback.
KJ pairs her with Westen's total opposite: Phoebe Smith, a snake-loving, underwear-hating, tuba player with more baggage than Logan Airport.
Ten percent of a hundred million is…well, it's a lot so Smith and Westen join forces on a rollercoaster ride to find one of the world's most valuable paintings
JUST SMASHING
Genre: Cozy Mystery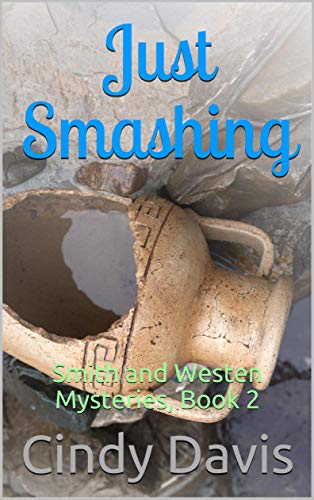 Snake-lover Phoebe Smith and Susie-homemaker Westen Hughes, the Northeast's most mismatched investigative team, is at it again. During the preliminary unveiling of a local college's Egyptian exhibit, a vase worth $1.75 million disappears in front of seven people. Well, six people and the thief, because sure as shortcake has strawberries, the vase is there one minute; the next, it's gone.
Usually clues clog a case but this time secrets are causing more trouble than fifty Dennis the Menaces. Smith disappears for hours on end. Is she tired of Westen 24/7? Or is there a man in her life? Westen can't ask; she has a secret of her own: she's taking shooting lessons. Sergeant "Charlie" Bartowski's secret: without that vase, her promotion will be squashed—again.
Somehow, nemesis Kendra Jean Valentine convinces them to take the case. KJ's secret: find the vase, collect the 10%. Nothing new there.
Will anyone find the vase? Will any secrets cause irreparable trouble?
TWO MILLION REASONS
Genre: Cozy Mystery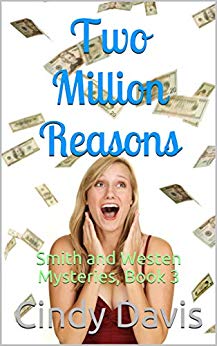 Insurance recovery team Smith and Westen are up to their ears in movers determined to demolish every stick of furniture in their new home. It's almost a relief when a recovery job takes them to Los Angeles.
Magician Gabe Heinz is in the middle of his vanishing act when he does just that—vanish before a sell-out crowd—along with two million in securities from the bank where he's vice president. His daughter is distraught—and a prime suspect—not just by the FBI, but by her nagging shrew of a mother.
Hunky bodyguard Ryan Ames is supposed to meet them at LAX. Instead, a gun-wielding lunkhead with a fondness for roughing up women escorts them to a mobster who claims they now work for him.
When they locate the securities—and they'd better, or else—can they keep them from the mobster?
COME IN FROM THE COLD
​Genre: Romantic Suspense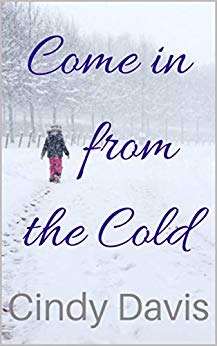 Claudia Goodwin spends her young life cowered under her father's domineering hand. She abides it until 1954, when he arranges her marriage to David VanBuren in order to merge the two families' frozen food companies. Claudia finally stands up to him. She simply can't marry David—not when she's pregnant by his man-about-town brother Max: her life, her love, her soul mate.
When baby Adam is born, guilt pummels her. She can't marry David, can't admit Max is the father, can't let the child face the stigma of being a bastard. Despondent and out of answers, she gives up her beloved baby for adoption and once again bows to her father's wishes—and marries David.
Life muddles along until David announces he and Max are buying a diamond mine. Which means she and Max will be thrust together day after day.
Will she be able to deny her love for him? Will her lifelong search for baby Adam be a success?
YOU HAVE THE POWER
​SELF EDIT YOUR WAY TO PRINT
​Genre: Non-Fiction / Self Help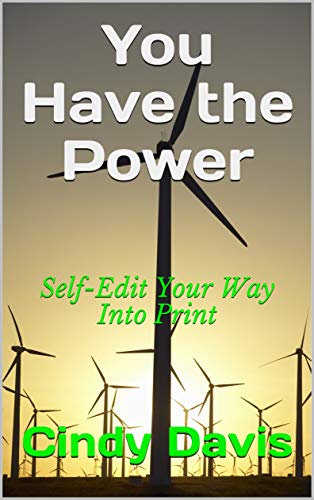 Self-editing made easy.
​