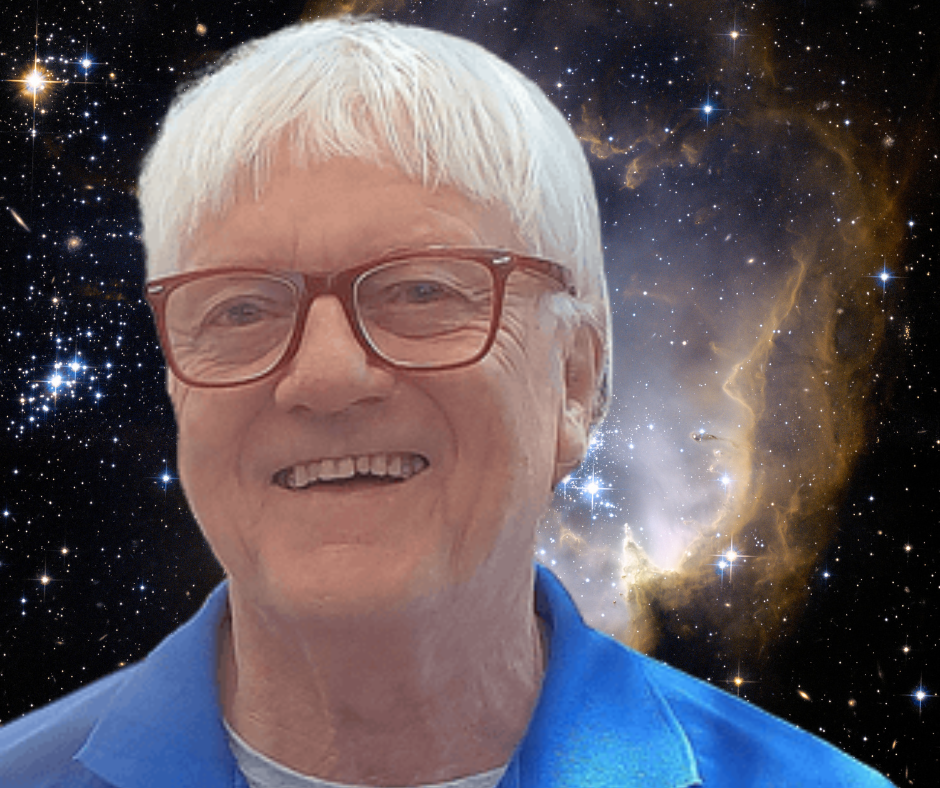 As a youngster Clayton Graham read a lot of science fiction. He loved the 'old-school' masters such as HG Wells, Jules Verne, Isaac Asimov, and John Wyndham. As he left those formative years behind, he penned short stories when he could find a rare quiet moment amidst life's usual distractions. A retired aerospace engineer who worked in structural design and research, Clayton has always had an interest in science fiction and where it places humankind within a universe we are only just starting to understand. Clayton loves animals, including well-behaved pets, and all the natural world, and is a member of Australian Geographic. He has won many book awards including Author's Show '50 great writers you should be reading', Readers' Favorite International Award finalist, and Book Excellence Awards finalist. Combining future science with the paranormal is his passion. Milijun, his first novel, was published in 2016 and is the exciting prequel to Amidst Alien Stars and Alien Whispers: Conflict and Communion. Space Opera novel, Saving Paludis, was published in 2018 and won a Readers' Favorite International Book Award. His books may be light years from each other but share the future exploits of mankind in an expansive universe as a common theme. In between novels Clayton has also published highly rated short story collections Silently in the Night and Looking for Life, where, among many other adventures, you can sympathize with a doomed husband, connect with an altruistic robot, explore an isolated Scottish isle and touch down on a far-flung asteroid. He hopes you can share the journeys.
ALIEN WHISPERS: Conflict and Communion
Genre: Science Fiction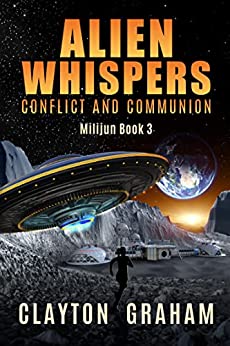 The battle for the minds and hearts of humans is on…
A hundred years after her abduction to the alien planet Glieze, Laura Sinclair returns to Earth on a mission to find out what happened to her long-lost husband. But she finds the planet in turmoil under the oppressive regime of the authoritarian Tellurians. Humans are confined to the surface of their world and all extraterrestrial activity is forbidden.
Laura is a member of an ancient organization, now led by her son, Jason, which pioneered alien collaboration. From their secretive Martian base, they must find a way to free mankind from brutal tyranny. But one dangerous man stands in their way, a man who'll stop at nothing to achieve his domination of Earth.
Weapons of Mass Destruction have been forbidden on the planet for a century, but something strange is happening on the moon—and alien insurgents stand ready to take advantage of the chaos. The future of humankind hangs in the balance. With her alien allies and members of Earth's Underground, Laura must find a way to defeat both the renegade aliens and the overwhelming might of the Tellurian Empire.
The stage is set for an electrifying showdown that will decide the future of the Earth and that of the entire universe.

Alien Whispers: Conflict and Communion is the standalone third book in the Milijun series. Join the battle to save Earth from a fate that is crushing the planet's will to survive.
LOOKING FOR LIFE
A Collection of Science Fiction Short Stories
Strap in, turn down the lights, and enter worlds that will stretch your imagination to the full…
From a stranded alien comedian to the darkest depths of the human psyche; from a mind-blowing galactic adventure to clandestine extraterrestrial behaviour on Earth. They're all here in this spell-binding collection of short stories to keep you guessing at every turn.With tales of alien invasion, deep space mystery, time travel, and dystopian future Earths, this is a collection which takes inspiration from the much respected 'old masters' of Science Fiction. Here be new realms to explore—can you cross the void and challenge your dreams? Explore Looking for Life and escape to strange and wonderful new worlds.
AMIDST ALIEN STARS
Genre: Science Fiction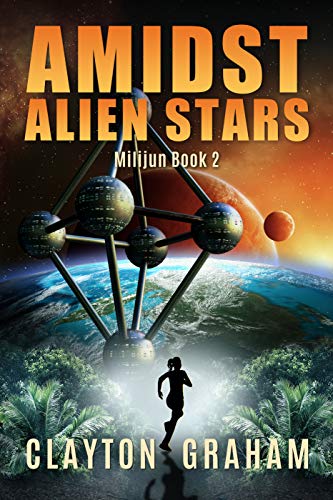 Mysterious and chilling events on an alien world threaten the interstellar survival of the human race…
They have awoken surrounded by alien stars. Following their abduction from Earth, Laura Sinclair and son, Jason, lead a group of desperate humans in a bid to forge their own future and that of their home planet. To succeed, they must solve the puzzle of extraterrestrial races in the throes of a perplexing and historic conflict. But they are in a strange, new universe; on a bizarre and dangerous planet. Who can they really trust as they struggle to understand the challenging and hostile environment that holds them in a grip of iron? And what do the aliens really plan for them and their hybrid children? The exciting sequel to highly rated science fiction novel Milijun: Enter a world like no other as the truth will out in a realm as far away from home as it ever gets.
MILIJUN
​Genre: Science Fiction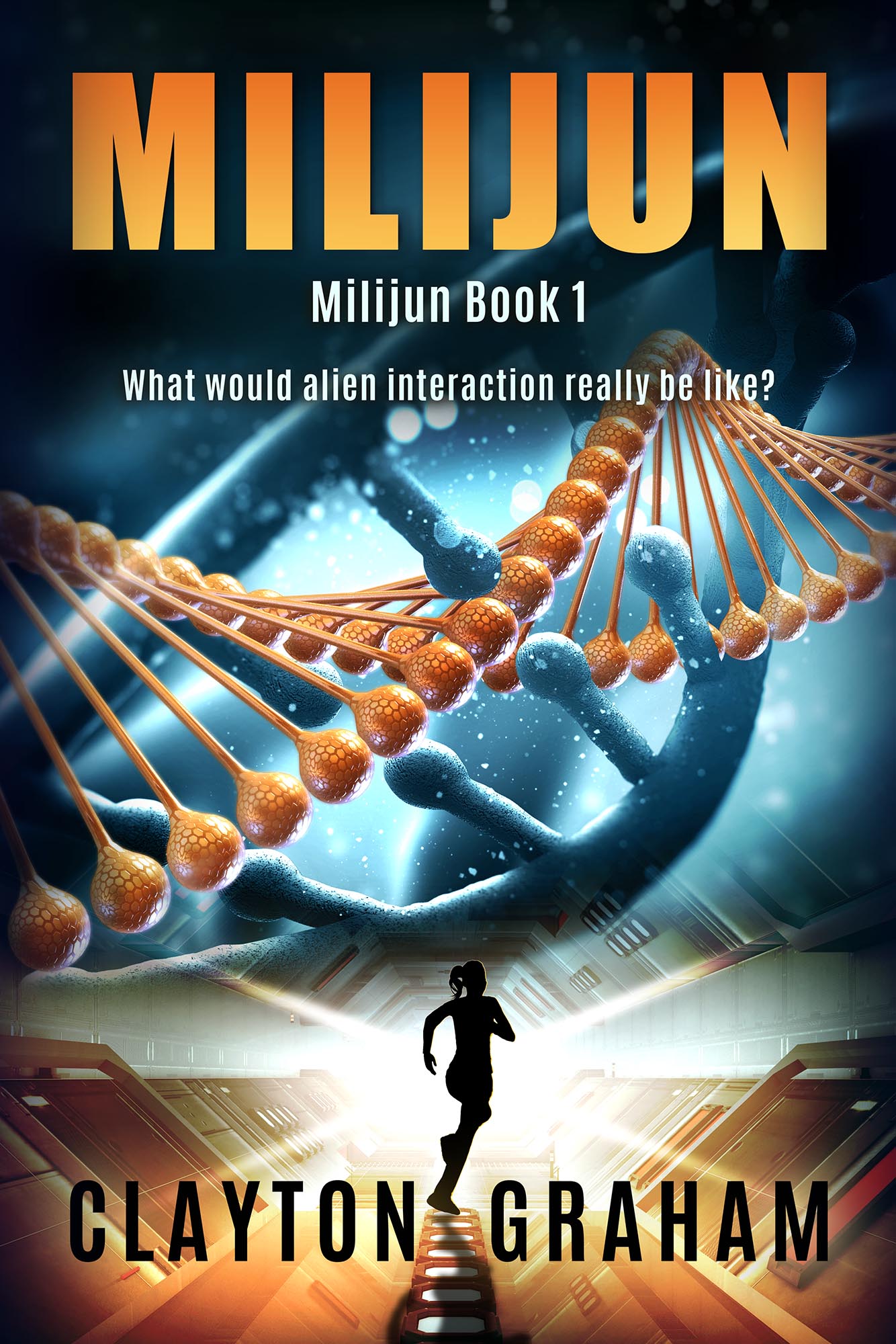 A tangled web of alien intrigue descends upon an unsuspecting Earth…
When aliens seize Laura's son, Jason, she will move heaven and earth to get him back. As she becomes entrenched in a game of cat and mouse with both the aliens and Earth authorities, she learns the deadly secrets behind the extraterrestrial incursion. Challenged to breaking point, she battles for the survival of Jason and several others who are unwittingly being used as pawns in a cosmic game of survival. But then she realizes that the aliens have dramatic and terrifying plans for her, too. Should she accept the vision of a new Earth, or fight to the end for a return to normality? Milijun is the First in Series of an action-packed sci-fi alien invasion story. If you like tales of first contact, secret military operations, and the people caught in the middle, then you'll love Clayton Graham's fast-paced sci-fi thrill ride.
SAVING PALUDIS
​Genre: Science Fiction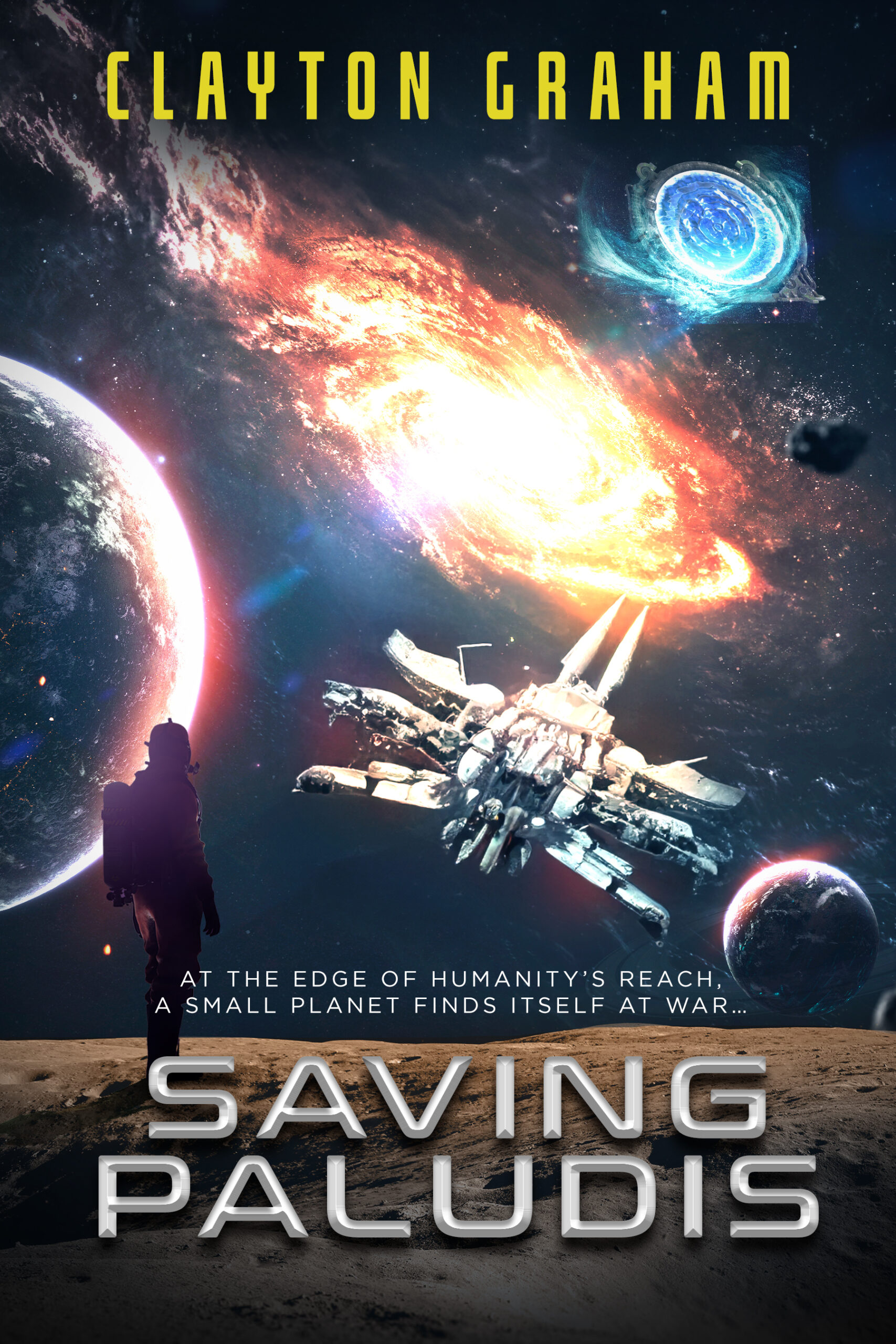 Finalist in the Readers' Favorite 2018 International Book Awards.

At the very edge of mankind's cosmic reach, a small planet threatens Earth with extinction…

Stefan Lattanzis never expected his planet to become a battlefield, nor Earth for that matter. But when scientists from Paludis share a technological breakthrough with the mother planet, peace swiftly turns into deadly conflict. The downtrodden alien population, mistreated for centuries, seize their chance, and a desperate human cult has a sinister agenda of its own.
To save his precious home world, Stefan must team with two strangers, a botanist and a mysterious seer. They must trust in each other to prevent the newly-emerged forces from destroying Paludis, and forging a dystopia from which they could never return. But how will they defeat the might of Earth?
Saving Paludis is an electrifying sci-fi thrill-ride. If you like futuristic technology, alien political intrigue, and high-octane, paranormal action, then you'll love this incredible interstellar adventure!
SILENTLY IN THE NIGHT
​Genre: Science Fiction/Mystery/Anthologies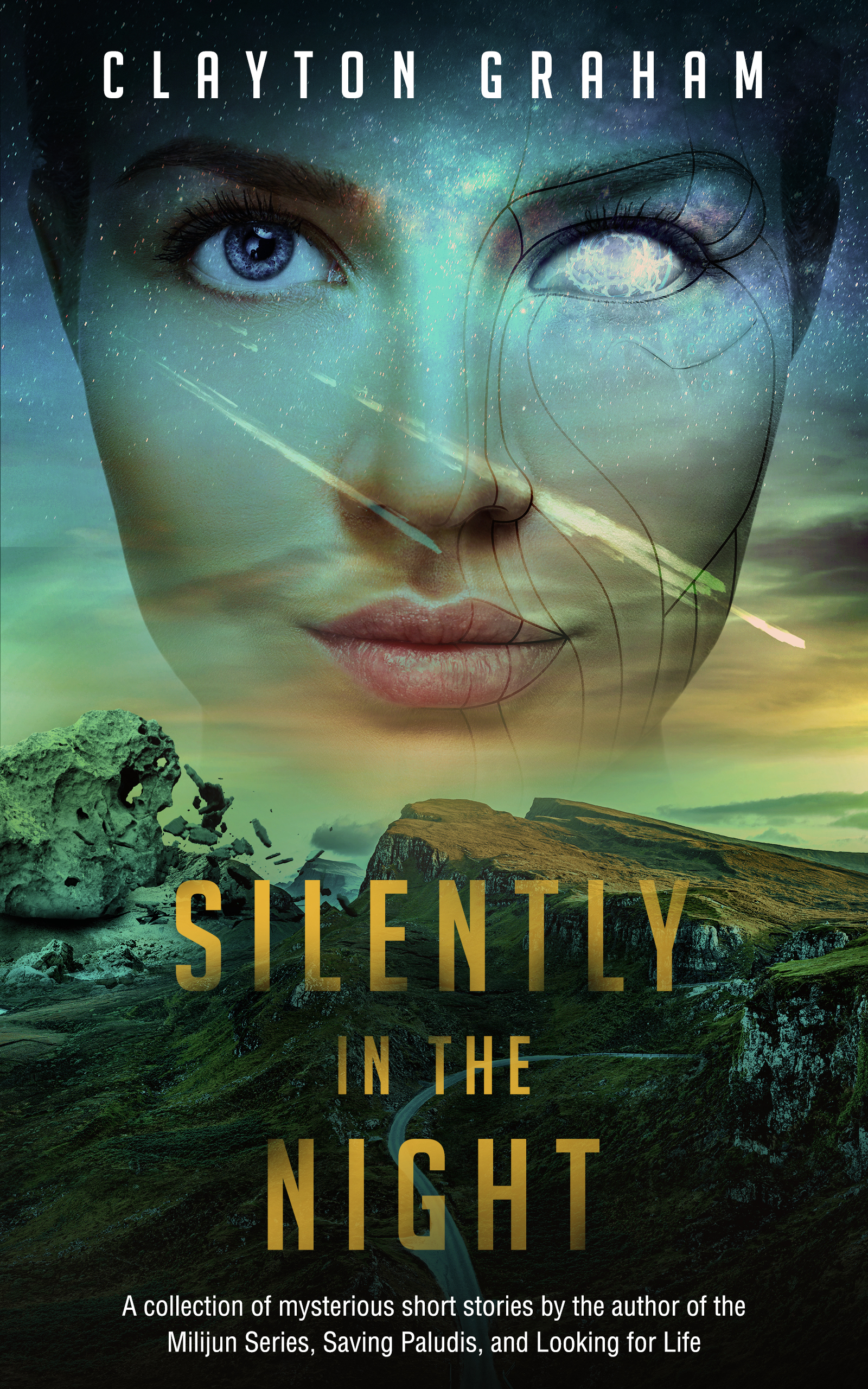 Mystery, murder and mayhem – plus a moment of romance… Sympathize with a doomed husband and connect with an altruistic robot. Explore an isolated Scottish isle and touch down on a far-flung asteroid. From the light-hearted to the darkest depths of the human psyche. They're all there in this smorgasbord of short stories to keep you guessing at every turn. From the author of Milijun and Saving Paludis. Buy 'Silently in the Night' and discover new worlds today!