Cynthia's Website
mailto:[email protected]
Cynthia Woolf is the award-winning and best-selling author of forty-three historical western romance books and two short stories with more books on the way. Cynthia loves writing and reading romance. Her first western romance Tame A Wild Heart was inspired by the story her mother told her of meeting Cynthia's father on a ranch in Creede, Colorado. Although Tame A Wild Heart takes place in Creede that is the only similarity between the stories. Her father was a cowboy not a bounty hunter and her mother was a nursemaid (called a nanny now) not the ranch owner. Cynthia credits her wonderfully supportive husband Jim and her great critique partners for saving her sanity and allowing her to explore her creativity.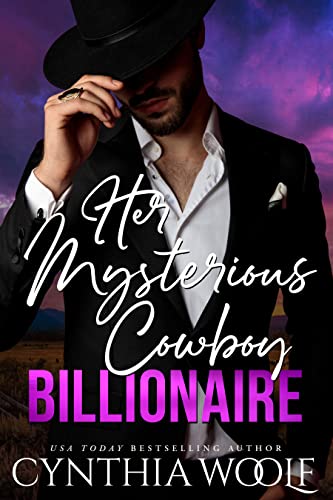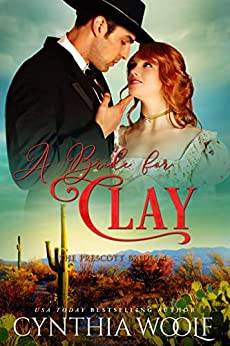 VIOLET
Genre: Historical Western Romance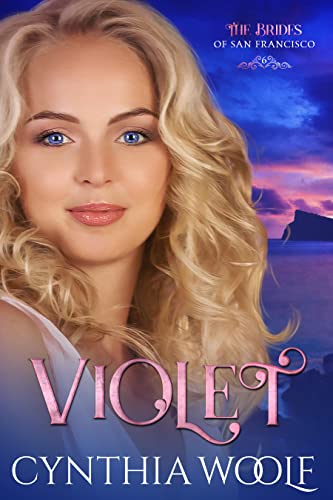 Violet Malone is a beauty beyond compare. Carefree. She has the world at her fingertips and a bright future ahead of her.
Someone wants to steal that future. Someone wants to twist Violet's beauty into suffering and pain.
There are monsters in the world, and this one is willing to pay a premium to ensure the innocent beauty cannot escape him.
Every bounty, every job demands something new from Lionel "Beast" Plantier.
This time he's been hired to kidnap an innocent maiden and deliver her to the devil in disguise.
This time, the rejection, the repulsion and disgust caused by his horrible scars is taken from him with one soft, feminine caress.
This time, he will risk everything to save an untouched beauty from a true monster, even marry her himself. But what will happen when this beauty is forced to marry a beast?
HER SECRET COWBOY BILLIONAIRE
Genre: Western Romance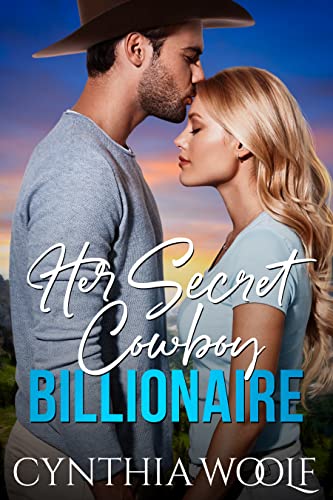 After inheriting her grandmother's Victorian mansion outside Twin Bluffs, Montana, Shavon Montgomery decides to turn it into a bed and breakfast. It is the perfect solution for her after the tragedy of losing her sister and taking custody of her sister's baby, and the perfect place to hide in plain sight. Guilt rides her hard, along with a deep and abiding hatred for secrets and the people who keep them. If it hadn't been for secrets, she could have helped her sister before she died; secrets that destroyed her relationship with the man she wanted to marry. Even now someone wants her dead, and she finds herself falling for the new carpenter's easy smile and cowboy charm. He's almost too good to be true, but what could the cowboy be hiding? Brody James is thrilled when he wins a bid to remodel and renovate the old Victorian mansion into a bed and breakfast. Former bronc rider turned carpenter and father, Brody has a secret. He's rich. As in billionaire rich. It is a secret he has kept since moving to Twin Bluffs. He likes to work with his hands, really help people, not just write checks. He's established himself as a hard working cowboy, carpenter, and hopefully a good father. When he meets the new owner of the bed and breakfast, their chemistry is through the roof. Brody wants to be honest with her about who he really is. He wants a chance at forever. But how can he tell her the truth when she makes it clear how much she despises secrets, even good ones? Hiding the truth may destroy their relationship. Will their love be able to survive the danger, lies, and secrets they keep? Read Her Secret Cowboy Billionaire to find out!
THE EUREKA CITY BRIDE
The Marshals Mail Order Brides Book 4
Genre: Historical Romance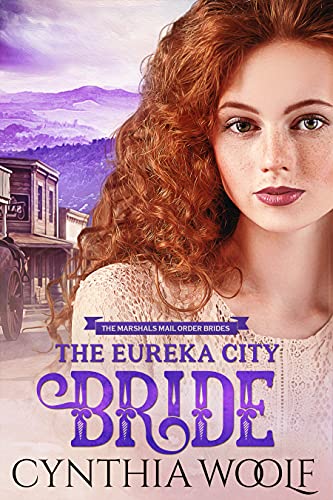 Vivien Fitzhugh gave up her Pinkerton badge to track her best friend's murderer. His last known location is Eureka City, Nevada. In order to blend in with the population of ninety-nine percent men, she needs to be married. Being a mail-order bride for the marshal fits the bill perfectly. Marshal Reese Kelly wants to fit in with the town fathers and needs a wife. At least that's the excuse he gives for ordering a mail-order bride. What he really wants is what his parents had, kids and a happy home. Though he doesn't hold much hope for a love match. Vivien and Reese are thrown together, each with their own agenda. Will finding a love worth fighting for be enough to change their minds?
NORA
Brides of Oregon Trail Book 9
Genre: Historical Western Romance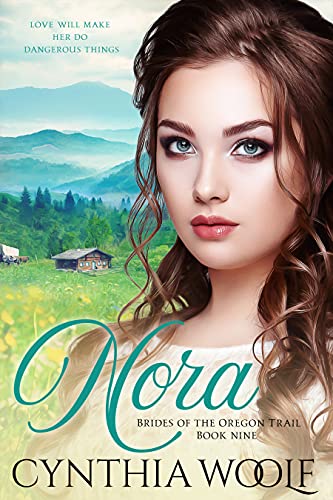 Wed one of her father's lecherous old cronies or flee. Those are the only options for Nora Jones. Refusing to be a pawn, she escapes in the night, running for her life. Her freedom. Ben Taylor is no stranger to a fight. An honorable man, he's still a rough, tough cowboy who gets into plenty of trouble. When caught in a compromising situation, albeit an innocent one, Ben does the first thing that comes to mind – marry the lady in distress. Sparks fly in 1855 in the Willamette Valley in the Oregon Territory as Nora and Ben fall unexpectedly in love, but no one can outrun their past forever. When danger comes calling, will Ben be able to protect Nora, or will they all go down in flames? ***Note. This book features Rebecca's brother Ben as the hero. Some of the set up of the book is similar to Rebecca, Book 5 of the series.
TROUBLED BRIDE
Genre: Historical Romance
Matchmaker & Co. Book 5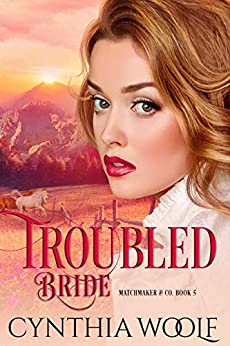 Olivia Hayes wasn't born a liar or a cheat, but circumstances have forced her to play a role she never wanted or imagined for herself. The letters she sends to a well-to-do rancher in Colorado promising to be his mail-order bride are lies, all the same. Desperate for money to care for her ill mother, Olivia had no intention of following through with the contract she signed with Matchmaker & Company. That is, until her mother passes away unexpectedly, she's left penniless and homeless and the owner of the matchmaking company gives her a choice; go to Colorado and be the bride she promised she would be, or go to jail. Determined to embrace her fate with an open mind, Olivia sets off to meet her new husband, the handsome rancher, Tyler Wainwright. However, life for Olivia is never easy and she is the lone witness to a brutal murder along the way. Forced to flee her new, powerful enemy, she runs straight into Tyler's arms. Will the killer sent to silence her forever complete his mission? Will Olivia's lies lead to her death or will love and truth be enough to give Olivia and Tyler a happily-ever-after?
A HUSBAND FOR VICTORIA
Brides of Golden City – Book 1
Genre: Historical Romance / Fiction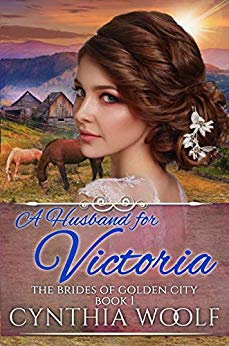 New York Governess Victoria Coleman survives an attack but finds herself in a family way. When her employer finds out, the kind man tells her she is safe there. But his wife has other ideas. Believing her husband is the child's father, she threatens Victoria. Needing to escape, Victoria becomes a mail-order bride as far away as possible—Golden City in the Colorado Territory.
Andrew Mayfield is consumed with guilt over the death of his wife and infant son in childbirth six months ago but knows that his two-year-old daughter needs a mother and he needs to marry to provide her one. He contracts for a mail-order bride.
But vengeance is a dish best served cold and the woman determined to see Victoria's baby dead and therefore Victoria herself, is an iceberg. Refusing to believe her husband or Victoria, Mildred Thomas follows Victoria to Golden City. Will she be able to exact her revenge for a perceived wrong? Or will Andrew be able to protect the woman who might be working her way into his heart?
CHARLOTTE
Brides of the Oregon Trail – Book 6
Genre: Historical Romance / Fiction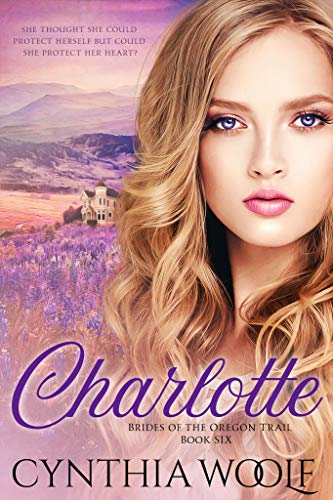 Travis MacGregor came to Oregon City to start over. Determined to put his past behind him, he believes a proper wife is all that's missing from the proper life he's always wanted. He has worked hard to establish his formal reputation as an upstanding and no-nonsense lawyer. However, the moment he meets Charlotte Taylor, he can't fight his attraction despite her unconventional, hell-raising ways.

Charlotte "Charlie" Taylor has been dressing like a man and wearing guns since her father kicked her out of the house when she was seventeen. She is perfectly happy with her life until she meets the insufferable Travis MacGregor. He claims to desire her, but how can she trust the new lawyer in town when he makes it no secret that he needs a proper wife to make his dreams come true. Charlie isn't the "proper" anything, but that doesn't stop her wayward heart from feeling things she never imagined possible.

But can he accept her as she is, or does he want her to change? To adapt? To become the proper, dress-wearing hostess of his dreams? And when the villain stalking Charlie comes to town, will the danger bring them together or tear them apart forever?
REBECCA
Brides of the Oregon Trail – Book 5
Genre: Historical Romance / Fiction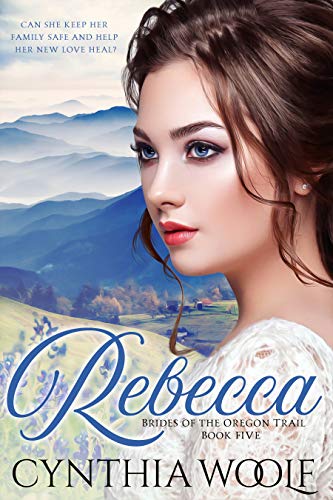 Rebecca Taylor traveled the Oregon Trail for one reason, to provide for and protect her younger siblings. Having lost her mother years ago, the care and raising of the younger children fell to her and her brother. Oregon was supposed to be a new beginning, a fresh start. But the house they acquire needs more work than it's worth, and a wealthy and powerful man has taken more than a passing interest in having Rebecca for his wife. Add to her confusion a simmering attraction to Ian Stanford, the carpenter hired to repair their home, and Rebecca is in way over her head. After losing his wife–in a still unsolved murder–Ian Stanford has been raising his twin boys alone. Work fixing up the Taylor's old home is exactly what he and his boys need, but the enchanting young woman in charge of the household is driving him to distraction. His two boys want a new mother, but the only thing Ian is interested in is catching his dead wife's killer. When a new discovery leads him to a startling truth, everyone is in danger…his boys, the family he's grown to care too much about, and the beautiful Rebecca, who had can't stop thinking about. When the truth about his wife's killer is revealed, he's shocked to discover his first need is not vengeance but to protect his new family. But the stubborn Rebecca isn't the type to sit idly by when her family is in danger. Ian has no choice but to work with Rebecca to lure the killer into a trap. The real trap, he soon discovers, is the one Rebecca placed around his heart.
CARTER
Bachelors & Babies Book 3
Genre: Historical Romance / Fiction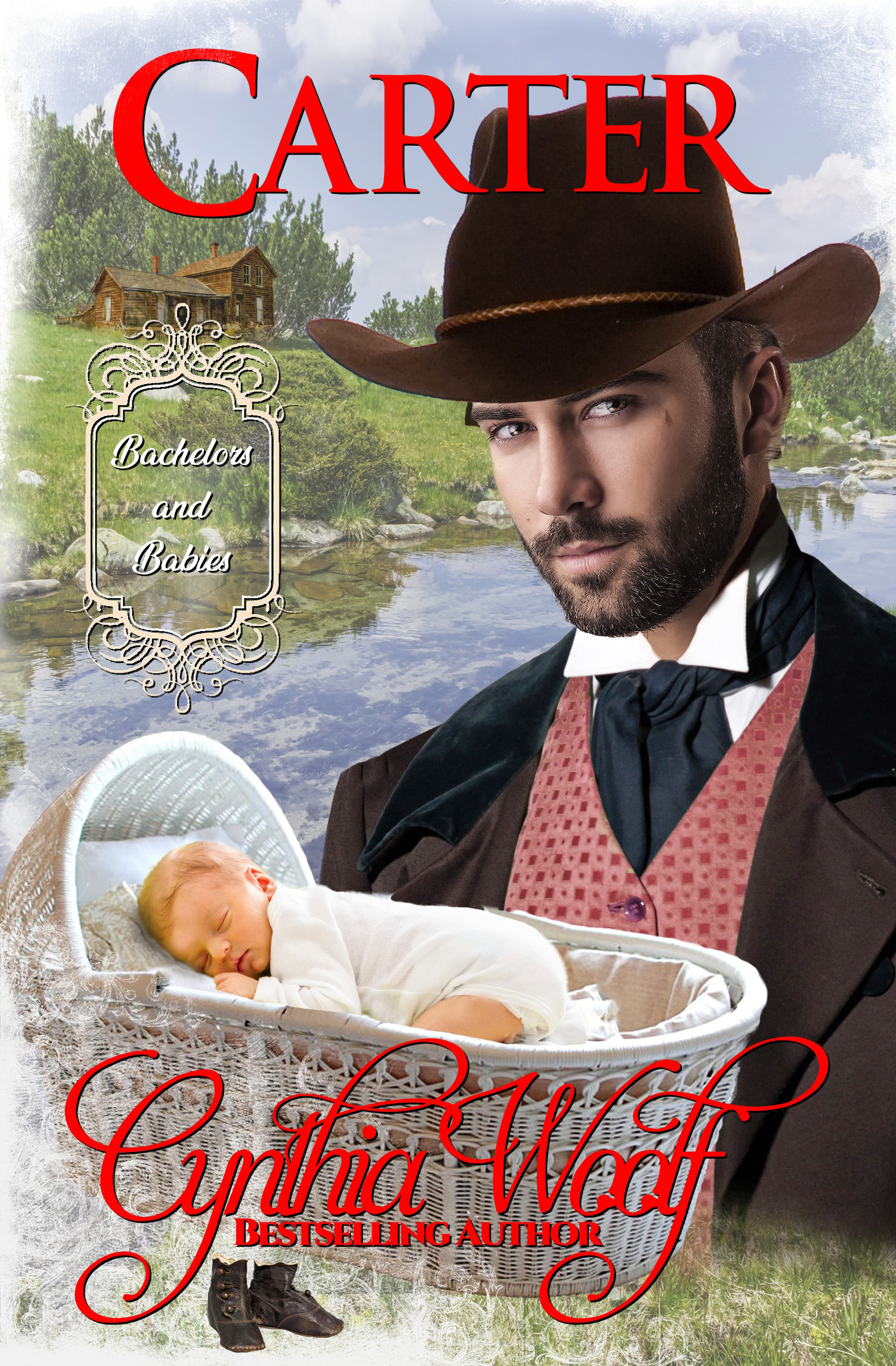 Carter Monroe woke on a normal day or so he thought. Then he found a baby in a basket on his front porch with a note stating he was the father. That was impossible and yet the baby's mama had been sure. With no way to find the mother, he takes the responsibility of raising the little girl, Lanie, as his daughter.
Lanie needed everything. While at the mercantile he meets beautiful Samantha Wallace who informs him she is his mail-order bride, a bride he knows nothing about. When he sees her, mistake or not, he knows he can never let her go.
What is going on? A baby and a bride all on the same day? Was someone playing tricks on him or was he just having a really strange day?
ELIZA
Brides of the Oregon Trail – Book 4
Genre: Historical Romance / Fiction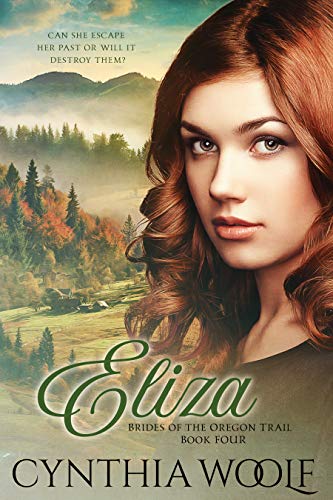 Avoiding love and entanglements has been easy for Hank Barringer since losing his wife and young son to influenza. An outrider on the wagon train, his only job is to keep the mail order brides and passengers safe until they reach their destination. Then he meets Eliza Tanner. She's different than other women. Seemingly fearless—her feisty manner disrupts his well-ordered idea of how a woman should behave. He doesn't approve, so why can't he stop thinking about her? Eliza has secrets and a past that could destroy any chance she has of building a new life. When an opportunity arises to join a wagon train full of mail-order brides headed to Oregon City, she flees from her old life. Little does she know that danger from her past stalks her, or that a killer's obsession will be strong enough to follow her to the other side of the country. When Eliza's past catches up with her, she'll need a real hero…a man who can accept the truth, and love her despite the circumstances of her past.
BELLA
Brides of Oregon Trail Book Three
Genre: Historical Romance / Fiction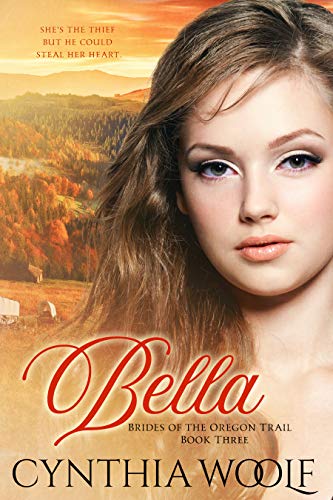 Bella Devereaux dreamed of being a restaurateur, not a thief. But life had other plans. Forced to compromise her principles to survive, Bella always gives half of her ill-gotten gains to the French émigrés in New Orleans and saves the other half to fulfill her lifelong goal of opening her own French café. A priceless cache of jewels was supposed to be her last job, but the police are on to her, and so is another criminal—Jack Pasquin. He's more than a thief, he's a murderer, and he's willing to do whatever it takes to force Bella's hand—including kill her. Taking the jewels and fleeing to Oregon City as a mail-order bride seems to be her only hope. Marshal Robert McCauley never forgave himself for being on the job when his first wife passed away. Guilt has kept him from falling in love again, but a mail-order bride seems to be the perfect answer. When Bella arrives, not only is she beautiful and intelligent, but her mysterious ways intrigue him more than he cares to admit. Neither of them wants to admit they have fallen in love, but when Bella's past catches up to them, Robert will have to choose—once more—between the woman he loves and the duty he serves. Can Bella save the husband she'd fallen in love with? Or will she become a widow before she becomes a real wife?
LYDIA
Brides of the Oregon Trail Book 2
Genre: Historical Western Romance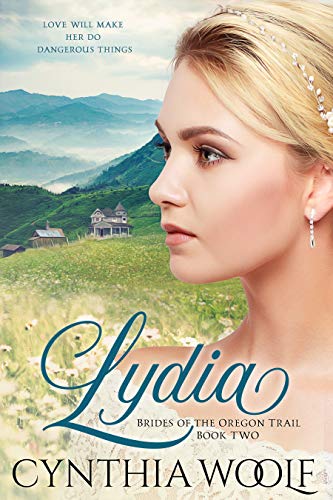 Lydia Granger thought she left a life of struggle and poverty behind. As a mail-order bride on her way to Oregon City, a secure future is assured. But when the wagon train arrives in Oregon City, she discovers her fiancé is dead and her dream of a safe future is shattered. Moments after her dream is stolen from her, a gift arrives. Her wealthy fiancé left her everything he had. Life for Lydia should be easy, but the truth is much darker and more terrifying than she could imagine, for her fiancé's death was no accident, and the man who took his life wants everything, all the dead man's riches. Detective Max Caldwell lost his wife to a brutal killer, a man who will stop at nothing to take what he wants from the world. He killed in Chicago. He killed in Oregon. It's only a matter of time before he strikes again. Max seeks not only justice, but vengeance for his wife's death and has no qualms about asking the innocent Lydia to help him hunt for her fiancé's murderer. Because Lydia, and her inheritance, are the bait Max will use to lure evil into the light. Too late he realizes Lydia, with her soft heart, beautiful smile, and collection of rescued animals is not only powerful enough to take down a killer, but she just might melt the ice around his heart.
HANNAH
Brides of the Oregon Trail Book 1
Genre: Historical Western Romance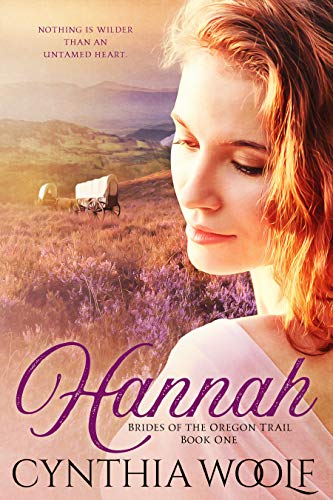 Desperate times call for desperate measures, so when Hannah Granger's little sister takes off for Oregon with a group of mail-order brides to meet her new husband, Hannah has no choice but to follow. She expects her sister to find trouble, and she does. But what Hannah doesn't expect is to fall for the hired gun traveling with the wagon train as they make their way along the treacherous Oregon Trail. The bounty hunter is tall, dark and dangerous, everything she's avoided her entire life. But when she begins to suspect criminals are riding just four wagons back, she'll do just about anything to convince him to listen…and to protect her fragile younger sister from the truth about what this trip is costing them both. The only thing bounty hunter Joe Stanton wants is to avoid trouble. He's tagging along on this trip to the Oregon Territory to put a little extra cash in his pocket and take a break from the hunt. The only woman he ever loved broke his heart and his last bounty cost an innocent man his life. Joe's had enough blood, death and betrayal to last a lifetime. So why, then, does he make Hannah's secrets his own? Why does he lie to protect her? And why does the stubborn woman's dogged attempts to help him track down criminals drive him insane with worry. Maybe because he's falling for the red-headed beauty. Maybe because if he doesn't keep her close, they'll both end up dead.
MAIL ORDER MAYHEM
Genre: Historical Western Romance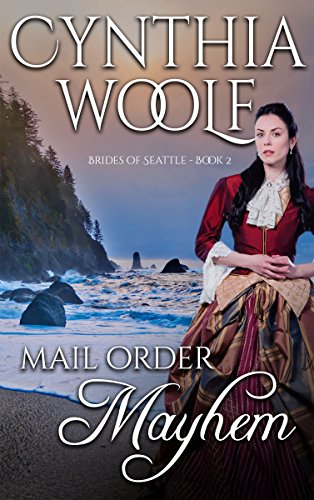 Drew Talbot made the long journey back East to bring eligible brides to Seattle, not to find one for himself. But despite his best intentions, he is captivated by the shy and somewhat clumsy Lucy Davison. He didn't mean to fall in love, and he certainly had no intention of allowing a dangerous killer to tear her from his arms. But when Lucy is the only witness to a brutal murder, the killer knows that eliminating Drew's bride is his one chance at freedom. Lucy Davison left Massachusetts to find a better life and a chance at love. The Civil War took too many men, leaving women like her pining for a husband and home of her own. A trip to Washington Territory as a mail-order bride seems the only answer. The friends she makes along the way a balm to her soul, and their escort, the handsome Drew Talbot, intensely more interesting than any man she's ever met. Becoming his fiancée is a dream come true, until evil finds them. Witnessing a murder is the least of Lucy's problems. Escaping a crazed killer feels like a miracle. But the true miracle in her life is one man, Drew Talbot, and the depths of love it will take to heal them both.
MAIL ORDER MIX-UP
Genre: Historical Western Romance
​She intrigues him. Gabe Talbot has never met a woman like Josie. She's beautiful but dresses like a man. She's elegant but cusses like a sailor. And even though he watched his brother nearly die from heartache when he lost his wife, Gabe is breaking every rule he's ever had about women.
He's falling in love.
But Josie has other ideas. She's never known a man who didn't abandon his family, her own father included. She's independent. Capable. She doesn't need to depend on anyone. And she doesn't want a man who's going to give her another broken heart.
When four lonely orphans enter the picture, Josie might finally accept his marriage proposal, but it's her mixed-up, rebellious heart he's determined to claim.
MAIL ORDER MOONLIGHT
Genre: Historical Western Romance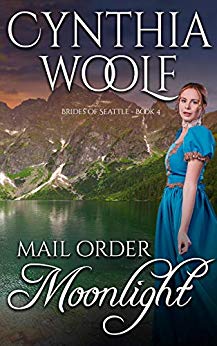 Nicole Wescott had many secrets and became a mail-order bride to escape them. Little did she know she'd run into a monster worse than any she'd faced before. Michael Talbot had his world shattered when his fiancée married another. Now he's sworn off women, but the weeping of the woman in the stable had him changing his mind and marrying her the same day he found her. Michael and Nicole must learn to trust each other even as danger and a killer stalks them. Can trust turn to love?
MAIL ORDER MELODY
Genre: Historical Western Romance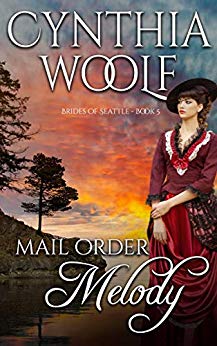 Adam Talbot has his life planned out, and that plan does not include a wife. So why does one woman occupy his mind night and day? He is being trusted to deliver a group of mail-order brides from Massachusetts all the way to the Washington Territory. Karen is one of them. She's beautiful, smart and has two young children that should scare Adam off faster than an angry rattlesnake. He was burned at the alter, left standing with his heart broken and the whole world laughing when his fiancee eloped with his best friend. A woman is more trouble than he needs. But he's the moth and she's the flame. He knows he's going to get burned. But allowing her to marry another is out of the question. And when a deranged woman from Karen's past threatens the soft-hearted woman he can't help but fall in love with–and her two precious little ones–Adam discovers that walking through fire doesn't burn anymore, not if it gets him what he really needs…his own family.
AMELIA
Genre: Historical Western Romance
Amelia James grew up performing on the stage. Her stunning voice made her the darling of New York's theater district since she was fifteen. She's never been more than an asset to her mother, never been just a woman to the young up-and-coming men who want to use her to advance their own careers. Amelia loves to sing, but is willing to give up fame, fortune and her future on the stage for just one thing…love. Convinced she'll never find what she needs in New York, she makes the daring decision to leave her life behind and travel to the other side of the country as a mail order bride in San Francisco where she won't be anything more than a wife, where her future husband will look into her eyes and see her heart. Wealthy prospector Phillip Dumont learned how to take care of himself from a very young age. With his father's death, his mother decided to follow her dream and she abandoned her family when he was eighteen years old. Phillip raised a house full of younger siblings on his own. Now, his youngest sibling, his sister, is in need of a woman's touch. Phillip knows he'll never trust a woman enough to give her his heart, and decides a mail order bride will provide a soft touch for his sister and keep the gold-digging women at bay. But Phillip is in for a shock. He is instantly attracted to his new wife and tempted to trust her with more than his name. No matter how vehemently Phillip demands obedience from his wife, his sister and his heart, not one will listen. When an old partner seeking revenge comes for his bride, will Phillip be able to see beyond the secrets of her past to save his family?
ANNIE
​Genre: Historical Western Romance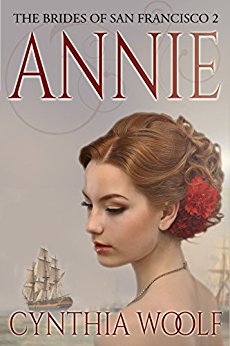 Annie Markum grew up with a bible in one hand, and a disapproving father holding the other. At twenty-two, she dared to dream of a different life and risked everything to become a mail order bride. One year later, she finds herself on a friend's doorstep, penniless, pregnant, and a widow. Her husband was an honorable, church-going man, and she believes her father will allow her to come home. To get back to her father in New York will take money she doesn't have. She's got no choice but to accept work as a cook in a local saloon. Her father would never approve, but Annie is determined to earn enough for safe passage for herself and her beautiful new baby girl. It's never good to lust after another man's wife. Saloon owner, Nick Cartwright, learned that lesson the hard way. He took one look at Annie Markum and fell hard for his friend's mail order bride. A year later, she's back in his life, a widow with a precious daughter to protect. Nick will do anything to convince Annie to give him a chance, except the one thing she demands…sell his saloon. Annie has lived a sheltered life, and her innocence is one thing Nick wants to preserve. Life is rough, and Annie is soft, sweet, and all too kissable. He wants to keep her and her little girl, but Annie is determined to raise her daughter as far away from the saloon as possible. Annie fights her growing attraction to Nick. She might even be in love with him, but with Nick comes the saloon. And the whiskey. The gambling and the women. One of them will have to sacrifice everything to make a relationship work, and neither wants to budge. When it turns out that Annie's dead husband actually left her a fortune, her future seems set. Until someone decides to take both Nick and her new found freedom away from her. And Annie realizes that sometimes, in life and in love, you have to fight dirty to win.
CAPITAL BRIDE
Genre: Historical Western Romance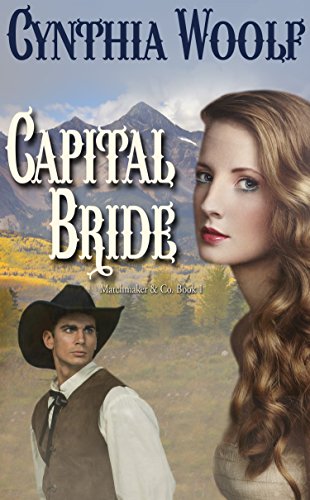 In this western historical romance, unexpectedly homeless, un-wed mother Sarah Johnson has few options. They could go live with her cousin William, but Sarah believes there's something untoward about his offer and it leaves her feeling uncomfortable. She's qualified to be a governess, but no one will have her because she wasn't married when she had her precious MaryAnn. Matchmaker & Co could be her salvation as mail-order-bride to Mr. John Atwood. Book 1 in the Matchmaker & Co series of western historical romance. Single father, John Atwood, is raising his daughter the best he can in the wilds of the Colorado Territory but knows he needs help. No woman he knows wants to take on the raising of his daughter who hasn't spoken since she saw her mother brutally murdered during a bank robbery. Can Sarah, John and their two daughters overcome their pasts and find happiness together? A historical western mail order bride romance. NEW COVER!!
COLORADO BRIDE
​Genre: Historical Western Romance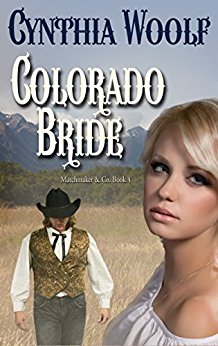 Emily Loring survived the last few years as a governess to a rich family's children. But when the lord of the house can't keep his hands to himself, she's left with no option but to risk everything as a mail-order bride. Raised in a New York orphanage, she's always dreamed of a husband and children of her own, but even that small dream always felt out of reach. The city is all she's ever known, but the promise of a family, a place to call home, drives her to risk everything and head for the wilds of the Colorado Territory, and the arms of a stranger. Ben Logan fell in love once, to a city girl who left him at the altar to run off with another man. A mail-order bride appears to be the answer to his need for a wife to warm his bed, as long as she loves the country life as he does. He doesn't need much, but he won't risk his heart again. When Emily arrives, her curves tempt him nearly as much as her smile. But his ex-fiancée is back, and determined to have Ben for herself, even if it means murder…
CORA
Genre: Historical Western Romance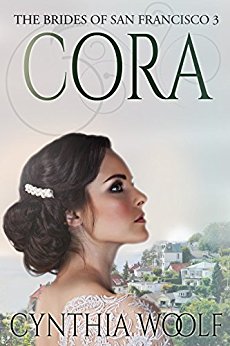 Cora Jones has a dilemma. She was engaged to be married but her fiancé Asa Woods was killed in the Civil War. She'd never been madly in love with Asa, but she did care for him deeply and grieved his loss. When she stopped grieving she decided she wanted to put everything behind her and became a mail order bride for Harry Belcher. Cora sailed to San Francisco to meet Harry. She's checking into her hotel when she hears a voice from the past say her name. No, it can't be. She turned to find Asa Woods behind her, just as Harry comes up to her, too. What's a girl to do when one fiancé returns from the dead and she has another one calling to her from across the lobby? Cora decides to have both men court her in order to make up her mind. Who will she choose—the man back from the dead who wants her for his wife or the man who sent for her to be his bride?
FIERY BRIDE
​Genre: Historical Western Romance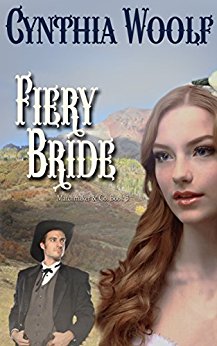 In this western romance, after a disastrous marriage, Matchmaker Maggie vowed never to marry again. She will never give another man the power of life and death over her body and soul. Unfortunately, that doesn't keep her lonely heart from fantasizing about her newest client, Caleb Black. She made the mistake of starting a flirtatious correspondence with the clever devil, believing they would never meet. But when his new bride abandons her mid-way to Colorado to elope with another man, Maggie is forced to face the devastatingly handsome Caleb and explain. Now she'll have to stay long enough to make things right and find him a new wife. But Maggie better hang on to her vow with both hands, because Caleb has other plans for the fiery matchmaker…and a very seductive kiss. Fiery Bride is Book 3 in the Matchmaker & Co series of western historical romance. This exciting western historical is a mail order bride romance. NEW COVER!!
GENEVIEVE
Genre: Historical Western Romance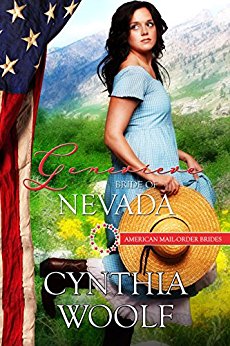 A warehouse fire in Lawrence, Massachusetts has taken Genevieve "Genny" Copeland's livelihood, but opened a new opportunity for her. If she takes the chance, she could have the family she's always dreamed of but it would mean leaving everything she's always known. Believing that opportunity only knocks once, Genny gets on a train west to Elko, Nevada and a new life. She becomes a mail-order bride. Stuart MacDonnell lost his wife in child-birth six months ago. Now he's left to raise a 2 year-old and a 6 month-old baby alone. He needs a wife but doesn't want to court someone and pretend to be in love. He'll never love again, but he needs a wife now and orders a mail-order bride. Can Stuart and Genny come together and find happiness when they are at odds with each other? Will they find common ground and will love bloom amid the beautiful Ruby Mountains of Nevada?
GIDEON
Genre: Historical Western Romance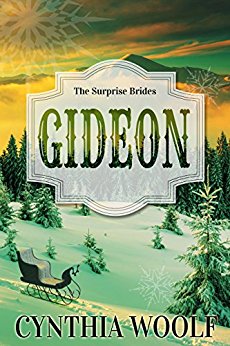 The Surprise Brides: One determined mama, four reluctant brothers, four mail order brides. Meet Jamie, Caleb, Gideon and Ethan. As the local preacher, Gideon Fraser often talks about the many virtues of a good marriage, but that doesn't mean he has the slightest inclination of claiming a bride of his own. No, he's been burned before, by greedy women who only want the prestige and money the Fraser family name can provide. When his mother's devious matchmaking results in his unexpected wedding, Gideon looks at the beautiful face of the woman who has sworn to be his and wants nothing to do with her. But Gideon is in danger of losing his heart until he discovers the truth. His new wife lied to him…about everything. Ruby Haller needed a husband and fast. A treacherous man promised her the world, took her virginity, and left her without a father for her unborn child. When her father, the town minister, found out she was expecting a child, he offered her hand in marriage to the meanest man in town. Becoming a mail-order-bride appeared to be a safer choice. But instead of a rancher, she ends up the wife of a stubborn, bull-headed preacher and he's none too pleased when he discovers her duplicity. Worse? The local town beauty, who had been courting him for years, is determined to make her life a living hell. But Angel Springs, Colorado is a small town that can inspire big dreams. It's nearly Christmas, and as these two hearts heal, a holiday miracle just might be within reach.
HEIRESS BRIDE
Genre: Historical Western Romance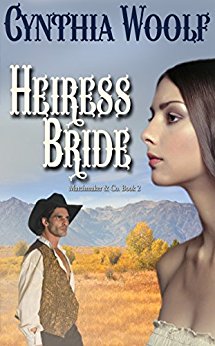 In this western historical romance, heiress Ella Davenport has survived a carriage accident that killed her father. Her life saved in exchange for savage scars marring her beautiful face. Her friends, socialites, showed their true colors, casting Ella aside like damaged goods and leaving her a social pariah. Even her wealth can't buy her the kind of marriage she wants. Desperate to find a husband who can accept her despite her scars and, without knowing about her money, she seeks to become a mail order bride. Matchmaker & Co. is her one chance to start over and leave the pain and betrayal far behind her. Nathan Ravenclaw was run out of town by the father of the girl he was courting once he discovered Nathan's Arapaho heritage. It didn't matter that Nathan was a successful rancher, businessman, and a positive member of society. The white community suddenly saw only a half-breed. Even his money couldn't buy him a wife. That was ten years ago. He moved and rebuilt everything that cold rancher once took from him. He has it all…except a wife. Matchmaker & Company promises to send him a woman willing to start a new life with him. But Nathan's battered heart lacks the ability to trust. He longs for children, not romance. His new bride, scarred and cast aside like himself, promises to be perfect for him. Until he meets his mail order bride. Fierce desire and an even more dangerous hope roar back to life within him. Two things he swore never to indulge in again.
.
And love? For these two battered souls, that's the biggest risk of all Book 2 in the Matchmaker & Co series of western historical romance set in 1870's Colorado. A western historical mail order brides romance. NEW COVER!!
THE HUNTER BRIDE
Genre: Historical Western Romance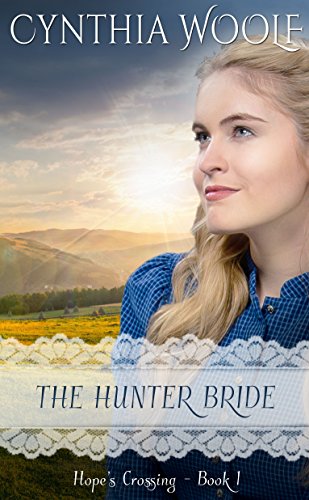 Five years ago, a band of outlaws murdered Josephine Shafter's parents and younger brother. Desperate for vengeance, Jo has spent every day since serving the law as a bounty hunter. But the trouble with justice served is that now that her family's killer has been brought in, she has nothing to do and no one to hunt. She decides it may be time for a new life and a fresh start. She longs for the arms of a strong man around her, and for a child of her own. But the Chicago dandies don't know how to kiss a woman who is tougher than they are. Jo decides her best chance at happiness is to head out West, to the wild Montana territory, to start a new life as a mail order bride. Sam Longworth has been the Sheriff of Hope's Crossing, Montana for two miserable years. He was much happier roaming the untamed plains as a bounty hunter, bringing outlaws to justice. But that was no life for a husband or father, and his wife wanted him home, safe and sound, every night. Forced into marriage, theirs had never been a love match, but he thought warming her bed every night would be enough. Instead she left him and took a stagecoach to rendezvous with her childhood sweetheart. She vowed never to return, and died on the journey. Plagued by guilt over her death, Sam doesn't need a woman's love, he just needs a wife. He orders a mail order bride, a woman who won't make too many demands, who can build a home and give him children. Josephine fits his life perfectly, until danger follows her to her new home and he realizes she's keeping secrets that could get them both killed. Trust is a hard road for two lost souls used to keeping secrets, and their new and fragile love might not be strong enough to survive what's coming.
JAKE
Genre: Historical Western Romance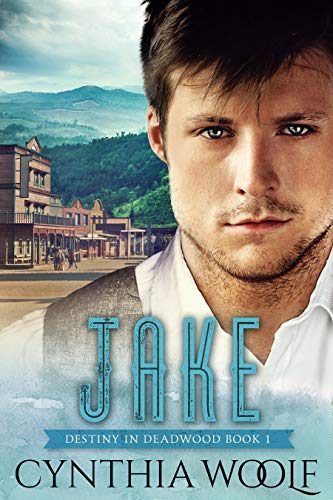 Originally published in 2014 under the title Redeemed by a Rebel.
Jake Anderson killed a man defending his fiancée from a brutal attack, but lost her and his freedom in the process. Now he's on the run, tormented by the need for vengeance. Becky Finnegan will do anything to escape her drunken father's fists, including slave away at their mine. Her only hope is to strike gold and make a new life for herself somewhere far, far away from Deadwood. But then Jake arrives and does the unthinkable…forces her to feel, to hope…and to love. Jake would give his life to protect Becky, but all he can offer her is a broken heart, a criminal's life, and a past haunted by failure. How can he save her when he's already lost himself? Will he destroy everything, or can the beautiful rebel redeem Jake's lost soul?
KISSED BY A STRANGER
Genre: Western Romance
​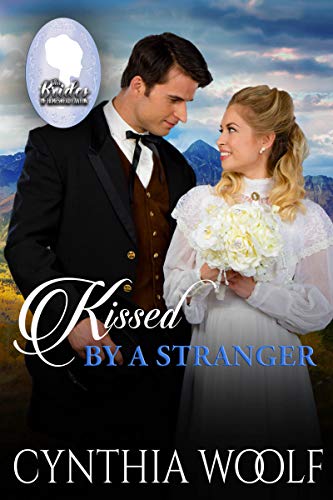 Widow Laura Fitzhugh has lost everything but her wonderful daughter. Josie is the light of her life and the only reason Laura keeps going. Offered a home and a job in Morgan's Crossing by her cousin, Laura jumps at the opportunity. Bill Simms lost his wife and daughter to influenza seven years ago and has closed himself off from everyone, hoping to never feel that pain again. A chance run in with a beautiful little girl who kisses his cheek, changes his life forever. A threat from Laura's past forces Bill and Laura to work together to save Josie and perhaps themselves in the process.
Steam Heat Level – Sweet
LIAM
​Genre: Historical Western Romance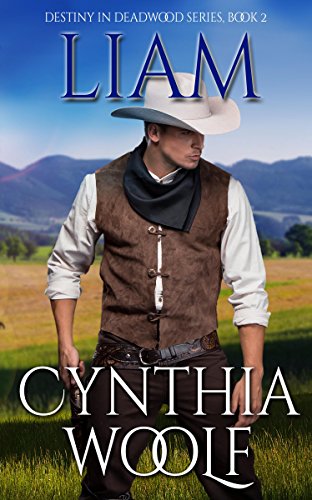 Originally published in 2014 as Healed by a Heart.
All Liam Anderson wanted after the War Between the States, was a little peace. After seventeen years in the army, he's tired of fighting and killing. Having lost his beloved wife to influenza, he's tired of hurting. And seeing his baby brother framed for murder, he's tired of injustice. He left everything behind to help his brothers escape, packed up his children and possessions, and took them all to a gold claim in Deadwood. Miss Eleanor Smith is a thirty-two year-old spinster. She gave up her dream of a home and family a long time ago. Instead, she has spent her life traveling the world, ministering to the weak, the injured, the poor, and the forgotten, following her preacher father from one hell hole to another. From what she's seen of men and the world, she's better off taking care of herself. And she gets along just fine, until she literally falls into Liam's arms, gets in the middle of a fight that isn't hers, and becomes a pawn for an enemy's revenge. Deadwood was supposed to be a fresh start for Liam Anderson and his younger brothers, but trouble followed him and his children. And when Eleanor disappears, only Liam can rescue her. The headstrong, independent woman awoke his dead passion, but refused to surrender to his touch. Can he convince her that merely surviving isn't enough? Despite his sins, he's the only man who can save her, and she's the only woman strong enough to heal his broken heart.
MAIL ORDER OUTLAW
Genre: Historical Western Romance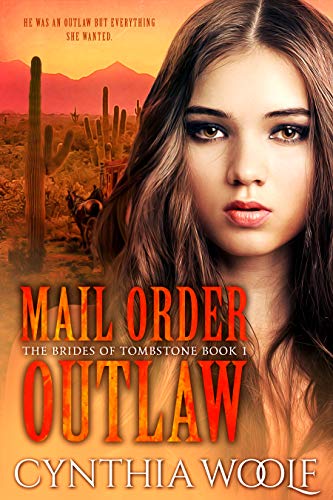 Ed Talbot isn't husband material. He's an outlaw, was forced into his father's gang at the age of thirteen, and is wanted Dead or Alive in more than one territory. But now his father is dead, he hates the life, the blood, and his brother's rages. When a stagecoach robbery goes awry, Ed ends up with a satchel full of charming letters from an enticing young miss. Unfortunately for Miss Lizzie Cobb, her betrothed is now dead, and Ed Talbot sees a way out. Impersonating a fine, upstanding young man shouldn't be too difficult. Despite the risks, falling in love with her proves to be all too easy. Isolated on her mother's ranch just outside of Tombstone, Miss Lizzie Cobb doesn't have the time or the means to find a respectable husband. As a half Apache woman in the Arizona Territory, being a mail order bride seems like the only solution to her problem until she realizes that San Francisco is too far away, and she'll have to leave her vulnerable mother and baby brother behind. Her solution? Call off the wedding. When her groom shows up on her doorstep, she's shocked. He's handsome, strong, and has traveled hundreds of miles to claim her. His kisses inflame her body and his presence soothes her soul. Falling for the rugged man is beyond her control. But the past has a way of catching up to outlaws, and facing the truth is going to be hard…for both of them.
MAIL ORDER DOCTOR
Genre: Historical Western Romance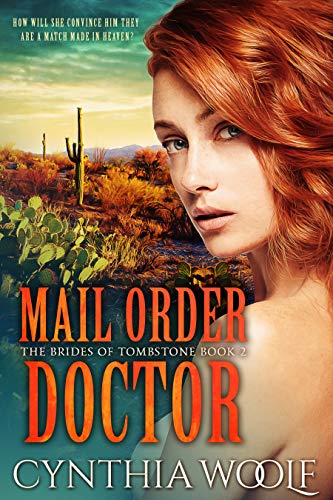 Julia O'Brien is a practical woman. A nurse and midwife, she was perhaps the most surprised when she fell in love with Dr. Matthew Reynolds and agreed to be his mail order bride. She sets off for Tombstone carrying his letters and a heart full of hope.
Dr. Matthew Reynolds didn't want a wife, and is shocked when Julia arrives on his door step with a marriage license bearing his signature. He discovers that his grandfather has wooed the young woman without his knowledge, and made promises in his name without permission. An annulment seems to be the easy answer, but Julia has nowhere to go. Now, his unwanted wife is sleeping in his house, working with him at his clinic, and generally driving him to distraction.
When a call comes in from a desperate young mother, Julia handles the call alone. The young woman gives birth to a beautiful baby girl, but does not survive childbirth. Suddenly, Matthew is faced with a new choice, not only does he have a beautiful and caring wife, but a precious new daughter to fill his empty life. But Julia is not willing to accept less than his whole heart, and when the young infant's father attempts to steal her away, Matthew will have to move heaven and earth to convince the woman he has grown to love that he can be what she needs.
MAIL ORDER BARON
​Genre: Historical Western Romance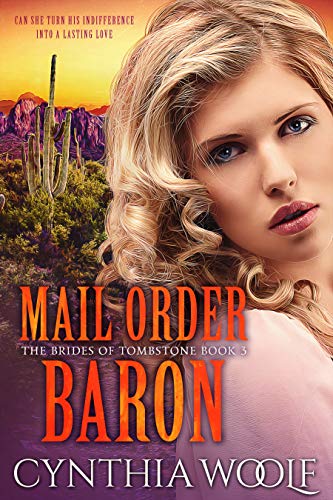 When her parents died, Molly McGregor did what she needed to survive in New York City all alone. She took a job for a well respected banker, but made a discovery that put her life in danger. Now in 1882 she is fleeing New York for the western frontier, Molly makes the desperate decision to become a mail order bride in Tombstone, Arizona Territory. She doesn't hope for much, just that her new husband will be strong enough to protect her from the danger she fears will follow. Ben King was too busy making his fortune in silver to worry about a wife or family. Now he's rich, well known, owns half the town of Tombstone, and is utterly alone. When his heart becomes entangled with his best friend's new wife, he decides drastic action is required and contracts a mail order bride. He requests someone plain, someone simple to warm his hearth and home, someone he can be sure won't rouse his passion or complicate his life. He's tired of fancy women chasing him for his money, and even more tired of hoping any woman could be different. He doesn't believe in true love, and doesn't want the complications that would come with it. He doesn't have time for complicated. He has an empire to run. But Molly is a shock to his senses. She doesn't care about his money or his fame. All she wants from him is a safe haven, security, and a new last name. Ben tries to keep his heart out of danger, but danger seems to be Molly's middle name. When a rich and powerful enemy chases his beautiful new bride halfway across the country to extract vengeance, Ben discovers his heart is not nearly as cold as he'd hoped. Their passion fires hot, hot enough to kill…more than hot enough to burn them both.
MAIL ORDER MYSTERY
​Genre: Historical Western Romance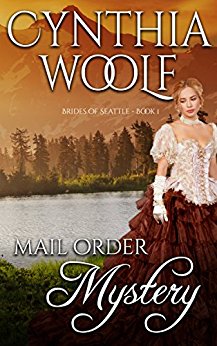 Civil war devastated the country and left Rachel Sawyer stranded in a dead-end job as a seamstress with no prospects for marriage. Men are thin on the ground in Massachusetts, so Rachel and her best friend travel west, to Seattle, with the handsome Talbot brothers. Jason Talbot, the eldest brother and wealthy owner of a lumber company, is so far beyond her reach that falling in love with him is the most non-sensical thing she could do. So, of course, she does. But after one sensual midnight encounter, Jason pushes her away. Jason Talbot and his brothers are desperate to keep their lumberjack crews happy. And if that means traveling across the country to escort a hundred women to Seattle as mail-order brides, that's what he'll do. The brides are for other men. After losing his wife ten years ago, he's not interested in risking another devastating blow to his heart. When Rachel catches his eye, his head and his heart are at war, and he's not sure which side will win. But when a thief springs up in their midst, and Rachel's determination to solve the mystery leads to murder, Jason realizes he'll do anything, not just to protect her from a killer, but to win her heart.
NELLIE
Genre: Historical Western Romance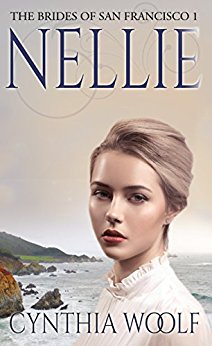 Nellie Wallace is a young widow with two children. In post civil-war New York, the men are scarce and none want the burden of a wife with children. Her dead husband's family is wealthy, and cruel. Desperate to escape their influence, and eager for a home, a husband, and a stable life for her children, Nellie decides to make a new life in San Francisco as a mail order bride. Saloon owner Blake Malone is a bachelor and likes it that way. He worked hard for everything he has, but the San Francisco City Council won't approve his plans to build a family emporium unless he is a family man himself. The solution? A mail order bride from New York who will bring him a ready-made family, stability, and the council's approval. Blake expects his future wife to care for his home and, other than helping him impress the city council, to stay out of his business. He expects life as usual. What he gets is an unexpected desire to win Nellie's heart, a dangerous threat to his new bride, and a rich benefactor determined to steal his new family out from under him. Blake believed his battle for success a hard one. But he will discover that the battle to win Nellie's heart and keep his family safe is going to take everything he's got.
SOPHIA
Genre: Historical Western Romance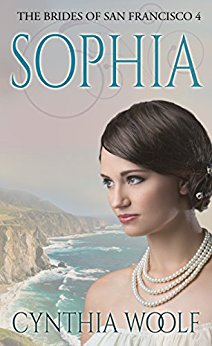 Working long hours in a New York City bakery is not at all what Sophia Hayes had planned for her life. When her fiancé breaks their engagement her to marry her thinner, blonder, more beautiful sister, Sophia knows it is time to do something drastic, something completely unexpected. All she's ever wanted is to have a husband and family of her own. Agreeing to be a mail-order bride seems the perfect answer. Robert Langley has been a sailor his entire life. As Captain of the Sapphire of India, his last cargo made him a very wealthy man, but his time at sea cost him much. His wife was killed in an accident while running away with another man leaving him a widower with four young children who barely recognize their own father. A mail-order bride seems to be the ideal solution. He simply needs a willing woman to warm his bed and a compassionate woman to raise his children. Love is not an option. Sophia's sister is not content to leave well enough alone. When her husband dies unexpectedly, she makes her way to San Francisco to do what she has always done…take what she wants. And the moment she sets eyes on her sister's new family, what she wants is Robert Langley. Sophia has always believed her stunning, talented sister deserved the best in life. But this time Sophia is in love, and she's not going to surrender without a fight.
THE STOLEN BRIDE
Genre: Historical Western Romance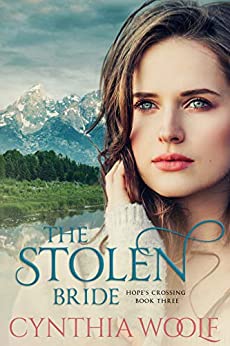 Isabella "Bella" Latham's callous father sold her into marriage to settle a gambling debt. Rather than face life with a cruel man more than twice her age, she runs from New York and becomes a mail-order bride. Bella's dreams are simple. All she needs to be happy is a home, children and an honorable man to love her. Alex Hastings lost his wife in a riding accident two years before. Left with two adorable but mischievous twin four-year-old daughters, he's convinced they need a mother to take care of them. Alex knows he must marry, but vows he'll never love another woman. Bella's tenderness and fire melts Alex's stone cold heart. But when her jilted fiancé from New York sends men to capture Bella, will Alex be able to get back his Stolen Bride?
THE REPLACEMENT BRIDE
Genre: Historical Western Romance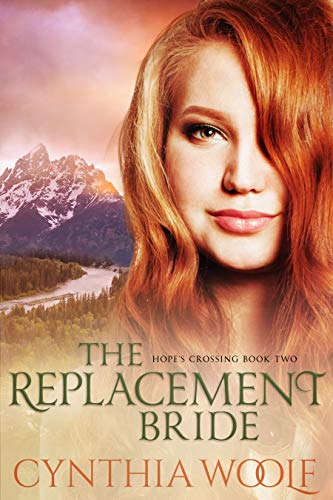 Jesse Donovan spent the last four years chasing gold, hoping to convince his New York fiancee to join him. He's now rich, successful, and eager for his wife-to-be to make the trip out west. But now that it's time to travel to Hope's Crossing and marry Jesse, the New York socialite sends him a letter informing him of her intention to marry another. Heartbroken and lonely, Jesse contacts Matchmaker & Co. for a mail order bride. Clarissa "Clare" Griggs is the eldest daughter of a poor farmer who is barely surviving off the land. At twenty-three, she is an old maid and a burden on her family. Clare knows what love looks like, and she wants a family of her own. Volunteering as a mail order bride seems to be the perfect answer to her dilemma. Her family will be better off, and she can find her own love story, happiness and finally become a mother. But Hope's Crossing isn't the ideal location that Jesse or Clare dreamed. A bitter rival is trying to kill Jesse and take his mine. Jesse's broken heart won't allow him to love Clare the way she needs, and Clare refuses to live with a man who doesn't love her. When the enemy threatens Clare's life, Jesse realizes Clare has become a part of him, a vital piece of his heart and soul — but is he too late?
TAME A HONEYMOON HEART
​Genre: Historical Western Romance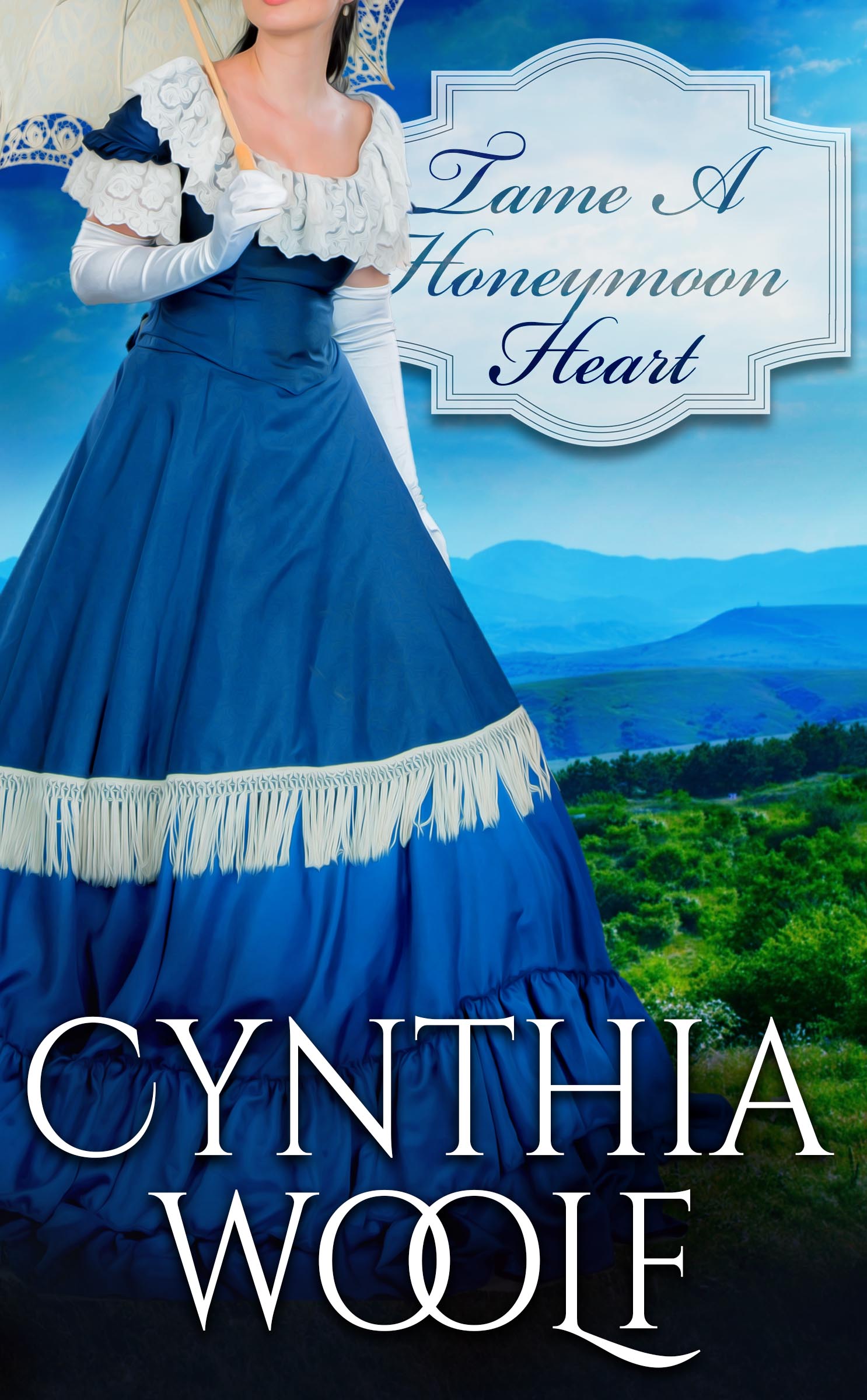 This is a short story of 18,000 words. Duncan McKenzie has been promising his wife, Catherine, a honeymoon. When a mysterious letter forces Duncan to make a trip to Chicago, he decides to combine a honeymoon with the trip. He doesn't tell Catherine about his devious plan, but he also doesn't know that Catherine has a few secrets of her own.
TAME A WILD BRIDE
Genre: Historical Western Romance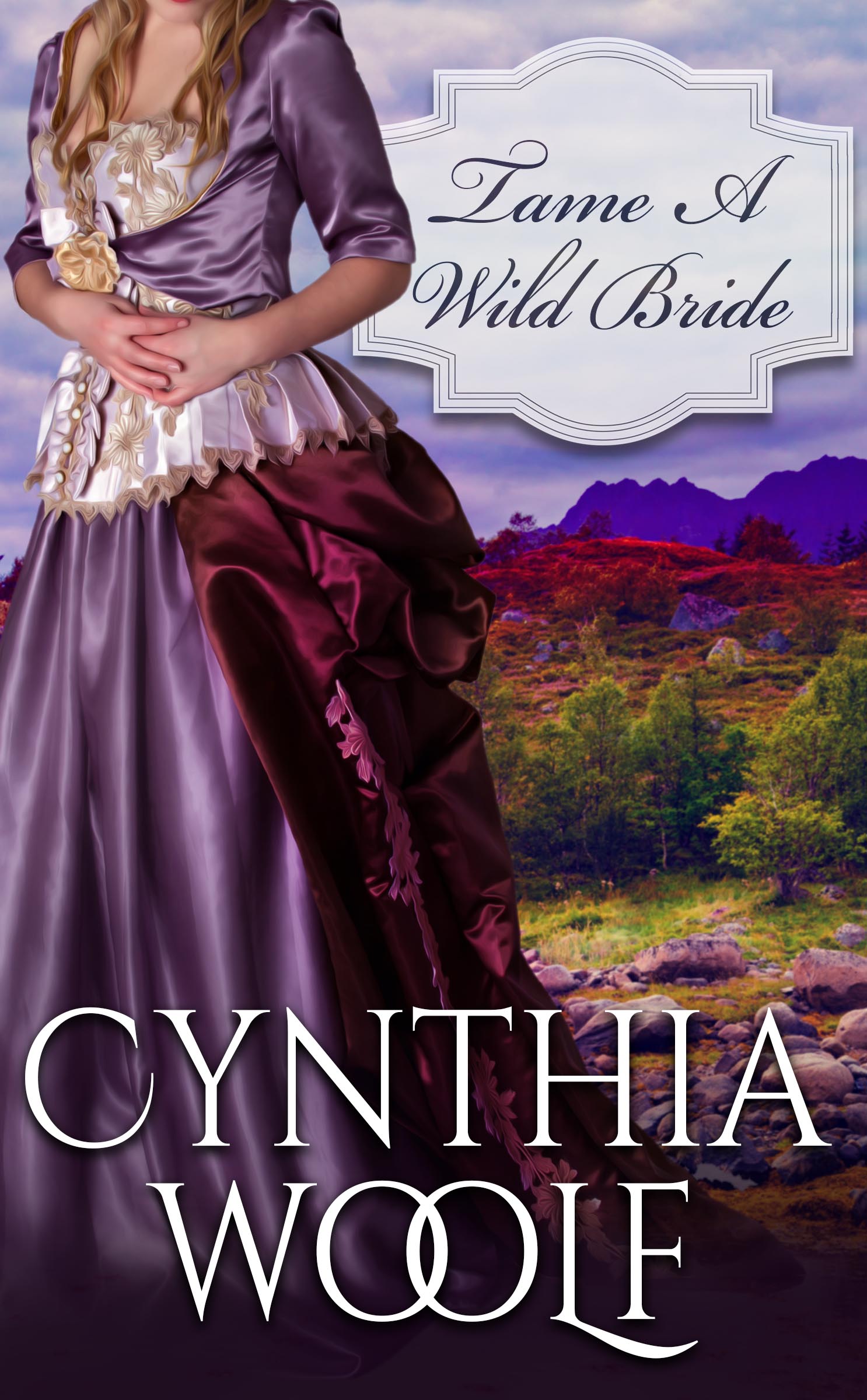 Rosie Stanton climbed on a west-bound train to answer his ad for a wife and mother, everything she wants to be. But Tom Harris lied. He doesn't want a wife, merely a mother for his two abandoned children and a cook and cleaner for his ranch. Betrayed once, he's vowed never to let another woman into his heart. Sexy Rosie upsets all his plans and threatens to invade his scarred heart. How will he maintain his vow to keep his hands off her as she charms his children, his cow hands, his life? A historical western mail order bride romance.
TAME A WILD HEART
Genre: Historical Western Romance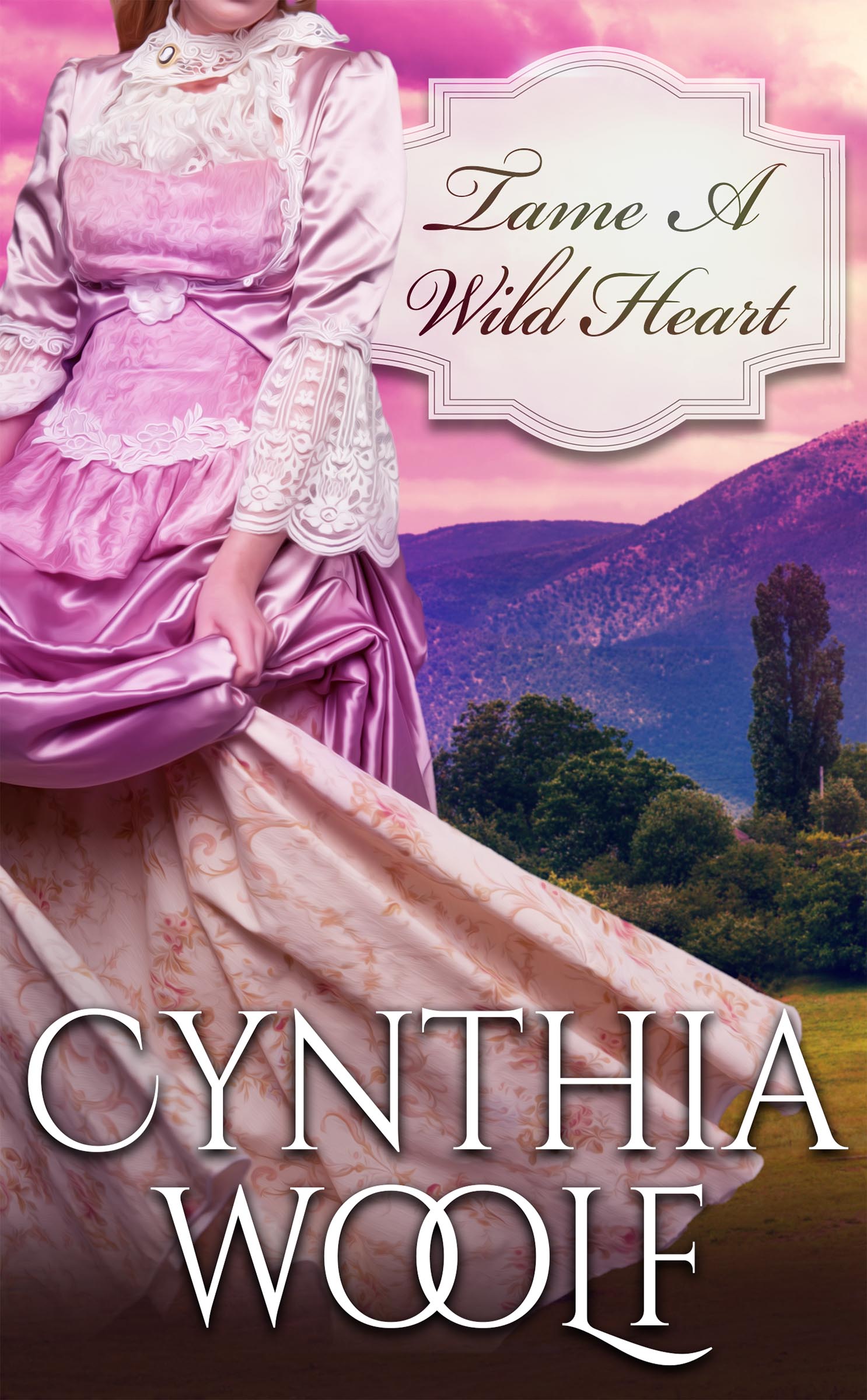 Catherine Evans fell in love when she was three years old, head-over-heels, forever kind of love. The very first moment she saw twelve-year-old Duncan McKenzie, she told God and her pony that she was going to marry that boy. He was handsome. He was kind. He was strong and smart and all the good things a boy should be. For thirteen years she loved him with every beat of her heart. And on her sixteenth birthday he walked away from her father's ranch, and from her. He didn't look back over his shoulder. Not even once. And from that day forward, Catherine Evans swore off all men. Her heart turned to stone, her will to iron, and her vow to God changed. She'd run her father's ranch. She'd succeed. She'd survive. And she would never, ever love another man as long as she lived. Duncan McKenzie left the ranch ten years ago, desperate to escape temptation in the form of a budding young lady too innocent to claim for his own. But Catherine's frightened father summons him home. The ranch is under attack and the old man's stubborn daughter refuses to seek help. Duncan left a sweet young girl behind a decade ago. He returns to a defiant siren, a woman whose heart is as wild as the land she would sacrifice her life to protect. When Catherine's father coerces her into marrying Duncan, the fire in her eyes spells trouble, but it's the kind of trouble Duncan has no desire to resist. Marriage is the only way he can protect her. Especially when Duncan's own past comes calling in the form of one extremely dangerous and vengeful outlaw, Catherine's cowardly enemies want the ranch badly enough to kill for it, and his reluctant bride is very much in their way. This book has been completely re-edited and updated as of February 22, 2014. This western historical romance is a work of historical fiction.
TAME A WILD WIND
Genre: Historical Western Romance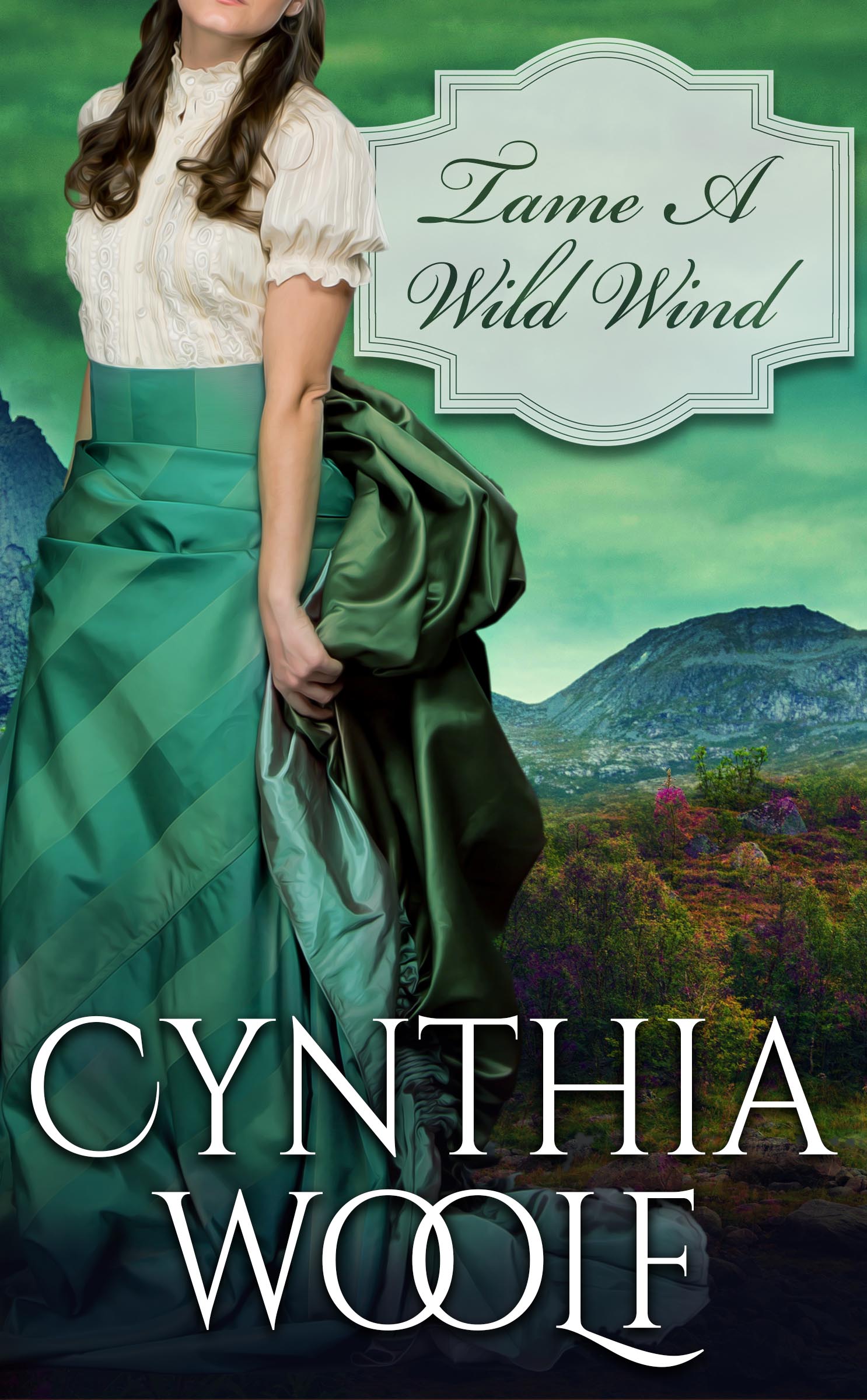 In TAME A WILD WIND, an exciting, historical, western, romance, Sam Colter is running from his past as a Texas Ranger, from the pain of losing his wife and daughters, from his own broken soul. He finds peace running a ranch and minding his own business until the beautiful, widowed ranch owner, Cassie O'Malley, offers him a devil's bargain…to become her lover with no strings attached. Trouble is, once he's tasted her fiery passion, he wants it all… Cassie O'Malley is a woman with a plan, run her ranch and avoid entanglements. The handsome ex-lawman wreaks havoc on her body and her heart, but she can't risk the shattering pain of losing another husband. Marriage is out of the question until Sam's past follows him home to the ranch. If revenge is a dish best served cold, there's none colder than the corpse of the man Sam Colter saw hanged for murder. The dead man's brother is determined to make Sam pay, and the pretty Cassie will suit his purposes just fine…. This is a historical, western romance and piece of historical fiction. It has been re-edited and new material added.
THE DANCING BRIDE
Genre: Historical Western Romance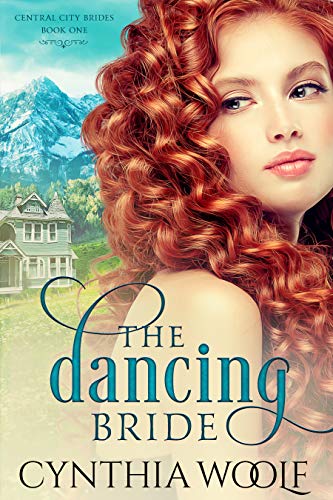 From the day she was born, Rita Baxter's mother encouraged her to follow her heart. Filled with innocent dreams and faith that her hard work training to be a Prima Ballerina on New York's bright stage will lead to fortune and fame, Rita is crushed when she loses her mother and must take a job dancing in a burlesque chorus line to keep a roof over her head. Witnessing a brutal murder is the last straw. The police promise to keep her safe, but Rita has learned to be a realist. Determined to escape the Irish gang that wants her dead and start a new life for herself, Rita heads to Colorado Territory as a mail-order bride. Jack Colton struck gold in his Central City mine, but the dark recesses of the mine mirror the lonely, dark places in his heart. He longs for a wife and family, but the only women in town interested in a hard former soldier like him aren't really interested in him at all. Tired of being pursued for his newfound wealth, Jack decides to take a chance on a mail-order bride from New York. She's supposed to be petite and beautiful, a dancer who will bring color and warmth into his cold life. Sparks fly when they meet, both hopeful for a bright future. But murder is a poison and it followed Rita all the way from New York. Jack thought his killing days were over, but when an assassin arrives to destroy everything Jack will stop at nothing to protect his new wife…no matter the cost.
THE SAPPHIRE BRIDE
Genre: Historical Western Romance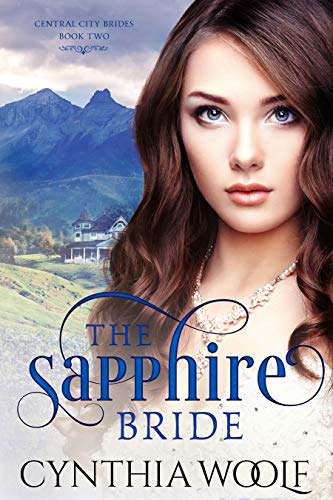 Ava Lewis is a jewelry maker. As the only women jeweler where she works or that she knows in the business. Ava opens her door to find her brother who immediately falls unconscious to the floor. When she gets him awake and onto the sofa he tells her he's dying, wounded by a poisoned blade. He demands that she take his pouch full of jewels and run. The only option she sees is to sign up as a mail-order bride under an assumed name, Jane Smith. Seamus 'Lucky' Madigan is a saloon owner. He won three different saloons in poker games and now makes a good living from the businesses. He sees how happy his friend and former captain is with his mail-order bride and orders one for himself. He desires a bride who hasn't known every man in town in an intimate way. Someone he could introduce to his mother, if he had one alive. When the same man who killed her brother comes after Ava it will take all his skill with a knife and as a part of a sniper unit to protect his new bride.
THE IRISH BRIDE
Genre: Historical Western Romance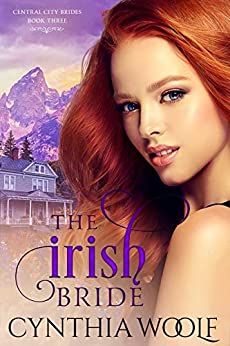 Erin O'Toole is no stranger to violence. Growing up surrounded by one of the most powerful gangs in New York, Erin learned how to survive. But when her little brother is killed in a gang war, Erin swears she'll never be part of her father's world. Desperate to escape the pain of her loss and a future she doesn't want, she risks everything to become a mail-order bride. After years of being on the wrong side of justice, Henry Jacobs has made things right. Now he is a peaceful blacksmith in Central City in the Colorado Territory and all he wants is a wife and children of his own. One look at Erin, and Henry falls for his feisty new bride. But Henry has secrets that could tear their marriage apart. When a man from Henry's past threatens his new life, Henry finds he has no choice but to become a man she'll hate in order to save the woman he loves.
THE PRETENDER BRIDE
Genre: Historical Western Romance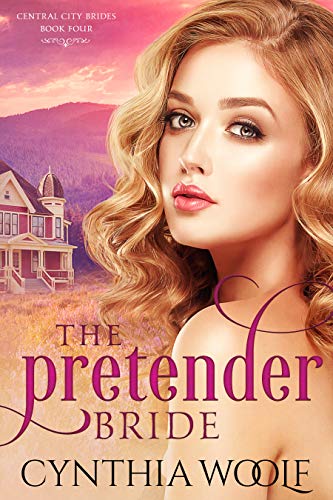 Lost and alone after her step-father is murdered on the streets of New York, Katie takes her two young siblings and claims them as her own. Pretending to be a widow, she flees to Colorado Territory as a mail-order bride and into the arms of the handsome gunsmith, Robert Wallace. The attraction is instant, but just when things are looking up for her, the past comes calling–and Katie discovers harsh truths about her stepfather that put everything at risk. Her stepfather had secrets, and they're not done with her yet. Robert Wallace was a skeptic until he watched his friends settle happily with their mail-order brides. When his own seemingly perfect family arrives, he's thrilled. Until he discovers his new bride is surrounded by layer-upon-layer of lies. He's been tricked by a scheming woman before and he won't be taken in by another one, no matter how innocent she seems. No matter how badly he wants her. Katie is determined to keep her new family together, come hell or high water. And no one is going to get in her way. Not the man from New York who followed her to Colorado. Not her past. And not the stubborn, irresistible Scot who is her husband.
THE UNEXPECTED BRIDE
Genre: Historical Western Romance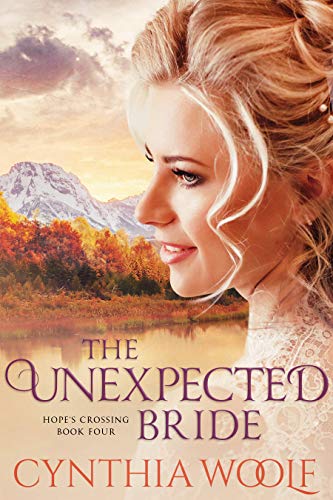 Alice Carter found herself a widow, her doctor husband murdered as he left the hospital where he worked. Alice, too, is a doctor and thought she wouldn't have any trouble finding a position with the hospital where her husband had been so well regarded. She was wrong. Seems no one wanted a female doctor, especially one in mourning. Seeing no other way out, Alice becomes a mail-order bride to a doctor in Hope's Crossing in the Montana Territory. Dr. Jeremiah Kilarney, needs help. He needs a nurse to assist him with his patients. Knowing he has to marry the woman or she'll be inundated with marriage proposals from the lonely miners, he goes to Matchmaker & Co. Specifying his need for a nurse or someone willing to be trained as one, he's surprised when Alice Carter, doctor, steps out of the stagecoach with her precocious daughter Melly. Can Alice and Jeremiah have a future when ghosts from her past still hold her heart? Hope's Crossing can be the answer to their future or the end of their dreams.
ZACH
Genre: Historical Western Romance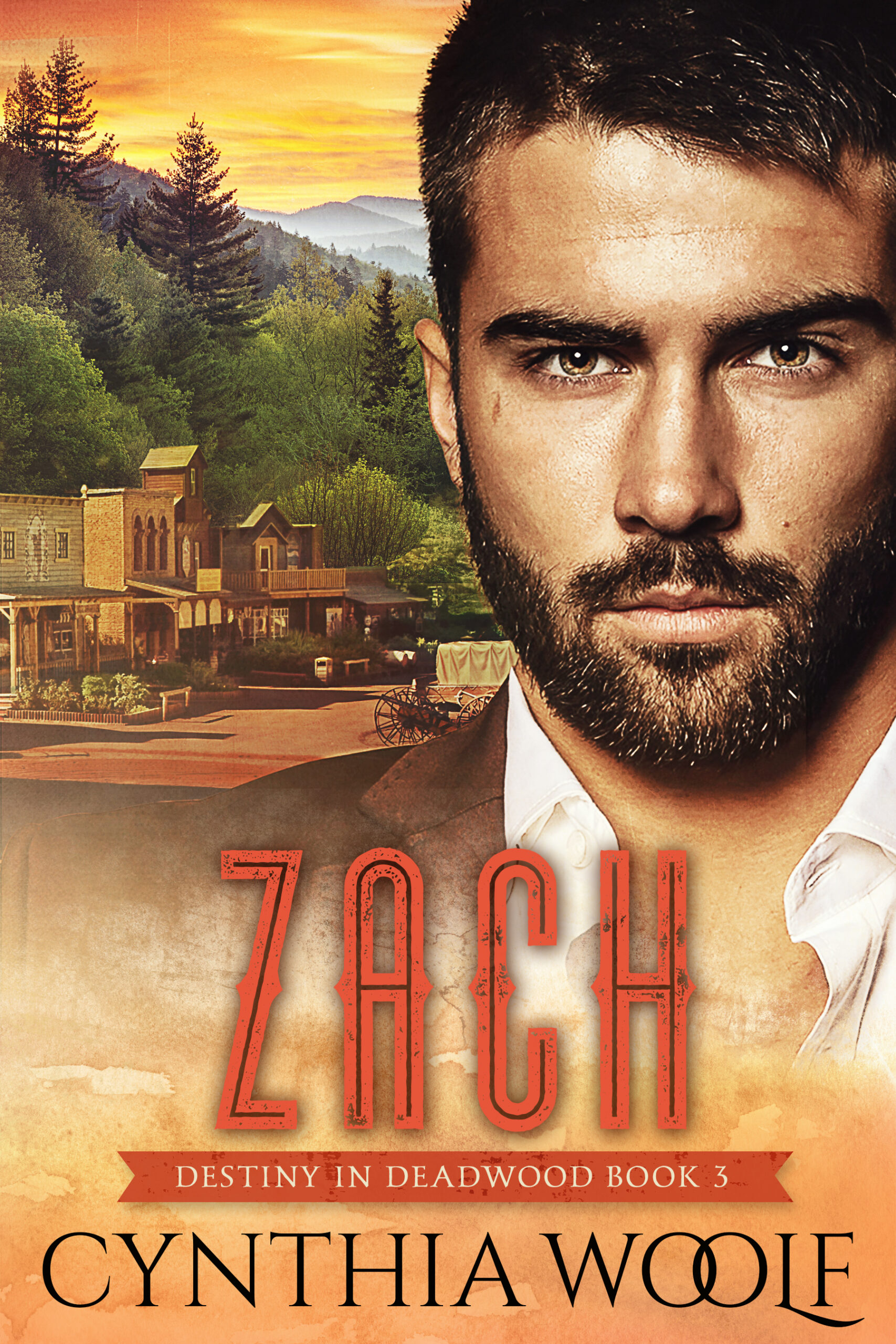 Originally published in 2014 under Seduced by a Sinner.
Zach Anderson is a desperate man. He needs to find a killer before the man destroys Zach's entire family. He also must convince Lily Sutter, the woman he loves, that she loves him and wants to marry him.
Neither task is an easy one.
Lily Sutter is a sinner. Just ask anyone in Deadwood. She had a baby out of wedlock, and she doesn't deny it. She was seduced and left by one man; she refuses to be taken in by another. The fact that Zach makes her blood boil and her heart race, just by being near, has nothing to do with anything.
ZZach Anderson is a desperateach Anderson is a desperate man. He needs to find a killer before the man destroys Zach's entire family. He also must convince one Lily Sutter, the woman he loves, that she loves him and wants to marry him.Neither task is an easy one. Lily Sutter is a sinner. Just ask anyone in Deadwood. She had a baby out of wedlock and she doesn't deny it. She was seduced and left by one man; she refuses to be taken in by another. The fact that Zach makes her blood boil and her heart race, just by being near, has nothing to do with anything.
THE TAME SERIES
Genre: Historical Western Romance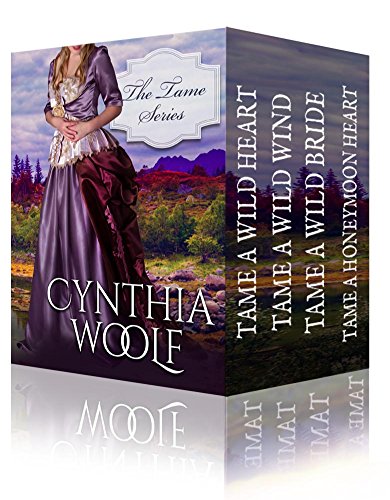 This boxset includes all the Tame series books, Tame A Wild Heart, Tame A Wild Wind, Tame A Wild Bride and Tame A Honeymoon Heart. Reconnect with all the family and friends in this Creede, Colorado valley.
THE CENTAURI SERIES
​Genre: Science Fiction Romance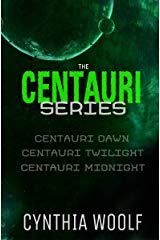 This is the Centauri Series, the complete collection. All three books, Centauri Dawn, Centauri Twilight and Centauri Midnight, together in one volume. This is a NEW COVER. This book was originally published under the author name Cynthia Woolf.
SWORDS AND BLASTERS
Genre: Science Fiction Romance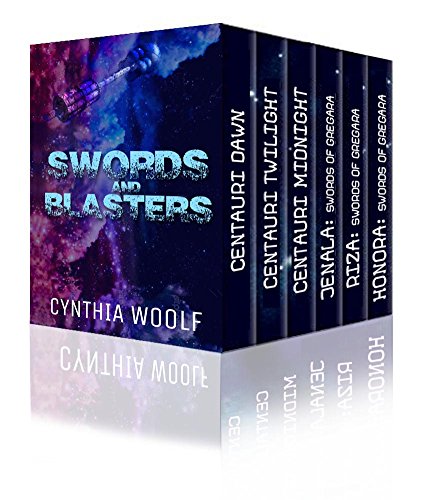 SWORDS AND BLASTERS – Two complete sci-fi romance series in one box set, The CENTAURI Series and THE SWORDS OF GREGARA series.
In the CENTAURI SERIES we have: CENTAURI DAWN – Meet Audra and Darius. She's a princess and he's her knight in shining armor on the planet Centauri. Just one problem, she's promised to his brother. CENTAURI TWILIGHT – Anton Coridian has promised his queen to find her sister, but Lara is not the pampered princess he expected. Lara, Audra's twin sister has been a sex slave for most of her life, she deserves a happily ever after, but first she vows to see all of her people freed. CENTAURI MIDNIGHT – Kitari Dolana is on a mission to find the man responsible for her brother's death. Garrick Marcus, spaceship captain is after the same man. Together they discover that good friends sometimes make the best lovers. In the SWORDS OF GREGARA SERIES we have: JENALA – Alone after her father's murder, Jenala Delasa must fight for survival against the man who murdered him. Santro Baltin is just the man she needs to help her bring the killer to justice. RIZA – Plastic surgeon, Riza Lamrona, was the only one left who could identify him. Now she's on the run from one of her patients. Darick Remaul, former Space Patrol officer is the one man on the planet who can help her survive. HONORA – She gave up everything to become a member of the Gregarian Guard. Now captured and enslaved, Honora Reyestat must fight for her life. Joridan Dolana was assumed dead when he was captured by the slavers that hold Honora. Together they must escape or die.