Pamela's Website
mailto:[email protected]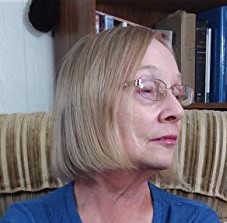 I was born and raised in Beaver County, Pennsylvania, and am a graduate of Rochester High School. I graduated from Slippery Rock University with a degree in English and Fine Arts and attended graduate school at the State University of New York at Binghamton and at Penn State University. Since 6 years old, I have had a passion for writing, so I naturally pursued a career in journalism and communications. During my work-life, I wrote advertising copy and feature stories for newspapers, and served as media, public relations and employee communications coordinator for non-profit organizations and corporations. As a technical communications specialist in the IT industry, I wrote manuals, specifications, and requirements. I still found time to write creatively, although not as much as I liked. I authored a book, published a short story, and managed an online discussion group, but, most of my creative writing remained in various stages of completion. When I retired, I returned to those drafts as if they were buried treasure. LoveQuest was the most complete of all my drafts. Written in the late 1980s, it was a summation of all of my most romantic notions. I am glad to say that I have updated LoveQuest, and it is now a published work. I plan to devote the rest of my life to creative writing, and to the stories of people, real and fictional, who touch our imagination and excite our sympathy.
LOVEQUEST
Genre: Romantic Fantasy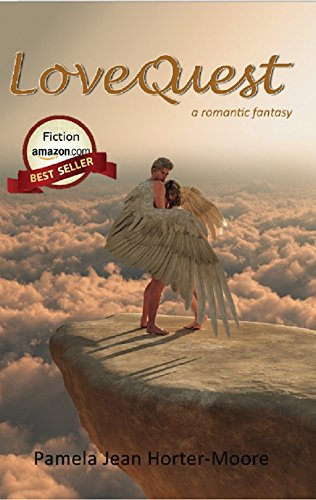 LoveQuest, a romantic fantasy, is a light-hearted retelling of one of the most enduring love stories from ancient Greek mythology: the forbidden passion of Eros, the god of Love, for the mortal woman Psyche. A god's love for a mortal woman… It is ancient Greece, a world of gods, superstition, and magic. The villagers dwelling under the eyes of the jealous and capricious gods on Mount Olympus seek to gain their favor and to uncover the mysteries that only the immortals can know by turning to priests, soothsayers, seers, and fortune-tellers. The oracle of the divine Apollo is one of the most famous of these seers. Although physically nothing more than a pool of water in a cavern, its wisdom is so renown across Greece that many journey far and wide to seek its counsel.
Among the pilgrims are the wealthy cloth merchant Pericles, his wife Leena, and their daughters Medea, Tanna, and Psyche. Although Psyche is blessed by Aphrodite, the goddess of Beauty, and is cherished by the people of her village for her loveliness, she cares little for their attention, seeking only the approval of her envious and malicious sisters.
Medea and Tanna ridicule the oracle's prophecy that Psyche will make a "marvelous" marriage to someone "not human," and use it as another means to torment their sister, driving her to tears.
Offended by Psyche's behavior and not accustomed to being taken for granted, Aphrodite retaliates by asking her son Eros, the god of Love, to punish Psyche with a life of lovelessness.
Coming to Psyche and her sisters under a cloak of invisibility, Eros is filled with pity for Psyche but determined to carry out his mother's wishes. Aphrodite's plan goes amok when Eros wounds himself with his own arrow carrying out the punishment. He falls in love with the woman his mother hates.
Eros must make a decision: Will he do his mother's bidding and resist the power of love, or will he defy her by setting his own course in pursuit of Psyche's heart? And, if he develops an elaborate plan to win Psyche, whose help can he enlist? Is love with Psyche possible, and how long can he keep up his deception before his mother discovers him?
Compared with Eros, Psyche is a novice at love. Eros can't approach her as a human suitor would approach a human woman. She too has a decision to make: Should she believe the loving words of a mysterious stranger, or should she believe her sisters?
The consequences for Eros and Psyche are dear. Aphrodite's temper is not something to toy with. She is angry enough with Psyche, but if Psyche should do wrong to her son Eros, there might be no end to the punishment Psyche faces at the hands of the jealous goddess. Psyche must choose between betrayal and fidelity, just as Eros must connive to win her love and the approval of his mother. Both of them must be put to the test in order to find their heart's desire.
BRIEF CANDLES
Genre: Historical Fiction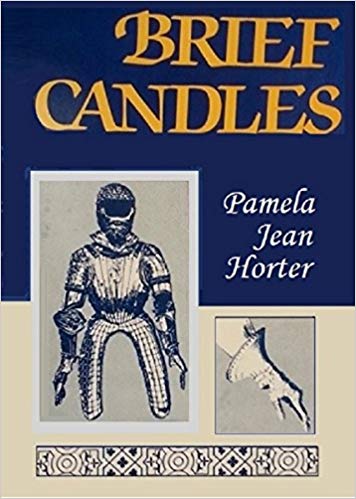 In 1483, twelve year old Edward V ascended the throne as King of England, following the sudden death of his father. Edward IV had reigned for twenty years, bringing England the stability and prosperity that had eluded it during the early years of those tumultuous times popularly known as the Wars of the Roses.
Although there were more periods of peace than the popular name would suggest, the Wars were the final dispute over succession by the colorful and dynamic Plantagenet dynasty, which had ruled England for three hundred years and whose history was marked by family conflict. The Wars of the Roses themselves were a struggle between the families of Lancaster and York, cousins descended from Edward III. Under the leadership of Edward IV, York was victorious, but the legacy of the Plantagenets would not die. Edward had made a love match with Elizabeth Woodville, the daughter of English gentry, an ambitious woman with many relatives. This and other efforts by Edward to rule as a King on his own did not please his cousin and mentor, Richard Neville, nor his younger brothers, the treacherous George, Duke of Clarence and Richard, Duke of Gloucester. In time, Edward was forced to destroy his Neville cousin and to execute his brother George, who never ceased to conspire against him. For the remainder of Edward's reign, Richard of Gloucester bided his time, eager for revenge against Edward's queen and her family. This was the history that young Edward V inherited in 1483, as the old wounds within the Yorkist family were reopened. He himself was too young to have experienced or participated in these conflicts, but it was he who suffered for them, ultimately losing his crown and his life in the power struggle between him and his Woodville kin and his uncle Richard of Gloucester. My book centers upon Edward V as he is locked in bitter contest with his uncle to defend his friends and himself from the avalanche of events that will eventually end in death for him and his younger brother, the legendary "Princes in the Tower." Responsible for their safety, if not for their murders, Richard assumes the crown as Richard III, loses the confidence of the Yorkist loyalists and likewise loses his life on Bosworth field. Thus, the Plantagenet dynasty is destroyed and, from it, the Tudor dynasty is born. The struggle between Edward and Richard is a recounting of themes that occur time after time in literature and history. The royal youth is disinherited by an usurping uncle and must either regain his crown or lose his life. The Wheel of Fortune relentlessly turns, lifting some up and dashing others down, disregarding youth and innocence in its turning. In a world of men, power brings about corruption and destruction, and no one who seeks it is safe.