SandieWill.com
mailto:[email protected]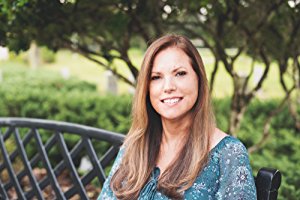 Sandie Will is an award-winning and best selling psychological thriller novelist who lives in Tampa Bay, Florida and works as a geologist by day. She has published two novels. Her first novel, The Caging at Deadwater Manor, is a young adult psychological thriller/horror that hit Amazon's #1 Bestsellers List and #1 Hot New Releases List. This novel received first place in the 2018 Florida Writers Association Royal Palm Literary Awards for young adult/new adult fiction and an honorable mention in the 2017 Readers' Favorite Book Awards for young adult horror. Her second novel, The Takings, is an adult psychological thriller that was recently released and hit Amazon's bestsellers list and is a semi-finalist in the 2020 Florida Writers Association Royal Palm Literary Awards. She has been married to her husband, Charlie, for over 30 years and they have two sons. Her favorite place to write is in her back room "treehouse" in the arms of an old oak.
THE REPLACINGS
Genre: Psychological Thriller
He will replace the family he lost…
Whatever it takes.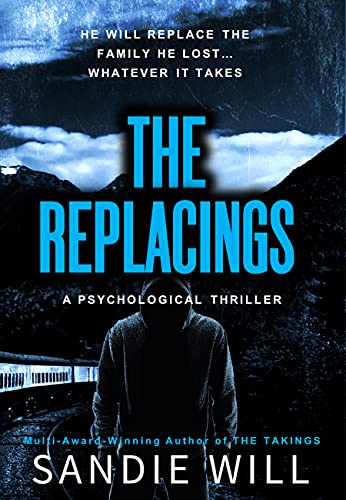 Multi-award-winning author Sandie Will brings you another heart-wrenching, edge-of-your-seat read that captures the deep and complicated connection between abductor and abductee. "One of us, one of these days, will kill the other. Either he'll kill me because he can't live without me or I'll kill him because he'll never let me go." — Wyatt Corringer Sixteen-year-old Wyatt Corringer was kidnapped by his father's best friend in the swamps of central Florida seven years ago. Plagued with Stockholm Syndrome, Wyatt has been unable to escape from the clutches of his abductor and now finds himself locked away with four young girls. All of them are trapped in the sick world of Adrian Webster — a man obsessed with replacing the family he lost in a train accident long ago. But Adrian is not working alone.
There's a side to Adrian he can't control — a side he can't see. Adrian calls it his demon. Wyatt calls it Shade, a non-human entity that takes over Adrian's consciousness and causes him to act in dark and disturbing ways. And every day, Adrian loses more control to Shade and the evilness of his mind. Wyatt must overcome Adrian's stronghold and escape from this madman, and help free the other prisoners. If he doesn't, he could end up losing himself to his own demon.
THE TAKINGS:
Genre: Psychological Thriller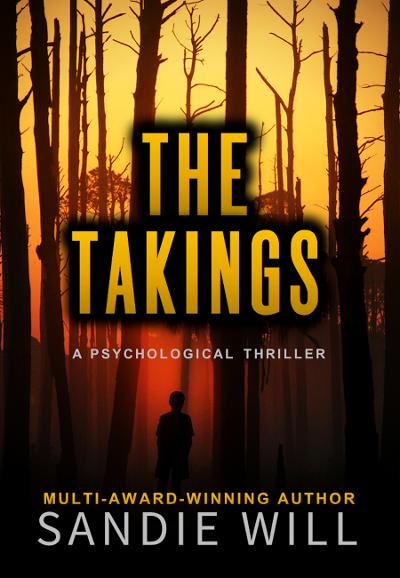 In the murky swamps of central Florida, a boy vanished on the way home one night.
No one heard his screams.
No one saw him struggle.
And the police have no answers.
Can one man's visions reveal the truth? From international award-winning author, Sandie Will, comes a psychological thriller that dives into the depths of a man's struggle with the events of the present that are conjuring up the pain from his past. At age fifteen, Adrian Webster lost his younger brother in a tragic accident. He tried to mourn. He tried to move on. But all he could do was bury the pain. Ten years later, his best friend's son, Wyatt, vanishes while riding his bike through Green Swamp in Central Florida. Adrian's friend has already lost his wife, and he doesn't want him to suffer the pain of losing a child, making Adrian obsess over finding Wyatt. So obsessed that he's plagued by visions. Ones that creep into the corners of his eyes. Ones that reveal the truth. And ones that force Adrian to choose between his friendship and unleashing the memories of the past before Wyatt is gone forever and Adrian loses the one thing he loves most in life—his new family. Readers are already saying: "A riveting page-turner!" "I couldn't stop reading!" "This book kept me on the edge of my seat!"
THE CAGING AT DEADWATER MANOR
​Genre: Psychological Thriller/New Adult/Young Adult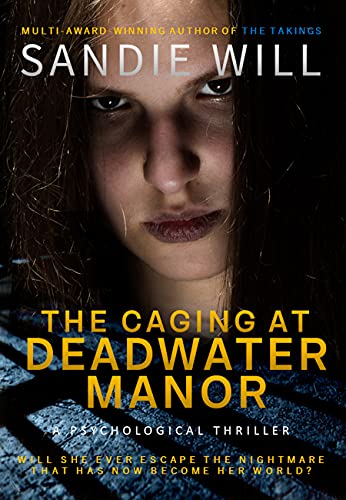 NEW! Heart-pounding, edge-of-your-seat psychological thriller! Time is running out for Jeannie, a young girl taken against her will by staff at Deadwater Manor – a psychiatric hospital with an unscrupulous past. Inspired by true events, this is a captivating story where Jeannie shares her heart-wrenching experience while getting treatments that will make you cringe. This book has a rich storyline that will keep you guessing and follow you long after finishing the read.
On a cold, January evening, fourteen-year-old Jeannie Kynde is told that her beloved mother drowned in the murky waters along Florida's Gulf Coast. Her distraught father turns on Jeannie, no longer the caring father she once knew. Four years later, Jeannie is finally old enough to escape her father's clutches, but he has different plans. He imprisons her at Deadwater Manor, a psychiatric hospital with an unscrupulous past. Between endless psychiatric treatments and a hospital staff up to no good, Jeannie faces insurmountable odds as each day ticks away.
Will she be locked away forever? Or can she fight against the nightmare that has now become her world?
Note: This book is intended for mature young adult, new adult, and older audiences due to profanity and mature content.

The inspiration for the story came from Sandie's beloved father who worked in various psychiatric hospitals during short periods of his career. In the attic of one such hospital, he made a disturbing discovery – one that bothered Sandie so much, she had to create a story around it. Though fiction, many parts of the book intertwine the patient routines, treatments and outbursts that she learned from her father and other research in a way that makes the story vivid through Jeannie's perspective.